A dirt track too far from democracy
Only 11 voters cast their vote in the Ichagarh seat, all men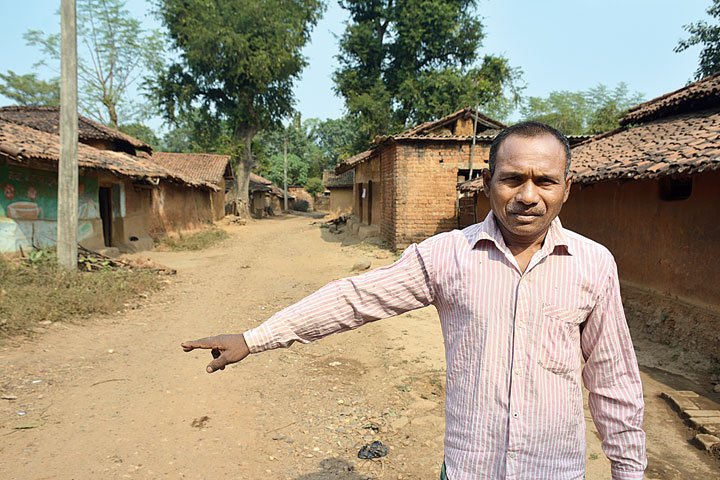 ---
|
Chandil
|
Published 12.12.19, 06:52 PM
---
It was not the Maoist diktat but anger against the administration's decision to relocate polling booths that made most Hesakocha villagers skip voting on Thursday, the third phase of the state elections.
Under Ichagarh Assembly seat, Hesakocha village with 1,267 voters is located along Palna Dam, a picnic spot by the Subernarekha river, in Chandil block, over 50km north-east of Jamshedpur. Its natural beauty makes one forget the rebel curse.
Till 3pm, when voting ended in Ichagarh seat, only seven voters had cast their franchise in polling booth 222 and four more in polling booth 223, all men. Voting score: 11/1,267. That too, in a constituency that clocked a high voting per cent of 73.11.
Both these booths had been relocated near Utkramit Madhya Vidyalaya, Palna, over 13km from Hesakocha.
Asked why only 11 persons voted, gram pradhan Karna Singh Sardar, 46, pleaded helplessness. "Till 2014 Hesakocha residents voted at the Nav Prathmik Vidyalaya that was a 1.5km walk. This year, during Parliamentary polls, the administration located booths to Palna, citing security reasons," he said. "Even in the height around 40 per cent villagers trudged all the way in the height of summer and voted, but we expected the administration to reconsider its decision by Vidhan Sabha polls. But no, the administration again set up booths at Palna, over 13km from our village, with no public transport and horrible mud roads. So most villagers this time decided against voting."
Speaking to The Telegraph around noon, he admitted he hadn't voted too.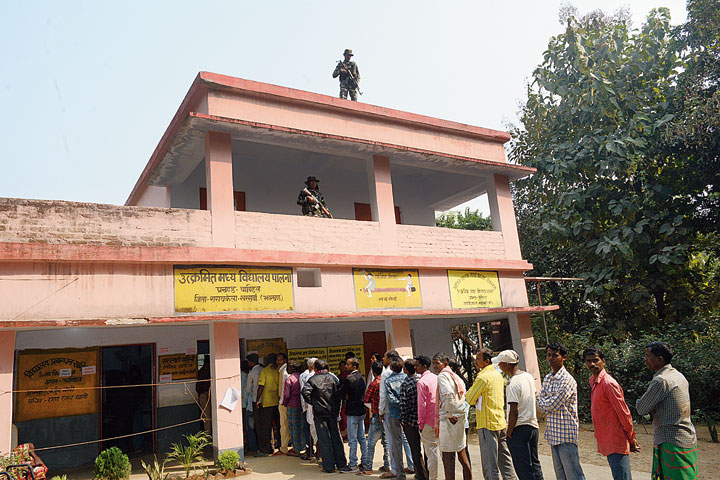 CPI(Maoist) posters for "vote boycott to protest police oppression and killing of innocents" are pasted along the walls of thatched huts in the village. But villagers told The Telegraph that their decision had nothing to do with the Maoist diktat.
The gram pradhan admitted that Maoists pasted the posters on Wednesday night and even announced over microphones asking villagers to abstain from voting. "We can't prevent them from pasting posters. Police seldom come to our village due to bad roads. There is no security. But still, Maoists had no hand in our not going to the polling booths. In 2014 too, Maoists had given a vote-boycott call. But people, including women, had voted then as the polling booth was near," he said.
Hesakocha forest is used by rebel outfits, including the current area commander Maharaj Pramanik, to move between Chandil-Chowka and Tamar. In 2014, Maoists had beheaded a man from here that they believed was a police informer. They also torched several earthmovers for road construction in 2016 and 2017.
Madi Munda, 43, a farmer of Hesakocha who was one of the rare ones to vote, said he cycled all 13km of the dirt track that passes for a road. "Apni dekhchen road ki rokom achhey (See the state of the road)," he said in the Raarh Bangla dialect used by people here, adding it took him one hour to cycle to the booth and would take him more time to cycle back. "I am tired," he said. "There's virtually no road. That's why no vehicles run. If one wants to walk, it can take three hours, one way. Who will come to vote taking so much trouble? That too during harvest time?"
Seraikela-Kharsawan DC Anjaneyulu Dodde admitted it was inconvenient. "We are aware of poor voting at the two polling booths. We relocated the booths due to security reasons. I will have to check with local officials if they arranged any transport for villagers on voting day today (Thursday)," said Dodde, also the district electoral officer for Ichagarh Assembly seat.