Voters turn their back on turncoat candidates
Just before election, they had joined BJP and the party fielded them to make a dent in the Opposition's vote bank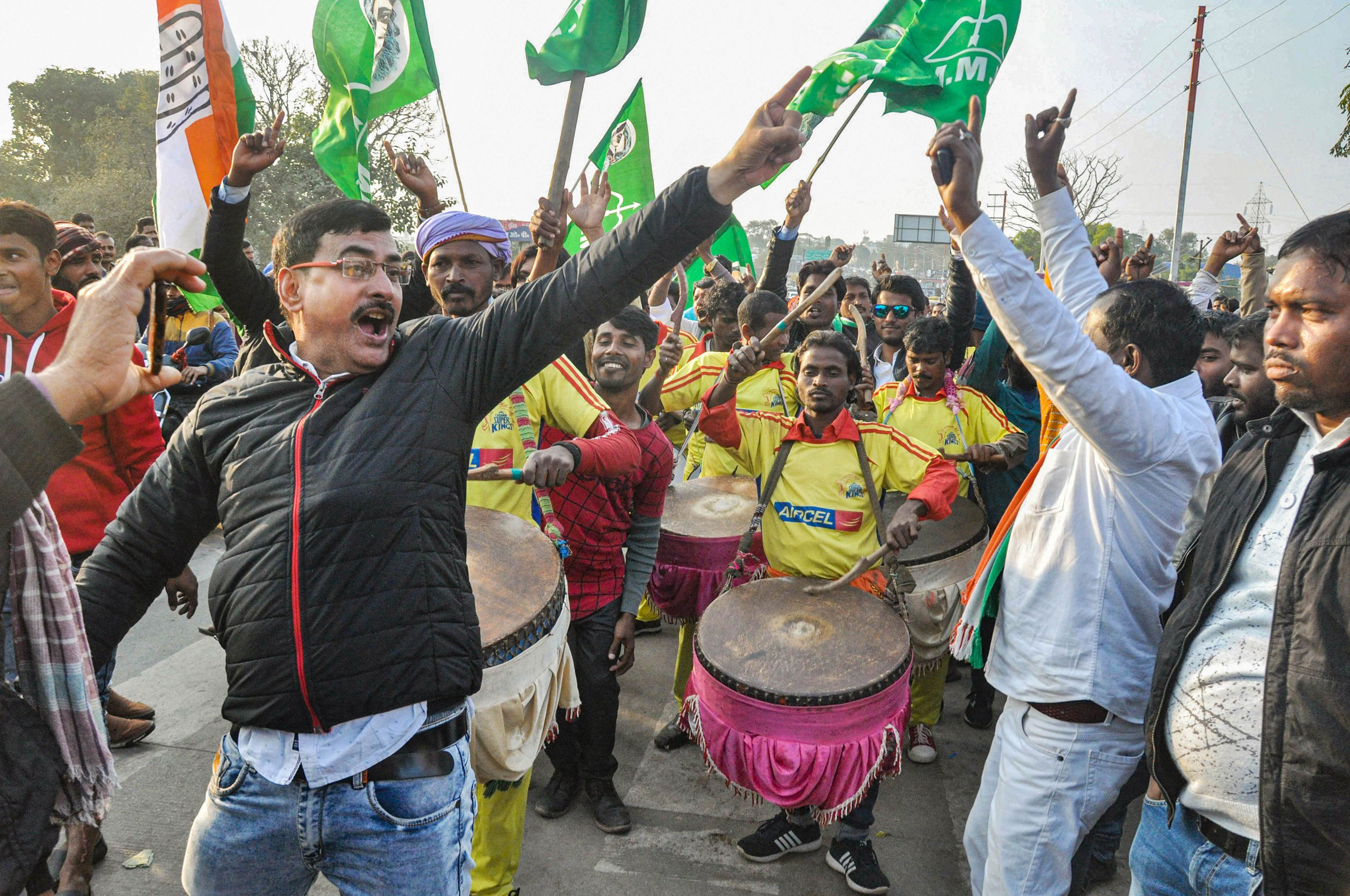 Party workers and supporters of Congress and JMM celebrate during Jharkhand Assembly election results in Ranchi on Monday.
(PTI)
---
Ranchi
|
Published 23.12.19, 07:25 PM
|
---
This Assembly election saw voters turning against a majority of turncoats who had either joined the BJP inspired by its "abki baar 65 paar" slogan or jumped ship after their party denied them tickets.
This remained one of the worst Assembly elections for at least four turncoat MLAs — Sukhdeo Bhagat and Manoj Yadav who defected from the Congress to the BJP, JMM's Kunal Sarangi and JVM's Prakash Ram who shifted to the saffron party.
Just before election, they had joined the BJP and the party fielded them to make a dent in the Opposition's vote bank. Sarangi had made his first successful electoral debut in 2014 by winning the Baharagora seat on a JMM ticket. The sitting Baharagora MLA joined the BJP last month and lost to JMM's Samir Kumar Mohanti by a huge margin of over 50,000 votes.
"Our working president Hemant Soren had personally groomed Sarangi, but he took a suicidal step and ruined his political career," a JMM leader said on Monday.
The BJP is also repenting their decision because Mohanti was a BJP man before he joined JMM.
The voters also rejected Yadav, who could not retain the Barhi seat. The BJP, which did not trust its former MLA Umashankar Akela, had inducted Yadav into the party to consolidate OBC votes.
The Congress, which was left with no credible face, fielded Akela who ultimately defeated Yadav.
Former Congress president Sukhdeo Bhagat suffered defeat at the hands of state party president Rameshwar Oraon by a margin of 30,000 votes. Bhagat had around loyal 20,000 Muslim voters who voted in favour of Oraon this time.
"During the election rally in Lohardaga, Bhagat had touched Shah's feet. This had annoyed even his staunch Muslim supporters. Therefore, the results from Lohardaga was on expected lines," a senior Congress leader said.
BJP leaders are, however, perplexed over the defeat of Prakash Ram from Latehar. "He used to win even during strong BJP wave. We must rethink our strategy on whether we should import candidate from other parties. This time, we dropped as many as 12 MLAs. The case of Ram is very peculiar. In 2014, he had netted around 71,000 votes and defeated our candidate by a margin of 27,000 votes. This time he ended with only 58,000 votes," a BJP leader said.
Only sitting Independent MLA of Bhawnathpur Bhanu Pratap Shahi kept his promise of gifting the seat to the BJP.
"This is Shahi's personal victory. JMM's Kushwaha Shashi Bhushan Mehta had also joined the BJP and defeated sitting Congress MLA Devendra Singh in the Panki seat. But everybody else let us down," a BJP leader said.
This is true for at least two of the BJP MLAs, Radhakrishna Kishore and Tala Marandi, who joined the Ajsu Party after they were denied tickets. Both lost the election.
Kishore was defeated by BJP's Pushpa Devi in Chhatarpur. Former BJP president Tala Marandi lost to JMM.
Former Congress president Pradeep Balmuchu, who had joined Ajsu Party and was fielded from Ghatshila seat, slipped to the third position.
In Barkatha, JVM MLA Janki Prasad Yadav, who joined the BJP in 2015, lost to Independent Amit Yadav.
In Chatra, Janaradan Paswan, an RJD-turned-BJP man, lost to RJD's Satyanand Bhokta.