Green gulal, drumbeats at festival of change
JMM party cadres celebrated wins at Baharagora, Jugsalai, Potka and Ghatshila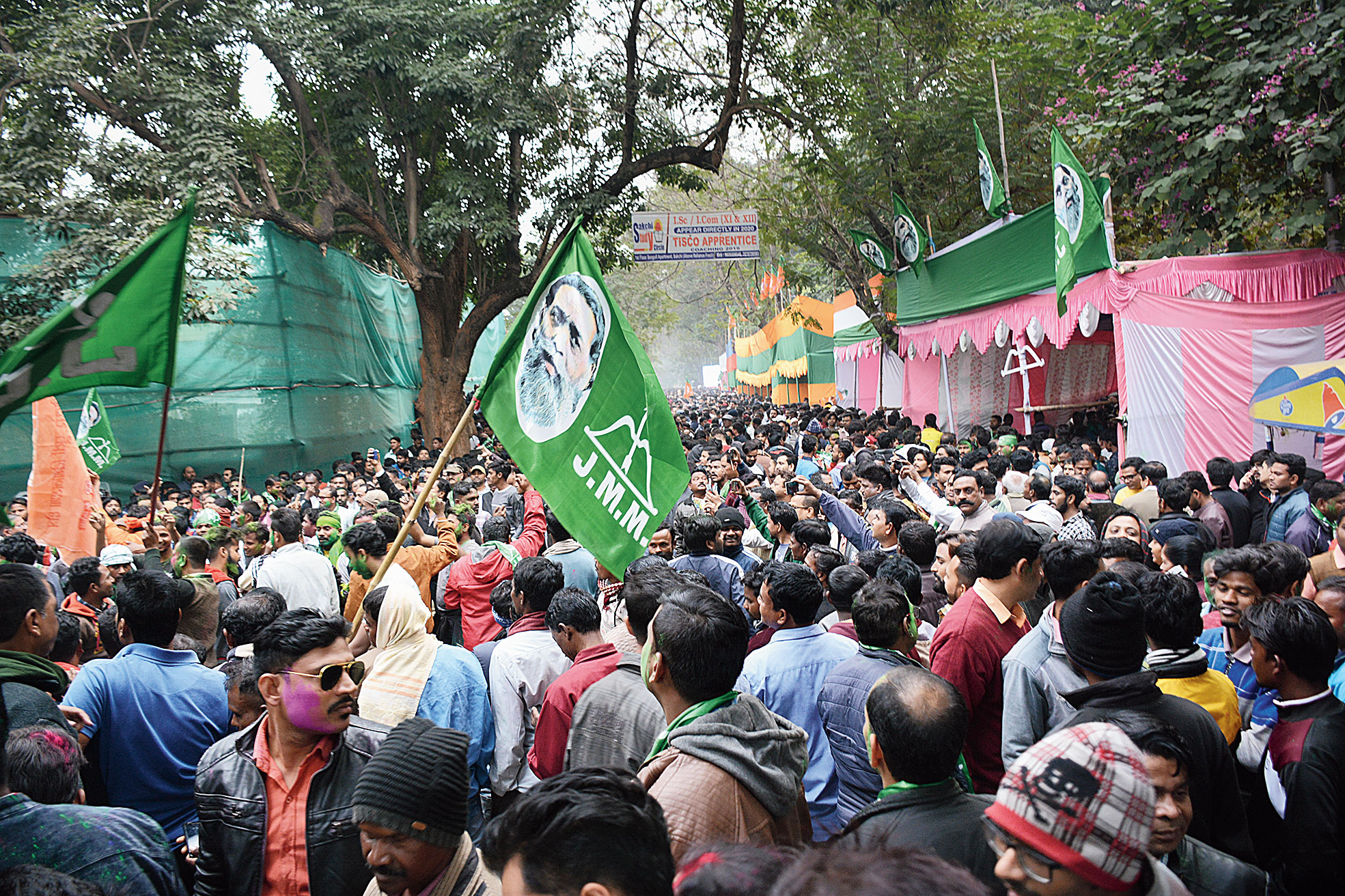 ---
---
"Royji ne dikha diya (Royji proved himself)," grinned Ambar Kumar, a supporter of BJP rebel-turned-Independent Saryu Roy who contested against five-time Jamshedpur East MLA and CM Raghubar Das, and won.
Ambar stood outside Jamshedpur Co-operative College, the strongroom for all six Assembly seats of East Singhbhum on Monday afternoon.
The mood was electrifying, especially as trends for the Jamshedpur East emerged.
The excitement around Jamshedpur West, the seat Roy had to vacate when he did not get the BJP ticket, was a close second. Here, Congress candidate Banna Gupta stole a march over the BJP's Devendra Nath Singh. As Roy and Gupta led in the counting, their supporters burst firecrackers, danced and beat drums.
The mood outside the strongroom, in the 300-metre stretch outside the college, was nothing less than a festival.
The high-flying flags with cylinders (Roy's poll symbol), and Congress and JMM flags crowded in the area. The BJP workers huddled, faces downcast. The contrast was more evident as the evening wore on.
Many in the crowd were normal office-goers. "I came out early," said an office-goer in his 30s, choosing to be anonymous. "I came here (outside Jamshedpur Cooperative College) to watch the results after each round on the LED screen. This Assembly election has been different, almost a roller-coaster ride, especially for the two Jamshedpur seats."
Who did he vote for? "The winning candidate," said the Jamshedpur East voter. Asked why, he said: "We know why."
People like him as well as diehard supporters updated trends through phone calls and on social media.
Bikas Das, a Tata Steel employee, said he took a day off to "catch results live with friends". "The ambience is no less than Durga Puja. Jharkhand wanted change, deserves it. That's the beauty of democracy," he said.
Roy and Gupta were both seen with folded hands, thanking supporters.
JMM party cadres, many with green gulal, celebrated wins at Baharagora, Jugsalai, Potka and Ghatshila. JMM supporter Sushmita Bhadra said she had been standing outside the college since 11am. No fatigue? "Not at all. I feel pure joy, people wanted change and they brought it," she beamed.