Jewellery store robbers nabbed in Palamau
SIT arrests 4, but mastermind still at large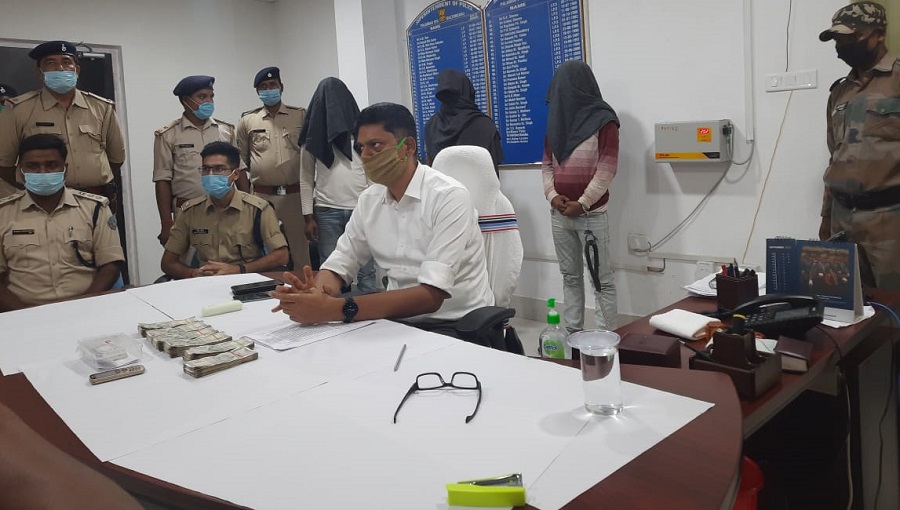 ---
---
A special investigation team (SIT) has cracked the robbery case that took place in a jeweller's shop in Jharkhand's Palamau district on September 20. The Murari Jewellers was robbed by a gang of five criminals who stole 5 kilograms of silver, 100 grams of gold and cash.
The daylight robbery had caused enormous embarrassment to the police as the town's jewellers launched a silent agitation in the street demanding arrest and recovery of the stolen materials.
SP Palamau Sanjeev Kumar set up a SIT led by the SDPO Sandip Kumar Gupta and his team of dedicated police officers namely Sunit Kumar, Arun Kr Mahatha and R K Ravi and set them with the task of nabbing the criminals as this robbery took place just days after Sanjeev Kumar's joining here as SP.
"It was a challenging case for us. The jeweller's shop was open on September 20 and this robbery took place around 3 pm. The robbers decamped with silver and cash on two bikes." said Sandip Kumar Gupta.
Gupta said the agitation by the town's jewellers put the police in a great tight spot.
He further informed that the case now stands cracked with the arrest of 4 robbers and recovery of one kilogram of silver, cash worth 2.87 lakh, the bike used in the robbery and cell phone.
Kumar said the kingpin of this robbery, Ramesh Ram of Palamau's Panki, is still at large but the other four accused, namely Anil Ram ( ( Garhwa), Monu Soni, Rajinder Soni ( Palamau) and Golu Soni ( Bihar), were arrested on Monday and remanded in judicial custody on Tuesday. He further added that the whole gang consists of 9 members .
SP said they are still hunting for the remaining 5 members including the mastermind Ramesh Ram, who is underground at the moment but they hope that with the names being made public, the pressure to come to law will now be more on the criminals at large.