Jamshedpur tailor who made the global cut
A steel city tailor has ended up impressing the gentlemen of Verona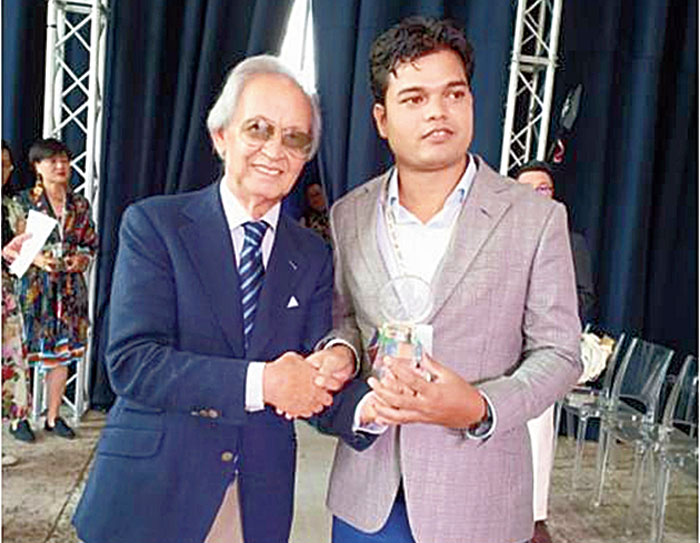 ---
---
If you think top tailors stay in metros, think again. A steel city tailor has ended up impressing the gentlemen of Verona.
Jamshedpur's Moin Ansari, a non-matriculate who through sheer talent got to represent India at the 38th World Federation of Master Tailors event in Verona, Italy, bagged the second prize in the prestigious Manichino D'Oro (golden fingers) event.
The Verona event was held at the Gran Guardia Palace between August 3 and August 7. Over 250 master tailors from 22 countries participated in three contest categories, golden fingers, golden needle and thread (for fittings) and sartorial fashion show (design).
Moin was the only Indian to have won any award this year. The World Federation of Master Tailors is a biennial event.
A resident of Mango Gauznagar, Moin had won the Kaun Banega Master Stylist (KBMS) contest organised by Raymond Group on February 28 in Mumbai to get a ticket to the Verona event.
Back in Jamshedpur, Moin showed off his trophy and certificate and said it still seemed like a dream. "I went blank when my name was announced," he told this reporter.
So what did he do? "We were given to make buttonholes seen in suits and jackets. The finish is the most important thing in this kind of tailoring. My competitors from the European countries had latest tools, I didn't. But I had practice," he said.
Moin, who works as a tailor in the Raymond Shop in Bistupur, has no formal training. "It was a family thing. I honed my craft under my brother Shamshad. In February, when I went to Mumbai, I also learnt a lot. It was my first big exposure. I'm also thankful to my colleagues and the Raymond Group for helping me get this huge platform. I'm happy that skills and not degrees are getting their due. I want my brother Shamshad to also get a similar opportunity because we work as a team."
Owner of the Raymond Shop in Bistupur where Moin works, Rashmi Thakkar said they were "elated". "Ansari made us all proud," she said.