Immersion in record time
Over 311 Durga idols were immersed at different ghats with the maximum (nearly 120) being immersed at Subernarekha ghat itself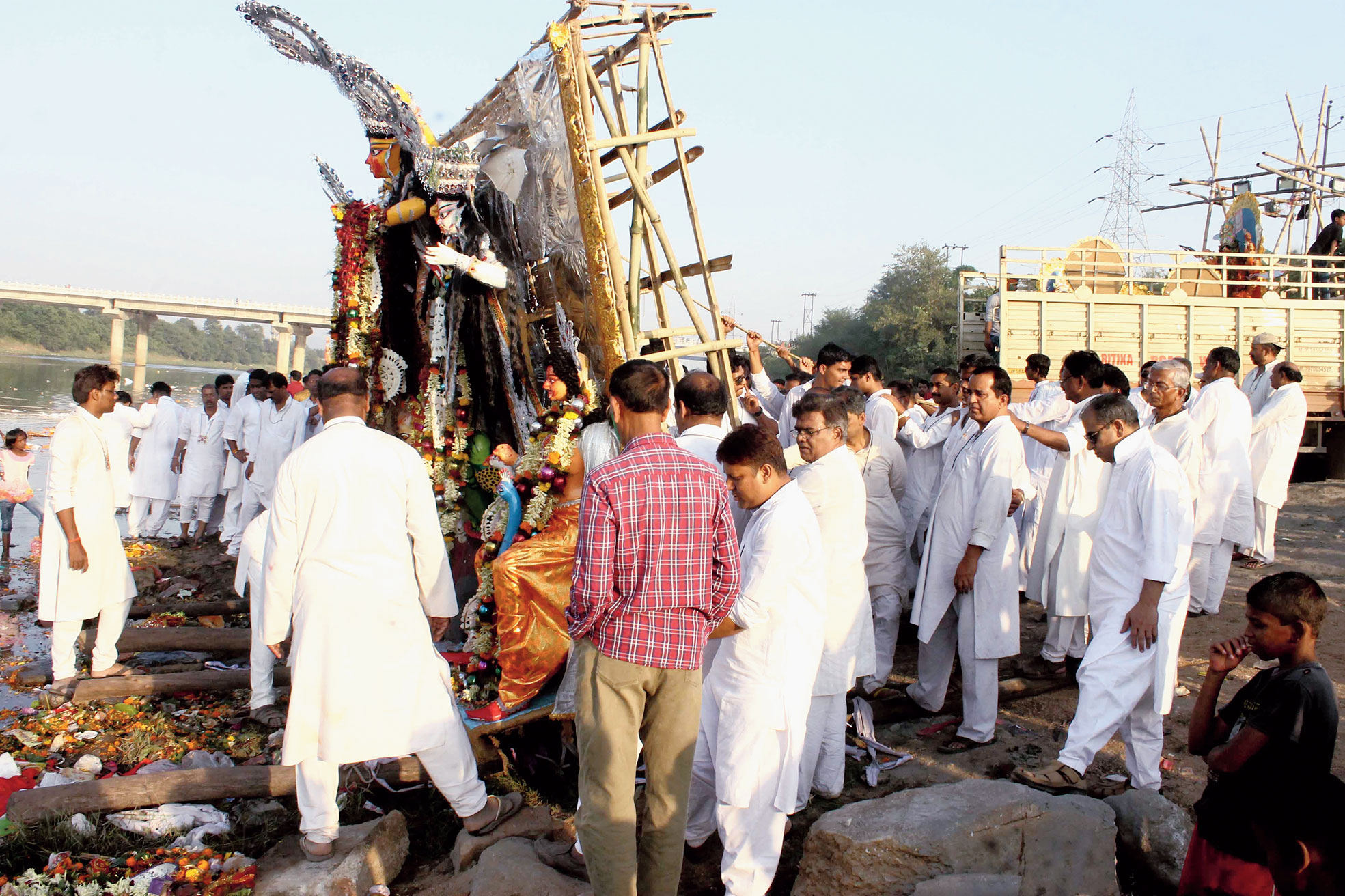 ---
---
Immersion at 14 river ghats and over three lakeside spots in the steel city was completed in a record time (before 10pm) on Dashami Friday, thanks to wider approach passageways, better surveillance and prior coordination of the district administration with over 300 Puja committees.
Septuagenarian Rambabu Singh, president of Jamshedpur Durga Puja Kendriya Samiti, admitted that this was the first time in over three decades when immersion was completed before 10pm.
"All these years, the administration had been requesting the Puja committees to speed up procession, but the lack of proper passageways at the ghats delayed visarjan and led to a long queue of heavy vehicles carrying idols on Subernarekha Link Road. This time, there were separate entry and exit points, which facilitated the immersion of five idols at a time at Subernarekha ghat in Sakchi. The system also ensured that the approach path was not congested," Singh said.
This year, over 311 Durga idols were immersed at different ghats with the maximum (nearly 120) being immersed at Subernarekha ghat itself.
"There were better facilities at the ghats because we had been holding meetings with the organisers since September to sort out problems in a phased manner. We also closed down a dangerous ghat at Kapali (in Sonari) and developed a wider ghat near the new Domuhani bridge, barely two kilometres away. Better surveillance through CCTV cameras and their monitoring at an upgraded police control room in Sakchi and good coordination with zonal magistrates and policemen through multiple control rooms at Sakchi, Mango, Golmuri and Tatanagar Station roundabouts also helped," East Singhbhum DC Amit Kumar said.
Subernarekha ghat, which topped the immersion list, was followed by Pandey Ghat in Bhuiyandih where 42 idols were immersed, Balu ghat near new Domuhani bridge at Sonari (27), Domuhani ghat at Sonari (18), Sub Station ghat (8) and Sati Ghat (14) all in Kadma, Bodhanwala Ghat in Bistupur (14), Dimna ghat at Mango (21) and Baroda Ghat at Bagbera (14). Immersion also took place near lakes at Ghaghidih, Hudco, Citu Talab, Govindpur and Narwapahar.
However, strenuous efforts by the administration, local civic bodies and NGOs to keep water bodies clean after immersion did not have much effect on the major ghats such as Subernarekha ghat as idol scaffoldings, pieces of cloth and plastic waste could be seen strewn along. However, Domuhani ghat in Sonari and Bodhanwala ghat in Bistupur — adopted as model ghats by Jamshedpur Durga Puja Kendriya Samiti — witnessed a marked improvement.
"NGOs along with Jusco had created awareness among Puja organisers on the separation of Puja paraphernalia before immersion, but it didn't have a significant impact. But volunteers at the model ghats have cleaned the two ghats to a considerable extent," Jamshedpur Durga Puja Kendriya Samiti general secretary Arun Kumar Singh.
Dhalbhum SDO Chandan Kumar said all the civic bodies — Jamshedpur Notified Area Committee, Mango Notified Area Committee, Jugsalai municipality and Jusco — have been asked to take up cleanliness of ghats on a war footing within 48 hours of the immersion. This year, the administration has also involved over 50 volunteers of various Puja committees to assist civic bodies in the clean-up drive.