IIT (ISM) professor helps BCCL in restoring mine wasteland
The coal major has kicked off the project in East Jharia and the results are already visible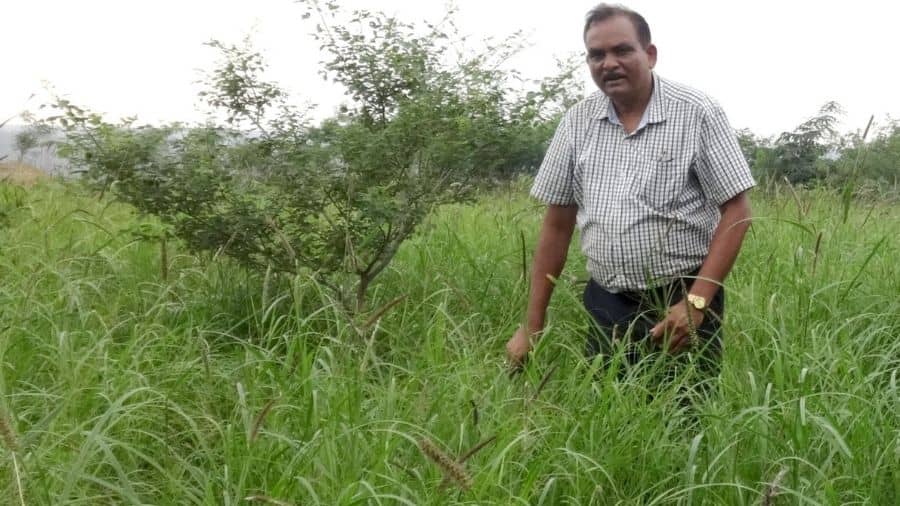 Professor SK Maiti during his research at a field in Jharia Coalfield in Dhanbad.
Gautam Dey
---
Dhanbad
|
Published 16.03.22, 04:11 PM
|
---
Huge chunks of mine wasteland lying idle in collieries will be a thing of the past as a beginning has been made to turn these wastelands fertile by growing a wide variety of plants on them.
 All this, as a team of the Department of Environmental Science Engineering of IIT (ISM) led by Professor Subodh Kumar Maiti, has helped Dhanbad-based coal major Bharat Coking Coal Limited (BCCL) reclaim around 6 hectares of mine wasteland at Chandan Open Cast Project in  East Jharia area of Dhanbad.
Maiti who carried out the eco-restoration of mine wasteland for BCCL in assistance with a Senior Research Fellow  (SRF) of his department Sneha Kumari as part of BCCL funded project which began in 2020  said, "Continuous coal production in developing countries is leading to land degradation and environmental pollution. Open strip mining inevitably degrades the land by removing vegetation cover, topsoil, subsoil, and overburden rocks which significantly alters the ecosystem functions by changing the local landscape, increasing soil erosion, reducing biodiversity, and causing land-use change."
After mining the excavated barren lands are backfilled with overburdened material and re-vegetated.
Despite several advances in reclamation methods, most remain unsuccessful in creating the attributes of natural ecosystems.
"As part of a research launched by us way back in 2017 we found that revegetation of mine wasteland with legumes and grasses can have greater advantages in restoring the Nitrogen and Carbon content in mine soil which are the main soil nutrients," explained Maiti.
"We have earlier applied the technique of grass-legume technology for  industrial wasteland reclamation on around 7 hectares of land in Raigarh district of Chhattisgarh for Nalwa Steel and Power Limited (NSPL) between 2014 to 2022 during which the restoration was carried out in several steps including the degradation of industrial dump followed by blanketing with topsoil, covering the slope with coir mat, sowing of the grass-legume mixture on the slope and construction of drainage," said Maiti.
"The use of legume seeds helped in nutrient cycling, improving the quality of soils, biodiversity, and sustainability of the plant community," explained Maiti.
"The BCCL authorities approached us, asking to use the technology in 2019. The work remained suspended for a few months after the project was launched due to the pandemic, it again resumed after the Covid situation improved and now after the reclamation of mine wasteland at Chandan Open Cast project of East Jharia, the BCCL authorities have started growing a wide variety of plants on the restored land proving the success of the project," summed up Maiti.