IIT (ISM) Innovation hub develops lac scrapping machine
The scrapper which is being tested at the institute addresses the difficulties associated with primitive method used by artisans till date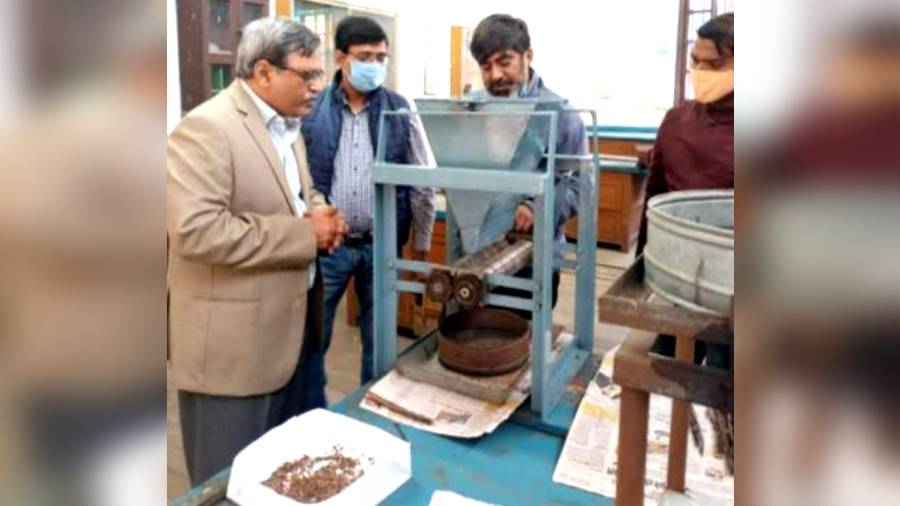 The Lac Scraping Machine developed by IIT(ISM) Dhanbad.
Gautam Dey
---
Dhanbad
|
Published 14.12.21, 07:24 PM
|
---
IIT (ISM)'s innovation hub - Atal Community Innovation Center (ACIC), has taken into account the difficulties faced by lac growers in manually scraping lac from sticlac. They have developed a lac scrapping machine
The machine which is presently being tested at the institute addresses the difficulties associated with the tedious process of lac scraping presently being used by artisans.
Talking to The Telegraph Online, Amit Shukla, Chief Executive Officer ACIC  at IIT (ISM) Dhanbad said "Jharkhand produces almost half of the total quantity of lac produced in India. Jharkhand's share makes India the world's top lac producer."
He added, "The huge amount of lac produced, helps the state generate employment, especially for the tribals. And in return helps the nation earn foreign revenue through exports." Lac is used in many sectors, right from being used in medicine production to being used in a wide range of handicrafts besides lac bangles etc.
"It is also used for coating medicines and confectionary, abrasive as well as adhesive," said Shukla. Lac is also used as an insulant as it is insoluble in water but highly soluble in alcohol, which makes it useful for electrical connection insulation.
"As nowadays the focus is on eco-friendly products, so the usage of lac for coloring in the food processing and beverages industry has increased as people are avoiding synthetic colors," explained Shukla.
As the Lac Industry is very old, so is the process of scrapping lac from sticklac, secreted by Kerria lac, an insect is slow and tedious. The machine can help the extractors do their job faster.
"The machine has been developed at the instruction of Rajiv Shekhar , Director of IIT (ISM) who, taking into account the  immense scope of Lac industry development, realized the need to ensure support to the state's lac industry, " further said Shukla.