Holding tax stir in Jharia
The decision to waive off holding tax could only be taken by the development council of the state government.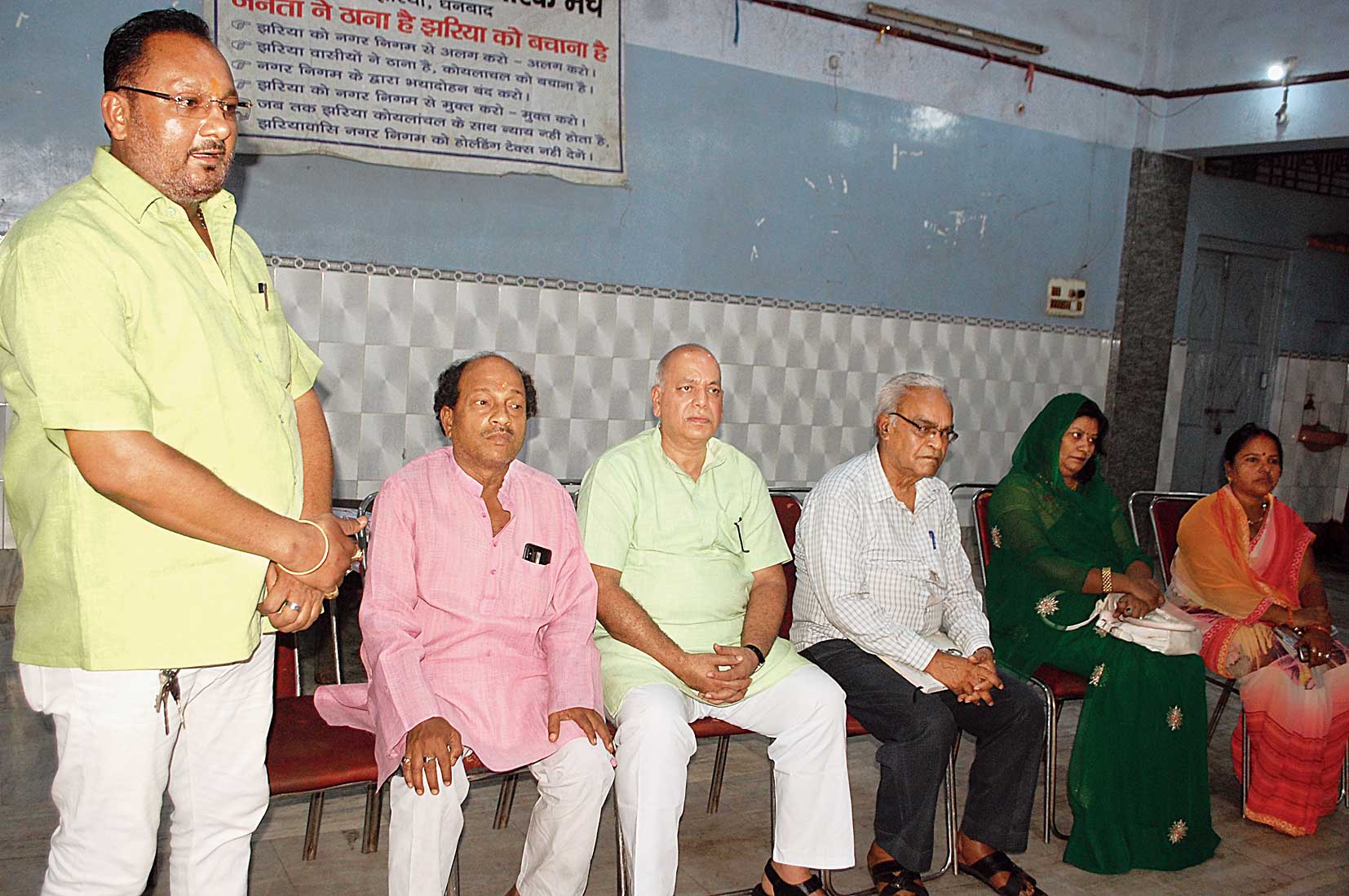 Members of social outfits at the meeting in Jharia, Dhanbad, on Thursday.
Picture by Shabbir Hussain
---
Dhanbad
|
Published 11.04.19, 07:04 PM
|
---
Members of various social outfits and chambers of commerce held a meeting on Thursday and decided to file a public interest litigation (PIL) against the collection of holding tax by Dhanbad Municipal Corporation in Jharia circle where residents already pay a similar tax to Mineral Area Development Authority (Mada).
In the three-hour meeting that began at 11am, the participants also discussed municipal corporation notices directing guest houses, marriage halls and hotels to desist from throwing garbage in roadside vats and set up their own waste treatment plants instead.
Talking to The Telegraph after the meeting, president of Jharia Chamber of Commerce Amit Sao said, "Why should we pay holding tax to Dhanbad Municipal Corporation when we have been paying tax to Mada for several decades? Nowhere in the country is the same tax collected by two different civic bodies except in Jharia."
The meeting was also attended by Jharia Nagrik Sangh president Gopal Agarwal, Koylanchal Nagrik Manch president Rajkumar Agarwal, Agarwal Dharmshala president Arun Tulsyan, Matrisadan Hospital secretary Chandraprakash Chokhani, district 20-point committee member Arindam Banerjee and Balika Vidya Mandir secretary Ramesh Agarwal.
According to Sao, Bharat Coking Coal Limited (BCCL) was already paying 1 per cent cess to Dhanbad Municipal Corporation as part its corporate social responsibility to conduct development activities.
Sao said their earlier pleas to authorities, including the state government, against the collection of holding tax by the corporation had yielded no result.
"Therefore, we are left with no other option but to take legal recourse by filing a PIL in Jharkhand High Court," Sao added.
Mada executive engineer M. Indresh Shukla said the civic body only charged a nominal amount of Rs 150 per annum for water connection.
"The money used for maintenance of public water connections provided by us in different areas. It cannot be called a holding tax as such," Shukla said.
Contacted, city manager (revenue) of Dhanbad Municipal Corporation Pritam Kumar said the civic body had recently intensified the revenue collection drive, which included realisation of outstanding dues.
"We have also frozen the bank accounts of some of the big defaulters in all the five circles, including some from Jharia like Matri Sadan and Balika Vidya Mandir," Kumar added.
He said the decision to waive off holding tax could only be taken by the development council of the state government.
"Any such decision has not yet been taken by the state. So we are well within our rights to collect holding tax in Jharia," he said.