Hemant Soren unveils sops for Jharkhand farmers
Initiative holds significance as the state is staring at a drought spectre with a nearly 51 per cent rain deficit this monsoon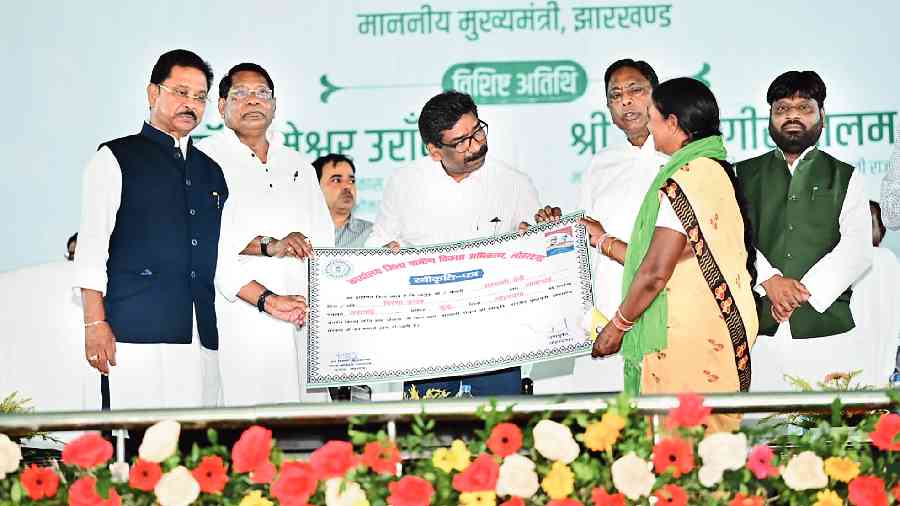 Hemant Soren (centre) hands over a sanction letter to a beneficiary of Harit Gram Yojana for planting fruit-bearing and flowering plants at Lohardaga on Wednesday.
Bhola Prasad
---
Jamshedpur
|
Published 29.07.22, 02:29 AM
|
---
Jharkhand chief minister Hemant Soren on Wednesday announced making arrangements for cold storage and market linkage for farmers at the block level itself to provide them with fair prices for their products.
The announcement was made during a programme at the Lohardaga district where over 7,900 farmers from the districts of Khunti, Loharda¬ga, Ranchi, Gumla and Latehar were given fruit bearing saplings to plant on 7,198.28 acres of land. The initiative holds significance as the state is staring at a drought spectre with a nearly 51 per cent rain deficit this monsoon.
"The government is working to make provision of cold storage at every block and market linkage for farmers at the local level so that they get fair price of their products and get rid of the role played by middlemen who eat into the profit share of farmers," said Soren while stressing that the programme has been held to monitor the execution of Birsa Harit Gram Yojana which was started during the Covid pan¬demic in the state.
"Under the Birsa Harit Gram Yojana, a large number of villagers have been associated with the work of horticul¬ture. During the global pan¬demic, horticulture became the best source of livelihood. Continuous work is being done to connect more and more rural families with Birsa Harit Gram Yojana. We would like farmers to plant different varieties of fruits and vegeta¬bles and the government is going to help them with subsi¬dies," he said in a possible hint to the farmers not to solely depend on paddy for survival.
The chief minister also informed that the government would set up food processing units in partnership with private players and farmers linked with the food process¬ing industry which help them to increase their income by processing agriculture and fruit products.
Sensing the drought spectre, state agriculture minister Badal Patralekh, on the in¬struction of the chief minister, held an emergency meeting with the state's leading agricultural scientists on Tuesday in Ranchi and sought suggestions from them. The agricultural scientists from Birsa Agricultural University were asked to prepare a consolidat¬ed report in view of the rain situation in 24 districts, on the basis of which further action plans would be decided.
During the meeting, the state agriculture department presented that so far the state has received 51 per cent less rainfall than the average and paddy sowing has been badly affected in 21 out of the 24 dis¬tricts. As compared to 2021, when paddy had been sown in 36.74 per cent area, this year only 14.11 per cent area has been covered.
Agricultural scientists, during the meeting, spoke about the need to encourage farmers to cultivate crops that yield more in a short time according to the eco¬system of Jharkhand.
Apart from this, suggestions were received from working on DSR (direct seeded rice) method and giving 75 per cent subsidy for seeds, implementing policy on surface water harvesting to increase agricultural yield and measures to save soil moisture.