Hemant Soren invited to inaugurate Adivasi Maha Kumbh Mela
Organising committee of the fair met chief minister at his Ranchi residence on Tuesday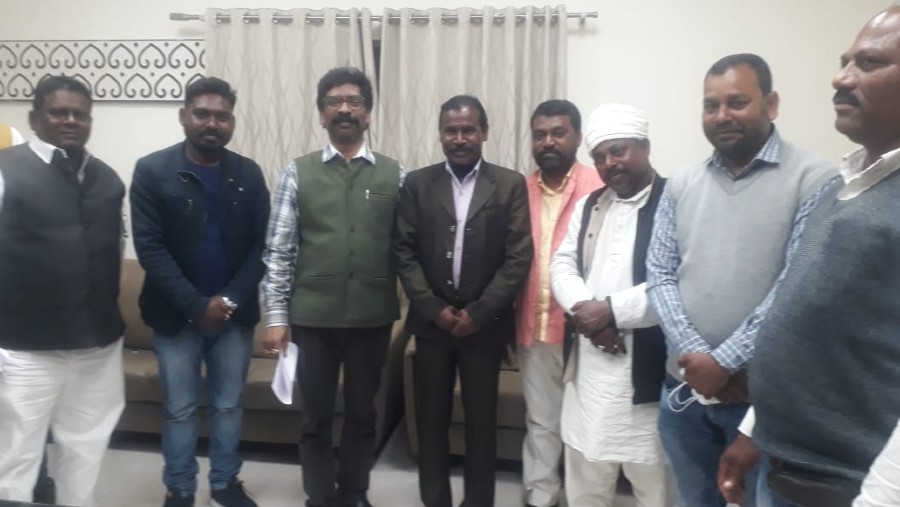 ---
---
In a bid to add relevance to the two-decade-old Adivasi Maha Kumbh Mela, which has undergone a massive upside-down, members of Dubiya Kharn Adivasi Maha Kumbh Mela Committee, headed by Manika Congress MLA Ramchander Singh Chero met chief minister Hemant Soren at his Ranchi residence on Tuesday and invited him to inaugurate the fair, which is annually on February 11 and 12.
The Adivasi Maha Kumbh is hosted every year at Dubiya Kharn, on a government empty land, which is about 10 kilometres off Daltonganj at the bifurcation of the NH 75 highway.
The Chero leaders during the meeting apprised the chief minister of the hardships faced by the tribal forest dwellers. They categorically highlighted that the tribals were facing trouble in van patta. Singh said, "Van patta has become an elusive concept now for the Adivasi."
He added, "We invited the chief minister with a simple belief – his presence at the event would galvanize the tribals, who sadly feel overlooked due to the apathy of the administration."
On being asked about Soren's response he said, "Chief Minister didn't decline nor did he confirm. But being a tribal CM, he should try to present at this event to witness where the tribal have slipped down to and how their income-generating avenues are getting narrowed with every passing day."
Over the years the Dubiya Kharn Adivasi Maha Kumbh Mela has lost its Adivasi tone and identity.
The stalls which once helped the Adivasis earn money have now been replaced with junk food and liquor stalls. Cultural shows have been done away with and songs, dance, and merry-making have made an entry. According to sources, gambling has also got itself associated with this fair.
The MLA said, "We are trying to preserve and conserve our identity but crass commercialism and modernity are invading us."
According to him, the tribals of the area are dreading displacement once the Madal dam becomes operational. Singh said that the tribals dread displacement the most but it has become their destiny. He claimed that over half a dozen villages would get submerged and about ninety-eight per cent of the tribal population need to move on to other places if the Mandal dam becomes functional.
He said, "We will be raising this issue before our CM if he chooses to inaugurate the mela."