Hemant Soren cites Bilkis Bano case to blame BJP
I came to know that remission was granted to 11 convicts following the approval of the central government, says Jharkhand CM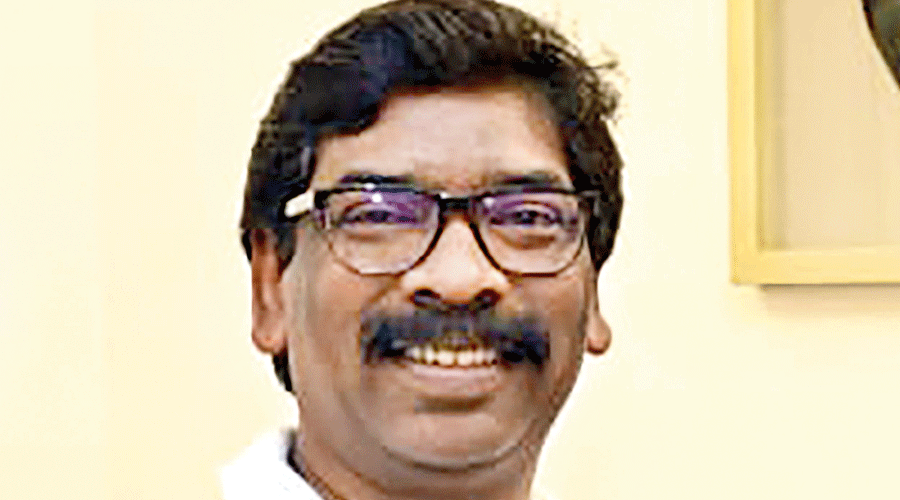 Hemant Soren addresses the Sarkar Apke Dwar programme in Koderma on Tuesday
Bhola Prasad
---
Jamshedpur
|
Published 19.10.22, 12:53 AM
|
---
Jharkhand chief minister Hemant Soren on Tuesday blamed the BJP-led Centre for rising rapes in the state and the country.
"While reading a national newspaper, I came to know that remission was granted to 11 convicts in the Bilkis Bano gang-rape case following the approval of the BJP-led central government. What can one say about this development? It would certainly encourage the rapists while our Opposition friends (BJP in Jharkhand) will cry hoarse blaming our government for deteriorating law and order and rising incidents of rape in Jharkhand," Hemant said while addressing an event in Jharkhand's Koderma district.
Koderma is represented by BJP MP and Union minister of state for education Annapurna Devi.
The Gujarat government had in an affidavit on Monday told the Supreme Court that the CBI, which was investigating the Bilkis Bano gangrape case, had obtained "suitable orders" from the Union home ministry through a letter dated July 11 for grant of remission to the 11 convicts.
The Gujarat government granted remission to the 11 convicts on August 15 under the state government's 1992 remission and premature release policy for life-term convicts.
Since their release, the Supreme Court has issued notices on two petitions — one filed by CPI(M) leader Subhashini Ali, journalist Revati Laul and academician Roop Rekha Verma, and another by TMC MP Mahua Moitra — challenging their release.
Bilkis was gang-raped and her three-year-old daughter Saleha was among the 14 killed by a mob on March 3, 2002 in Limkheda taluka of Dahod district during the post-Godhra riots.
Bilkis was pregnant at the time.
A special CBI court in Bombay had on January 21, 2008, sentenced 11 convicts to life imprisonment on charges of gang-rape of Bilkis Bano and murder of seven members of her family. Their conviction was later upheld by Bombay High Court and the Supreme Court.
According to the 2021 data of National Crime Records Bureau (NCRB) released earlier this year, Jharkhand ranks eighth in the country in terms of rape incidents.
In 2021, 1,425 rape cases were registered in the state, which means one rape happens every six hours. These are only the rape cases that were registered in the police station.
Apart from this, 164 cases of assault on women were registered. Similarly, 1,805 cases of harassment for dowry and 164 cases of attempted rape were reported. Of these, 55 cases were of gang-rape. Forty-six cases were registered in which women or girls became victims of rape for the second time.
In 2021, 720 people were sentenced in rape cases in Jharkhand, including 703 male and 17 female. The NCRB report shows that women in the age group of 18 to 30 years are the most vulnerable in Jharkhand. Of the total 1,425 cases of rape in 2021, there are 901 cases in which the victims were aged between 18 and 30.
Former chief minister and BJP national vice-president Raghubar Das has in news conferences blamed the worsening law and order under Hemant's rule for crime against women.