Hemant protecting the corrupt, says Marandi
Former Jharkhand chief minister accuses JMM workers of illegal sand smuggling and the present government of delaying the local body election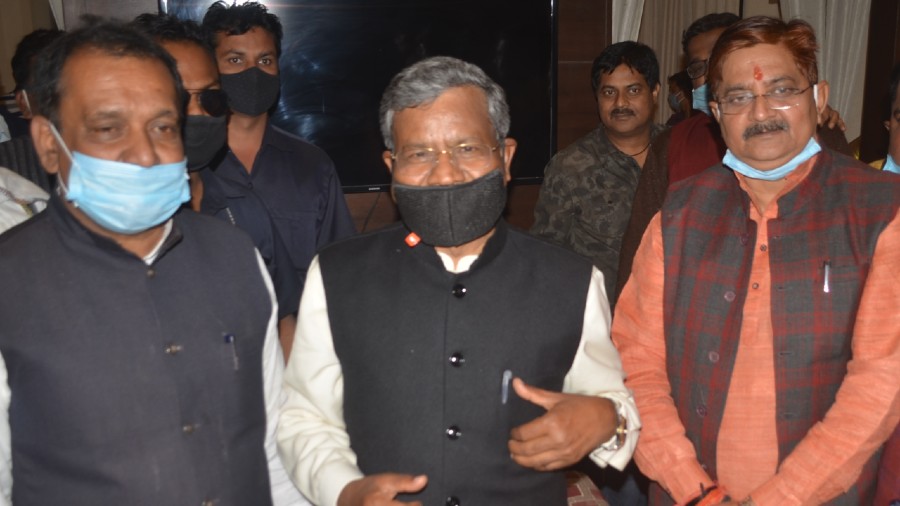 ---
|
Dhanbad
|
Published 27.12.20, 08:56 PM
---
Former Chief Minister Babulal Marandi, on a four day trip of the district, reached Dhanbad today and charged the Hemant Soren government of the state of abetting corruption in Jharkhand.
"More than 100 trucks of sand are being illegally lifted from Mayurakshi river in Dumka daily. It is being smuggled to Bihar," charged Marandi. He accused Jharkhand Mukti Morcha workers of engaging in illegal sand smuggling under the protection of the chief minister.
"Who can be held responsible for the sand smuggling when all the departments concerned with checking the sand smuggling like the mining department, police, and land reforms department are lying with the Chief Minister himself ?," questioned Marandi while talking to the media at Circuit house in Dhanbad.
Citing examples of land scams that took place in Deoghar and Dhanbad, he alleged that corruption was on the rise under the present government.
When asked about the delay in the local body election in Jharkhand, Marandi charged, "The government is trying to concentrate all powers in his hands by somehow delaying the local body elections."
"The state government is afraid of devolution after the local body election as it has illegally usurped the powers of the local people's representatives," accused Marandi. He added that the government had been given the mandate by the general public and hence it should be working for their welfare and not get afraid of conducting elections.
"If the bypolls in the state can take place then why the local body election can't be conducted?," he further questioned Marandi, while citing examples of local body elections being held in other states like Goa, Jammu and Kashmir, etc.
Speaking about his party's stand he added, "We are raising awareness among the masses about the present state government's attempt to usurping the powers of the local level people's representative. We will be carrying out an agitation in this regard."
When asked about the Thali Bajao programme organized by various organizations in support of Congress he said that the grand old party is unnerved by the host of steps taken by the Central Government be it the abolition of article 370 or paving the way for the construction of Ram temple in Ayodhya or bringing in the Citizenship Amendment Act.
When asked about the defeat of BJP in the recently concluded bypoll elections for two seats, he said, "We had almost won. They won by a narrow margin."