New initiatives launched in tourism, forests
Hemant govt anniversary offer: Rs 25 off on petrol for users of two-wheelers
CM announces new tourism policy, signs MoU to create sustainable efforts to regulate forest economy; foundation ceremony held virtually for projects worth over Rs 12,000 cr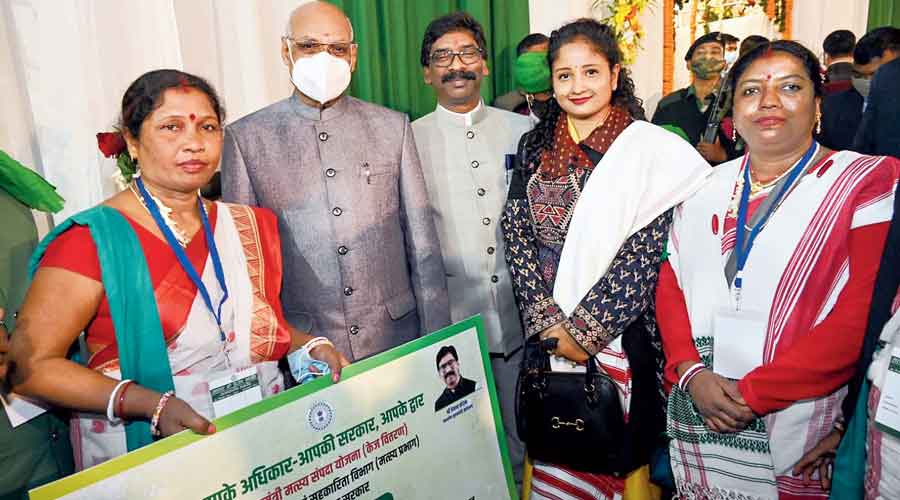 (From left) Governor Ramesh Bais and Hemant Soren along with the chief minister's wife at the inauguration of schemes on the occasion of the second anniversary of the UPA-led government at the Morabadi Ground in Ranchi.
Manob Chowdhary
---
Jamshedpur
|
Published 30.12.21, 01:11 AM
|
---
The Jharkhand government announced a major relief for  two-wheeler users from the spiralling fuel prices during an event to mark the second anniversary of the JMM-led UPA government on Wednesday.
Jharkhand chief minister Hemant Soren expressing concern over the rising inflation and its effect on the poor and middle class announced in his speech that the government would give a relief of Rs 25 per litre in petrol from January 26.
 "The prices of petrol and diesel is now reaching sky high and its bad effect can easily be seen among poor and middle class segment of the population. People are not able to ride their two-wheelers due to the high prices and are not able to sell their crops or vegetable products in the market. Those having higher income and who drive four-wheelers do not mind spending an extra amount on fuel expenses. Keeping this in mind the government has decided to give relief of Rs 25 per litre for two-wheelers users from January 26 next year," said Soren.
The chief minister further announced that those ration card holders (there are nearly 59 lakh ration cardholders who are covered under National Food Security Act in Jharkhand) who refill petrol in their two-wheelers, the government will send through direct benefit transfer to their bank account amount at the rate of Rs 25 per litre. A poor and middle-class person can avail the benefit of this rebate for refilling up to 10 litre petrol each month.
Sources in the Jharkhand Petroleum Dealers Association informed that Jharkhand has a VAT and cess of Rs 18.41 per litre of petrol and the remaining amount (nearly Rs 6.50) would have to be borne by the state government from its own resources.
The day also saw the release of Jharkhand tourism policy, signing of MoU between Bharti Institute of Public Policy-ISB and Jharkhand government to help in creating scalable, sustainable solutions for regulating forest economy and empowering livelihood in Jharkhand especially in tapping the vast resources of forest produce like sal, lac, mahua etc.
"The tourism policy 2021 aims at making Jharkhand as a must-visit destination on the tourism map of India and to ensure the overall development of tourism by showcasing its enriched heritage and tradition," said Soren.
Soren and governor Ramesh Bais also jointly launched a 1000-day SAAMAR (Strategic Action for Alleviation of Malnutrition and Anemia Reduction) campaign to tackle malnutrition in the state by identifying anaemic women and malnourished children and converge various government departments to effectively deal with the problem in a state where malnutrition is a serious issue.
Soren and the governor also launched 17 Kisan Pathshala schemes in the first phase.
"There is a target of setting up 100 kisan pathshalas (agriculture schools) across the state in the remaining three years. The pathshalas will dole out information about modern methods of farming, pisciculture and poultry along with providing information on modern agriculture equipment. Three to four Birsa villages will be established around the pathshalas and solar-powered cold rooms of capacity ranging between 5 and 10 MT will be constructed in each pathshala. It aims at increasing income of farmers through up-gradation of knowledge, market linkage, storage capacity and modern tools," said a senior official in the state agriculture department.
In his speech, Soren praised the government initiative of Apke Adhikar, Apki Sarkar, Apke Dwar (government at your doorstep), a 45-day campaign from November 16 in which 24,72,746 complaints out of a total of 35,41,532 applications were disposed and 10,09,778 are under process.
"I would like to call upon those contractual workers that dharna and agitations would not lead to a solution. The government is there to listen to you and find a solution. Please come forward for discussions," said Soren.
The chief minister also stressed on state optimising internal resources through transit tax and toll tax to fund its development initiative.
"Despite negligible support from Central government we have built on our internal resources to fund development and welfare initiatives like increasing MGNREGA wages, universal pension scheme and dhoti saree scheme. I had requested Prime Minister Narendra Modi that was there not enough money to provide pensions for all widows, destitute women and elderly. But did not get any reply. So we started the universal pension scheme on our own, perhaps the only state to do so," said Soren.
Soren also announced of Student Credit Card scheme providing soft loans to help students prepare and pursue higher studies.
"I have held talks with bankers but it seems banks are not willing to give loans to ST/SC. We are talking with the Union government and also the Reserve Bank of India on this aspect and if required we can also seek legal recourse to ensure that ST/SC get loans from banks," said Soren.
Governor Bais also praised the government for efforts at fulfilling people's aspirations and reaching out to the last mile in ensuring benefits of the government welfare measures.
Earlier, governor and the chief minister jointly laid foundation stones of projects worth Rs 12,558 crores and inaugurated projects worth Rs 3195.30 crores virtually. Assets worth Rs 1493.38 crores were also given to beneficiaries of government schemes.