Patient treated under mobile torches at Hazaribagh hospital
There is no proper lighting in the emergency unit of the health centre though it has been built a few years ago: junior staff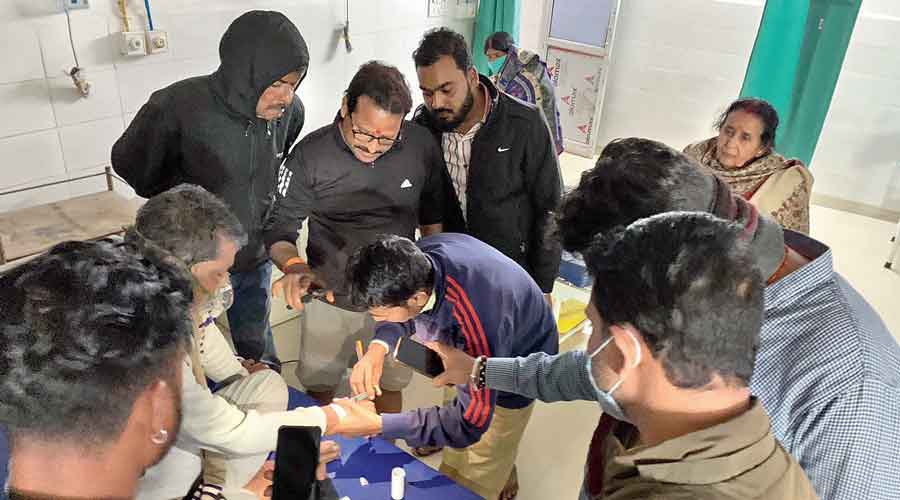 Jainandan Singh being treated under mobile torches at the Hazaribagh Medical College Hospital on Tuesday.
Bhola Prasad
---
Jamshedpur
|
Published 05.11.21, 12:50 AM
|
---
A patient was treated under the light of few mobile torches in a government-owned medical college hospital at Jharkhand's Hazaribagh, 100km from capital Ranchi on Tuesday night, amid claims of improving health infrastructure to tackle Covid.
The 70-year-old Jainandan Singh, the father of Manish Singh, a resident of Chanho, an industrial area of Hazaribagh district, was rushed to the Sheikh Bhikhari Medical College and Hospital (formerly Hazaribagh Medical College and Hospital) established in 2019 around 11pm on Tuesday.
"My father was feeling restless and was in breathing distress. He is also a known case of diabetes and hypertension. We rushed him in an ambulance to the government hospital and when he was taken to the emergency, there was no proper lights for visibility and it was difficult for the doctor to fix the cannula and we had no option but to light our mobile torches for nearly 15 minutes," said Manish.
Manish also complained that there were no senior doctors at the emergency ward.
"There was no senior doctors at the emergency ward. As our father was not feeling well even on oxygen support, we decided to shift him to a private hospital Arogyam also in Hazaribagh in the same ambulance. Now he is a bit stable," said Manish on Wednesday.
Sources in the hospital admitted of the pathetic condition. "There is no proper lighting in the emergency unit of the hospital though it has been built a few years ago. This creates problems for patients on several occasions. We have complained but of no avail," said a junior staff at the hospital preferring anonymity.
Hazaribagh deputy commissioner Aditya Anand feigned ignorance about the occurrence. "I do not know about any such occurrence. Please speak to the hospital superintendent for the exact fact," the deputy commissioner said.
The Hazaribagh hospital superintendent Dr Vinod Kumar on his part passed the buck by forming a one-man panel to probe into the incident.
"I have asked the deputy medical superintendent to probe into the reason for lack of light in the emergency unit which led to the incident. I can comment only after going through the probe report,' said Dr Kumar.
The hospital superintendent, however, admitted to poor lighting and problem in the power supply.
"We have only one generator for backup and got power supply from the state-owned electricity company. It takes time to start the generator. However, we will look into the problem and do our best to improve lighting in the emergency unit of the hospital," said Dr Kumar.
The superintendent also assured to put a senior physician along with a surgeon in the emergency unit on a roster basis.