GST protest: 20,000 garment wholesalers close shops till noon
The GST council had on Friday decided to defer the rate hike on textiles from 5 per cent to 12 per cent and review the issue at the next meeting in February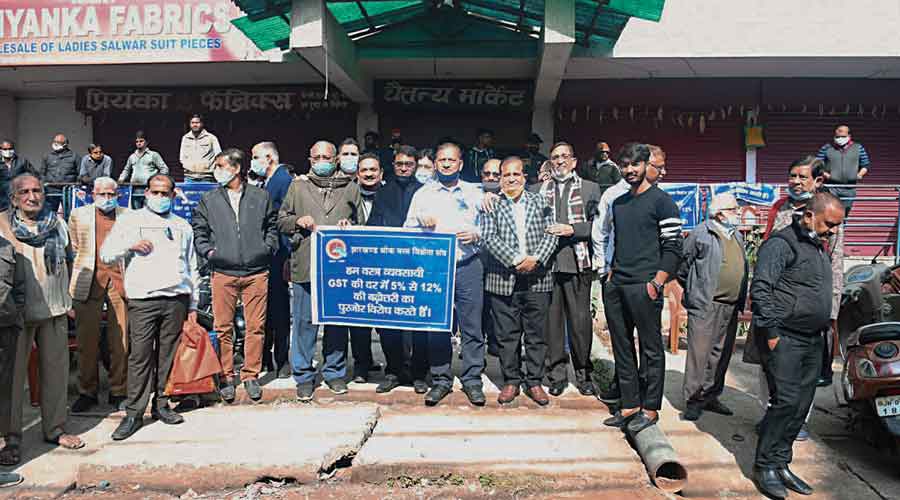 Textile wholesalers protest after closing their shops in Ranchi on Friday.
Manob Chowdhury
---
Jamshedpur
|
Published 02.01.22, 01:46 AM
|
---
Around 20,000 garment wholesalers closed their shops till noon across Jharkhand on Friday to protest against the Centre's decision to hike goods and services tax on textiles although the decision was deferred at a meeting of the GST council.
"We heard that the GST council has decided to defer the rate hike on textiles from five per cent to 12 per cent. But we want to press for the cancellation of the decision, not deferment, and go ahead with our planned agitation on Friday. All garment wholesalers downed their shutters till 12 noon and all the shopkeepers put on black badges," said Prakash Chandra Arora, the president of Jharkhand Thok Vastra Vikreta Sangh.
Arora said no Covid protocols were flouted during the agitation and no one was forced keep their shops closed.
"Any hike in GST on textiles will lead to an increase in prices of cloth, which would directly affect the masses, especially the poor and the middle class, who are already reeling under inflation and joblessness during the pandemic. We want the government to announce the cancellation of any plan to hike GST rates for textiles," Arora said.
The GST council had on Friday decided to defer the rate hike on textiles from 5 per cent to 12 per cent and review the issue at the next meeting in February.
The industry and other states have opposed the increase in the GST to 12 per cent from January 1, citing higher compliance costs for the unorganised sector and MSMEs and claiming that it will make the "man's clothing expensive".
"We want to request the Prime Minister and finance minister to conduct a survey on the textile sector and the subsequent effect that the rise in the price of garments will have. Due to Covid-19, people are confronted with a financial problem and employment opportunities have also shrunk. The textile industry has employed a large number of people directly and indirectly. If price rise, the textile sector would also go into recession," Arora added.
He said the future course of agitation would depend on the decision of the GST council in February.
Meanwhile, Jharkhand finance minister Rameshwar Oraon said he did not attend the GST council meeting in Delhi because he did not receive the agenda on time.
"I decided against attending the GST council meeting as my office go the agenda on Thursday morning. Without going through the agenda, there was no point in attending the meeting. The finance ministry should send the agenda of the meeting well in advance," Oraon said.