Giridih officials enforce 14-day quarantine norm on Sakshi Maharaj
BJP MP who came to see his ailing mother was leaving two hours later when he was stopped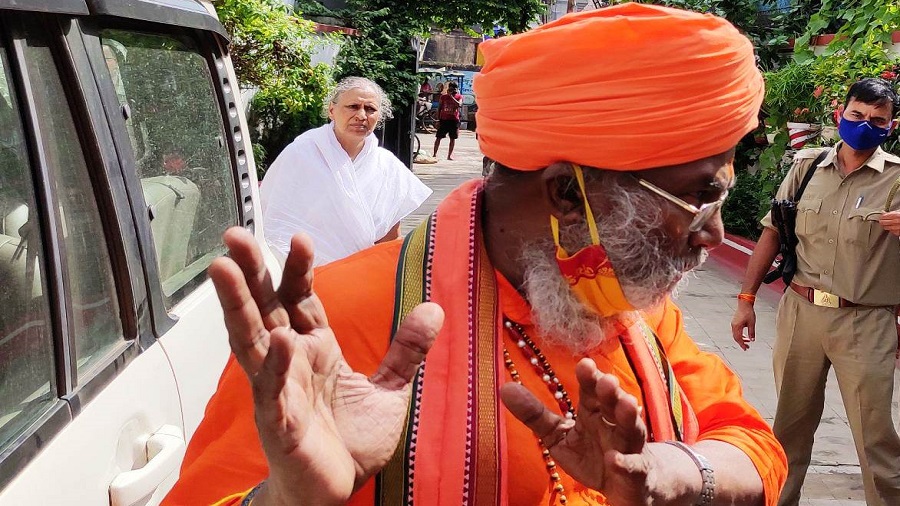 BJP MP Sakshi Maharaj at Prtand after he was stopped from going to Dhanbad to board a train on Saturday
Telegraph picture
---
Bokaro
|
Published 29.08.20, 09:19 PM
|
---
BJP MP Sakshi Maharaj, who came to his ashram in Giridh on Saturday morning to see his ailing mother, was asked to stay back there in quarantine for 14 days as per the state government's Covid norms, the SDO's order coming in for severe criticism from senior party leaders of Jharkhand.
A team of district officials headed by Giridih SDO Prerna Dixit stopped the MP's car near Pirtand police station while he was going to Dhanbad to board the Delhi-bound Rajdhani Express.
Giridih deputy commissioner Rahul Kumar Sinha said anyone can come to Jharkhand but has to stay quarantined for 14 days. "As per government guidelines, Sakshi Maharaj has been quarantined for the next 14 days at Shanti Bhawan Ashram where he had come," Sinha said, adding that he was following instructions of the state's chief secretary and secretary of the disaster management department.
Sources said Sakshi Maharaj, or Swami Sachchidanand Hari Sakshi Ji Maharaj, the BJP's MP from Unnao, came to the ashram in Giridih from Delhi via Dhanbad by the Rajdhani Express on Saturday morning. He spent about two hours there and was returning when he was stopped.
The MP was livid. "I reached here (Giridih) at 10.30am and left at 12.30 pm, spending two hours in my ashram. I came to meet my ailing mother who is 97 years old. Before coming here on Thursday, I had sent a fax to the state chief secretary and DGP, and to the SP and deputy commissioner of Giridih informing them about my visit. They did not object. Nor did they inform me about such guidelines," he said.
Sakshi Maharaj said he would have to return to Delhi in two days to attend a high-level meeting of the Parliament standing committee where an important bill was to be discussed.
"I told the DC how important it was for me to return, but he is not listening. Jharkhand is also a part of the country. The JMM government has quarantined me intentionally because I am an MP of the BJP," he alleged.
BJP leaders in the state also condemned the "high-handedness" of the JMM-led state government. MP of Dhanbad P.N. Singh said the Giridih district administration was politically motivated.
"The JMM government is double-faced. Whenever it gets a chance, it quarantines BJP leaders. But the government never touches the Congress or JMM leaders. Umang Singhar, co-in-charge of Jharkhand Pradesh Congress, had visited Giridih recently. Why was he not quarantined by the administration?" he said.