Giridih illegal mica mine collapse kills 4
The incident happened around 5pm on Thursday in a dense forest under Gawan police station area, over 60km from the district headquarters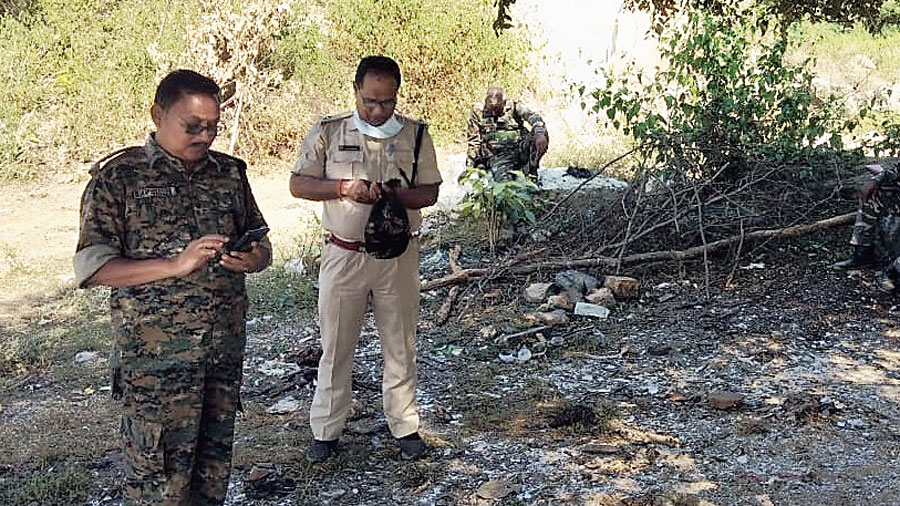 Police conduct a probe on Friday at the site of the illegal mica mine in Giridih where the mishap took place.
Bhola Prasad
---
Jamshedpur
|
Published 14.11.20, 01:06 AM
|
---
Four persons were buried alive when the roof of an illegal mica mine caved in on Thursday in Jharkhand's Giridih district.
The incident happened around 5pm on Thursday in a dense forest under Gawan police station area, over 60km from the district headquarters.
The deceased have been identified as Sukhu Tuddu, 18, of Gawan and Ravi Kamar, 24, Anil Yadav, 38, and Gopal Manjhi, 35, all from Dhab police station area in Koderma district.
However, the bodies were allegedly cremated by the locals without informing police, forcing the police team along with district mining and forest officials to initiate a probe.
Giridih deputy commissioner Rahul Kumar Sinha said, "The incident happened in a forest area bordering the two districts of Giridih and Koderma. Three of the deceased were from neighbouring Koderma district while one was from Giridih district. They were engaged in illegally extracting mica from the mine. A police team reached the spot on Friday. On the basis of the report submitted by the district mining unit and the forest department, the police will lodge an FIR against the person carrying out illegal mining activities in that area and unnatural death cases will be registered. A joint team comprising officials from Koderma and Giridih districts will investigate the steps to be taken to stop such illegal mining activities. The forest department will pay adequate compensation to the deceased families as per government norms."
Giridih superintendent of police Amit Renu confirmed the deaths. He said that forest and mining department officials will submit a report soon and they will take action against the operators of such illegal mines.
"Extraction of mica in a forest area is illegal and has been banned for more than two decades on environmental grounds. But private operators take advantage of the dense forest and reluctance on the part of the police and forest officials to visit the area due to extremism to operate mica mines without following any safety norms. Even the mandatory requirement of filling up closed mines with sand is not followed. Mine operators lure poor villagers to extract scrap from the abandoned mines in the forest area and this has resulted in several mishaps due to collapse of the mine roof," said a source in Gawan police station.
Mica extracted from such illegal and abandoned mines are sold to intermediaries and then exported to cosmetic manufacturers as it is used to add glitter to natural cosmetics and is a key ingredient in products such as face packs, mascara, eyeliner, lipstick and nail polish. The mines have been closed but people do engage in scrap mining at a risk to their lives with the threat of roof or the mine wall collapse looming on them.
"There has been a boom in mica mining in the recent years with soaring demand for natural cosmetics as artificial makeup made of synthetic chemicals have been linked to illness, including cancer.
This has made private operators carry out scrap mining in the abandoned mines illegally using poor villagers who
have no other source of livelihood," said social worker P.K. Mrinal.