Ghatshila school sets wheels in motion for students
Two vans of Sri Sri Vidya Mandir School deliver and pick up study materials, worksheets at children's doorsteps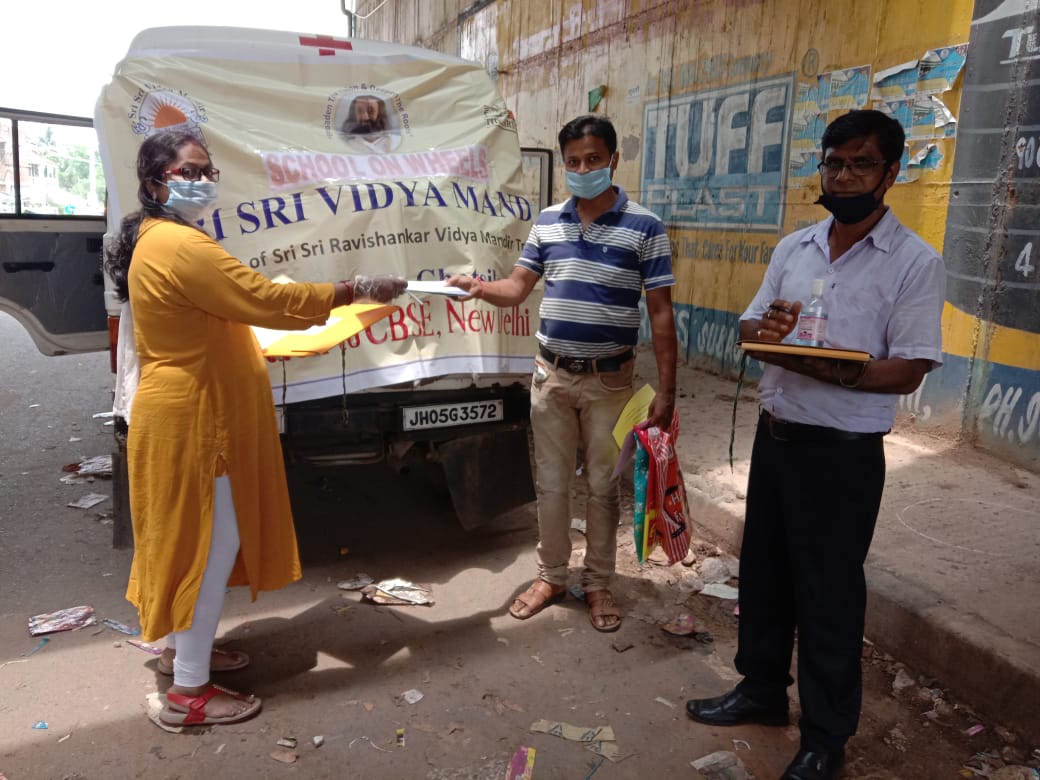 ---
---
When the Covid-9 pandemic hindered regular classes at Sri Sri Vidya Mandir School, the authorities knew it was time to set some wheels rolling.
The CBSE-affiliated institute at Kashida in Ghatshila, 45km from Jamshedpur,has set in motion a School on Wheels project, covering students between LKG and class IV, so that academics is not hampered.
Under this unique initiative, the school has introduced two vans, which go around different localities where students stay to deliver and collect worksheets.
Books and other study materials are also being delivered at the doorsteps of students staying in remote areas.
Various places have been earmarked in Ghatshila like Circus Maidan, Ghatshila Post Office, Kokpara High School, Barajuri, Kalchuri, Dhalbhumgarh block office and Narsinghgarh where the vans go around distributing and collecting worksheets of various subjects.
"Subject teachers travel in the vans to hand over the worksheets, which are given and collected from parents. As students between LKG and class IV are usually below 10 years of age they are not allowed to collect the worksheets because of the Covid-19 pandemic. Our teachers hand over the worksheets to the parents who are required to bring ID proof of their wards, diary or school copy with a child's name written on it," said Tilottama Singh, the principal of the school.
According to her, if there are any clarifications the students can call the subject teacher.
The teachers also conduct Zoom sessions imparting lessons and clarifying the doubts of students.
According to Singh, the School on Wheels project, which was introduced last week, is getting a good response.
School administrator Ashok Ghosh said, "There are half-a-dozen teachers who are assisting in the project. We took it as a challenge and came up with one of the best alternatives, which will not hinder the academics of students in the lockdown. It's an eye-opener for other schools. We want that other schools should start such initiatives," he said.
According to Ghosh, all necessary guidelines to prevent Covid-19 like social distancing, use of masks and sanitisers, are being followed under the project.
Project in-charge Sadanand Bera said over 200 students are benefited by the project.
"Though the school is conducting online classes with the help of the Zoom app, many students are unable to join classes because of the network problem. Keeping this in view, the School on Wheels project was started and is immensely benefitting the students," he said.