Four criminals arrested in connection with extortion threat to renowned surgeon
Several mobile phones seized, call traced to UP-based shooter Aman Singh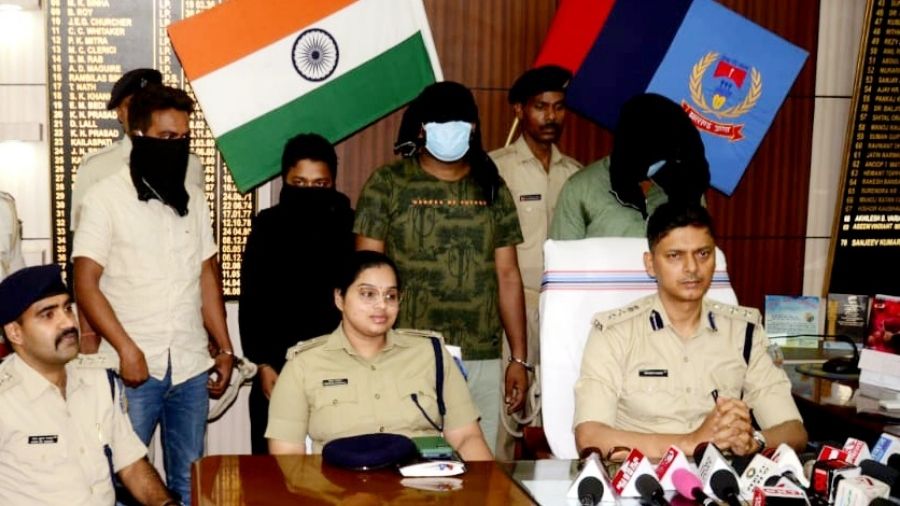 The arrested criminals at Dhanbad SSP Sanjeev Kumar's office in Dhanbad today.
Gautam Dey.
---
Dhanbad
|
Published 06.05.22, 09:13 PM
|
---
Dhanbad police on Friday arrested four criminals, including one from Uttar Pradesh, in connection with repeated extortion demands and threat calls to Dhanbad-based renowned surgeon Dr Samir Kumar.
The police also seized several mobile phones and obtained clues about other extortion calls made to other persons of Dhanbad from the arrested persons.
Talking to the media, Sanjeev Kumar, Senior Superintendent of Police said, "The arrested persons included one Md Sirajuddin of Bengal, Banti Khan and Israfil Ansari of Dhanbad besides Bir Bahadur Singh alias Biru, a transporter of Dhanbad having UP connection."
"The phone call tracing of the arrested persons proved that they were in direct contact with UP-based shooter Aman Singh who is presently lodged in Dhanbad jail in connection with Niraj Singh murder case of Dhanbad of March 21, 2017," said Kumar.
"Following the initial investigation of the case we came to know that the SIM Card through which the threat calls have been made to Dr Samir Kumar has been arranged by Md Sirajuddin who has been arrested from Bengal.
"Two of the arrested persons including Banti Khan and Israfil Ansari of Dhanbad are history sheeters. Altogether six and thirteen criminal cases respectively are pending against them. We are also in the process of tracing Md Sirajuddin's crime history from Bengal police.
"Investigation into the incident suggested that Bir Bahadur Singh who acted in the garb of a transporter served as the main person of gang managing the financial transactions and extortion money in previous extortion cases and used to keep the money to a bank account of Madhya Pradesh," said Kumar and added that they are also finding the details of Bir Bahadur Singh from the police.
"The threat calls to the Dr Samir Kumar has been made from the Dhanbad Jail through the SIM provided by Sirajuddin," further said SSP and added that Israfil Ansari acted as the middle man while Banti Khan played a crucial role in providing information about Dr Samir Kumar.
Notably, Dr Samir Kumar, a renowned surgeon of Dhanbad who owned a private clinic at Matkuria locality, has been receiving several extortion calls in the name of Aman Singh and his aide Chhotu Singh alias Ashish Ranjan and police have also provided him a bodyguard recently.  Kumar has also announced his plan to leave Dhanbad amidst the extortion demand worth around Rs 1 crore from him.