JBVNL engineers, forest officials fight over tusker's death
We have written several times in the past to power officials in Khunti to increase the height of wires, but to no avail: Arjun Baraik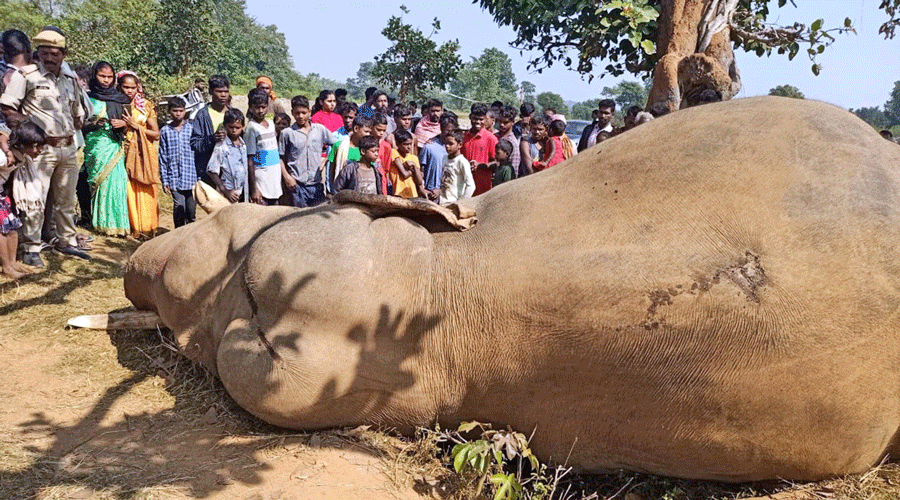 The electrocuted tusker at Khunti in Jharkhand last month.
Bhola Prasad
---
Jamshedpur
|
Published 06.12.22, 02:57 AM
|
---
The death of a wild tusker because of electrocution has led to a slugfest between the forest department and the Jharkhand Bijli Vitran Nigam Limited (JBVNL) engineers in Jharkhand.
The incident occurred on November 14 night when a tusker died in a forest in Koynara village under Rania police station in Torpa block of Khunti district, around 80km from the capital Ranchi.
The forest department officials at Khunti had alleged that the electrical wires for rural electricity were dangling which had caused the electrocution and lodged FIR at Rania police station against a junior engineer and two assistant engineers of the JBVNL (a unit of the Jharkhand energy department entrusted with power distribution in the state).
On Sunday, during a meeting of the Jharkhand Electrical Diploma Engineers Association at Ranchi under the chairmanship of Ajay Kumar, the general secretary of the association, it was alleged that the forest department was trying to hide their own skin by lodging cases against JBVNL engineers.
"We demand the JBVNL and state energy department to cancel the baseless cases against engineers in Torpa after talks with the Khunti district administration and te forest department. We were held guilty in the death of a male elephant in Torpa whereas the electrical wire came down on its own due to the damage done by the elephant to the pole in the residential area, which caused the death of the elephant," said Ajay Kumar.
Kumar further alleged that this was confirmed by the local villagers.
"Our engineers have been working day and night to improve the electrical situation in remote villages in forest areas of Khunti area and in return we are accused in such baseless case. We would like to mention that the forest department has not made provision for watch towers, trenches, etc. in the elephant corridor.
"The forest department is blaming the engineers of JBVNL to hide their loopholes which led to elephants meandering into the residential area from the forest," he added.
"We have decided that if the JBVNL management does not take proper decisions on these subjects, then our association will be forced to launch an agitation, for which all the responsibility will be of the JBVNL management and the forest department. We would not let innocent engineers' names be dragged falsely in the FIR," Kumar said.
Meanwhile, the assistant conservator of forest (Khunti) Arjun Baraik refuted their allegations.
"We have documentary evidence in the form of pictures and videos and statements of villagers to prove that no electric poles were damaged by the tusker and that the electrical wires were hanging from the pole at a height of only 7 feet while the elephant had a shoulder height of over 9 feet.
"We have written several times in the past to the JBVNL officials in Khunti to increase the height of the wires, but to no avail," said Baraik.