Fire mishap averted at power plant
Short circuit damages Rs 2.5cr transformer near Electrosteel's Bokaro unit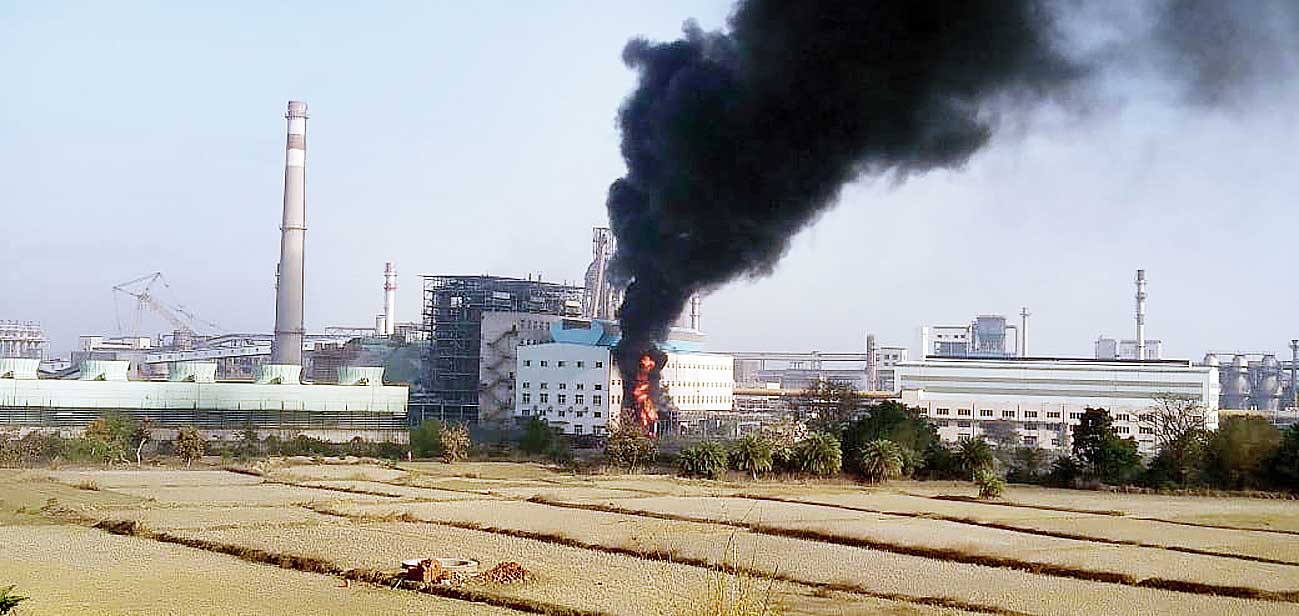 Thick black smoke billows out of the transformer of Electrosteel Steels captive power plant in Chandankyari, Bokaro, on Sunday.
Picture by Shikhar Kumar
---
Dhanbad
|
Published 24.03.19, 07:02 PM
|
---
A major fire broke out in a transformer near the captive power plant complex of Siyaljori-based Electrosteel Steels in Bokaro's Chandankyari block, about 30km from the district headquarters, on Sunday morning, but timely action helped to prevent a potential tragedy.
The Rs 2.5-crore transformer was gutted in the incident and knocked out power in the factory for four hours, but no loss of human life or injury was reported.
The 33KVA transformer had to be replaced with a new one with the same capacity to restore electricity supply.
Sources in the factory and local residents said the fire broke out around 7.45am when a monkey jumped onto the transformer located outside the power plant complex comprising two facilities of 66 megawatt capacity each.
"The fire was triggered by a short circuit following a friction between two parallel output cables. The monkey was killed in the incident," a resident said.
The security staff immediately turned off the power supply switch at the plant, leading to the blackout.
The flames were brought under control within half an hour with the help of fire hydrants.
"We saw thick cloud of smoke and flames and thought the factory had caught fire. We were scared that the fire may spread to the adjoining areas, putting our lives at risk, " a resident of Siyaljori said.
Senior general manager (administration) of Electrosteel Steel, C.P. Pandey, said there was no loss of life or injury as the incident took place outside the power plant complex.
"We made the entire plant operational again within four hours," Pandey added.
He said the plant was adequately equipped to handle such emergencies and the fire was doused with the help of only two hydrants.
On whether the workers were evacuated from the factory during the incident, Pandey said, "It was not needed. The transformer was situated at a distance from the power plant. There was no threat to the lives of the employees."
Officer in-charge of Siyaljori police station Punam Toppo, who had rushed to the site, said she was informed about a major fire in the factory, but when she reached the spot she found the transformer had caught fire, which was contained within half an hour.
"There are too many monkeys in the area. Sunday's incident was caused by a short circuit after a simian jumped onto the transformer," Toppo said while ruling out any sabotage angle.
Notably, a contract labourer Kartik Chandra Mahto was killed while his colleagues Upendra Mahto and Prasad Mahto fell ill following a gas leak at the sinter plant of Vedanta-owned Electrosteel Steels on December 2 last year.
The factory management had to pay a compensation of Rs 5 lakh to the family members of the deceased.