FIFA World Cup tickets for gutsy girls
Big screens beckon soccer lovers, Moscow seats for duo who braved taunts to play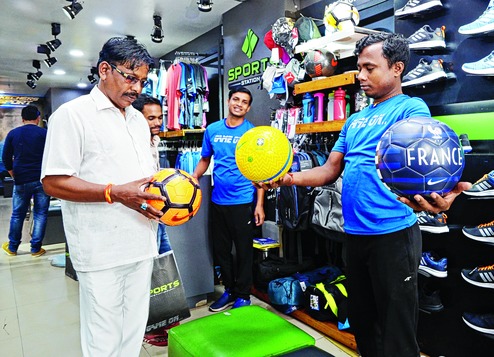 ---
|
Ranchi
|
Published 13.06.18, 12:00 AM
---
Ranchi: Like many teen girls, Shital Toppo, 18, of Bara Toli in the capital district is a YouTube addict. But, if most girls her age watch hairdo and Justin Bieber videos, Shital watches football.
The centre forward who braved put-downs and taunts to play football in her conservative village is now headed to Russia to watch FIFA World Cup 2018 live. Specifically, the 51st match in Round 16 at Luzhniki Stadium in Moscow, Russia, on July 1.
With Shital is Soni, 19, from Chari Hujar village near Bara Toli. Both the Ranchi girls - and four others from elsewhere - will live out their World Cup dreams in Moscow thanks to OSCAR (Organisation for Social Change, Awareness and Responsibility) Foundation, a Mumbai-based nonprofit.
FIFA has invited OSCAR - "we are the only such Indian outfit to get this invitation in 2018," founder Ashok Rathod said - as a part of its initiative to invite youths from "underserved" communities from across the globe to transform and inspire lives.
Shital and Soni will not only watch a match, as youth representatives of India they will also attend the Football For Hope event, a global initiative of FIFA for youth and community development, and interact with peers from 48 countries on breaking barriers to social development, education and health.
Rathod, who will accompany the six-member team, told this reporter that OSCAR Foundation supported children and youths from low-income groups to complete their education and used football as a tool for engagement.
"We run centres in Mumbai, Delhi, Karnataka and Jharkhand," he said.
In Jharkhand, OSCAR Foundation started out in 2014 at Chari Hujir village in Ormanjhi near Ranchi. Today, it has over 460 girls attached to the centre and hold lessons at nearby locations Rudia, Pahant Toli, Chuttu, Jirabar, Hochai and Sadma.
"These girls are from poor families and live in places where it is easy to fall prey to social evils such as early marriage and trafficking. For them, education and football spell empowerment and confidence," Rathod said.
Soni agreed that football had definitely toughened her.
"We faced a lot of barbs when we joined the OSCAR Foundation centre in 2014 and played at our village grounds," Soni, now a political science second-year student at Ram Lakhan Singh Yadav College in Ranchi, said. "But, we did not give up. I love football," said the Sunil Chhetri fan who "can't stop smiling thinking about July 1".
Shital, who's just completed her plus two, said her heart beat for Neymar. Why did she choose football? "The game teaches you a lot. As a centre forward, my aim is to study my opponents and find out the opportune moment to push the ball into the net."
Which team are you rooting for in FIFA World Cup 2018 ? Tell ttkhand@abpmail.com