Experts from US guide Jharkhand doctors, support staff on tackling Covid third wave
Hundreds of paediatricians working in state-run medical colleges and hospitals attend webinar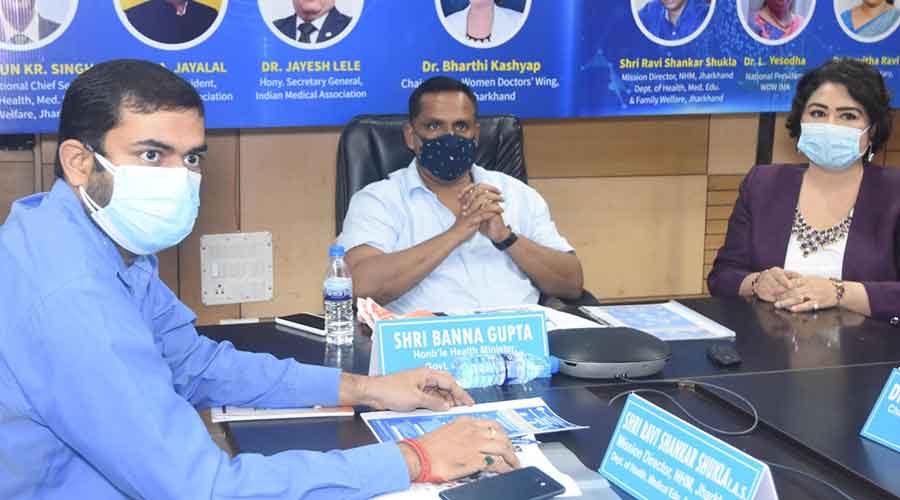 Health Minister Banna Gupta, NHM Director Ravi Shankar Shukla and IMA Women Doctors Wing's chairperson Dr. Bharti Kashyap during the webinar on Sunday.
Sourced by correspondent
---
Ranchi
|
Published 04.07.21, 07:14 PM
|
---
In a first, specialist doctors from University of California, University of Texas and University of Illinois, USA, imparted online training on critical care of children and management of intensive care units to hundreds of  healthcare professionals in Jharkhand on Sunday.
Paediatricians working in state-run medical colleges and hospitals, district hospitals, malnutrition treatment centres, Special NewBorn Care Units, NewBorn Stabilization Units, physicians and paediatricians going to be posted in the upcoming 28 new paediatric intensive care units (PICUs) attended the first ever such symposium jointly held by the health department and the Indian Medical Association (IMA).
The initiative is among several the Hemant government has planned in assocaition with the medical fraternity in view of a possible third wave of coronavirus infections. 
Inaugurating the webinar, health minister Banna Gupta said, "It is estimated that around 7 lakh children in Jharkhand would be affected if and when the third Covid wave strikes. Total population of children below the 18-age group is around 1.44 crore in our state. With a possible 5 per cent strike rate, at least 7 lakh children are expected to contract the virus, as per the state health department estimates,"
"It is also feared that the more seriously affected children, might develop Multisystem Inflammatory Syndrome and even Black Fungus infection, in later stages," said Gupta, adding that the state needs to be more vigilant to prevent loss of lives.
The health minister also condemned recent attacks on doctors during the Covid-19 pandemic and assured them that the  Medical Protection Act (MPA) would be implemented in the state.
Additional Chief Secretary Arun Kumar Singh, IMA national president Dr. J.A.Jayalal, IMA national secretary Dr.Jayesh Lele, national president of IMA's women's wing Dr.L.Yesodha, National Health Mission (NHM) Director Ravi Shankar Shukla and doctors from various hospitals also attended the webinar.
"This is the first time that such an international webinar has been arranged where specialists from top medical colleges in USA shared their insights and perspectives on combating a possible third Covid wave that is projected to affect several lakh children in Jharkhand. This interaction will help us be prepared for the third wave," said Dr Bharti Kashyap, the chairperson of women doctors wing of IMA Jharkhand.
Dr Yonca Bulut, Professor of Paediatrics, Division of Paediatric Critical Care, Department of Paediatrics, David Geffen School of Medicine, University of California, and Los Angeles, USA, Dr. Ravi Kashyap, Associate Clinical Professor, University of Illinois College of Medicine, USA and Dr. Pooja Kashyap, Paediatric Cardiologist, Director of Adult congenital Program and Assistant Professor, University of Texas, USA were the key speakers during the event.
The USA-based specialists suggested that to reduce the impact of a possible third wave of Covid infections, urgent steps should include mechanisms to recognise early warning symptoms, putting in place child ICUs equipped with monitoring devices like electro- cardiogram and echo cardiogram equipment and supported by advanced diagnostic and pathological testing facilities along with an efficient transport system to ensure quick hospitalisation. All such facilities should be manned by paediatric heart specialists and paediatric ICU specialists, nursing personnel and trained manpower capable of managing all monitoring devices and interpreting pathological and diagnostic test results in the shortest possible time, to ensure prompt care to Covid affected children.
They stressed the need of organising training for doctors, cardiologists, paediatric heart specialists, nursing staff, health care personnel manning radiological, diagnostic and path labs, ventilators, respiratory devices and other equipment.
Proper stocks of essential medicines should be built for each paediatric ICU to take care of child patients and all children showing signs of coronavirus infection should be immediately shifted to designated paediatric ICUs, the experts said.
Dr. Kashyap pleaded that respiratory ailments and heart problems in children caused by Covid sjould be also brought under the Ayushman Bharat National Health Protection Scheme, to provide relief to low-income groups.