Ex-contractual workers of Fertilizer Corporation of India protest over job assurances
They have been demanding work at the upcoming factory of Hindustan Urvarak and Rasayan Ltd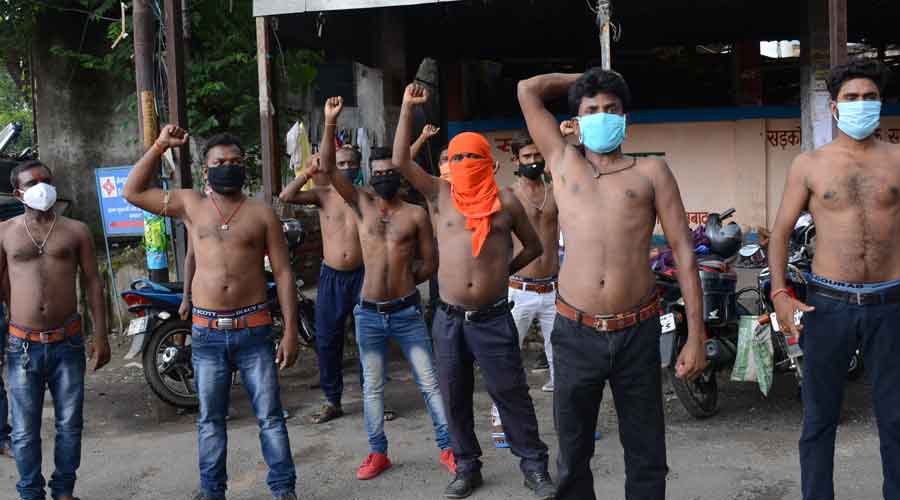 ---
|
Dhanbad
|
Published 14.07.20, 01:25 AM
---
As many as seventy contractual workers of Fertilizer Corporation of India (FCI), Sindri, staged a demonstration today at Randhir Verma chowk near the Dhanbad district headquarters.
They were demanding jobs at the upcoming factory of Hindustan Urvarak and Rasayan Ltd (HURL).
The protesters who were shouting slogans against the HURL management, accused it of not fulfilling it's earlier assurance of providing contractual jobs to them.
The FCI factory has been closed since December 31, 2002.
A protester, Sharad Kalindi, said, "The HURL management has been assuring us jobs for a while now. We even staged a sit-in last year on July 25 regarding this issue. However, no step has been taken."
He added that they would be forced to block the factory gate again if their demands were not met.
On conditions of anonymity, a protester told The Telegraph Online, "I have served in the coal handing power plant of FCI factory for over 20 years, but have been unemployed since the plant closed 12 years back."
"Recommendations of our employment in the upcoming factory had been made by Dhanbad MP P.N. Singh and Deputy Commissioner Amit Kumar, but there has been no progress in this regard," he added.
Another protester said that people who have worked at the fertilizer factory and have experience should be hired instead of employing people from other places.
Nagendra Sharma, the human resources manager at HURL, said, "Any employee working with the FCI in any capacity has no claim for jobs in HURL as the two are separate companies."