Encroacher sells off government land
Plots in Adityapur being sold at Rs 400 per sqft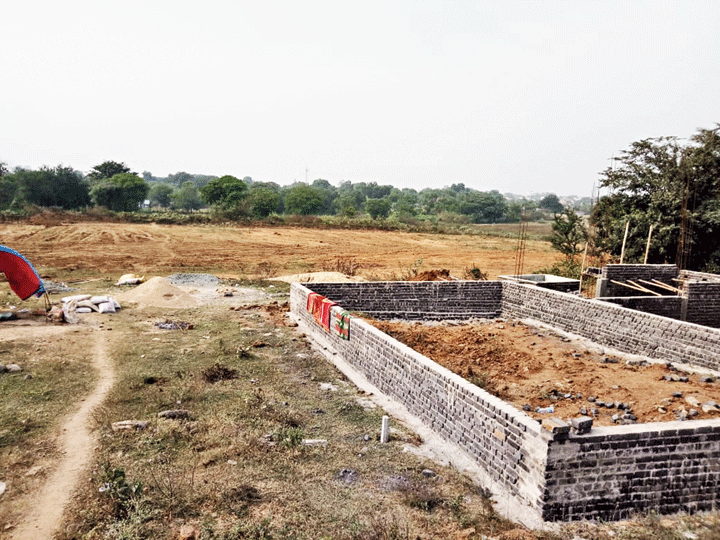 ---
---
Illegal construction has begun on a considerable stretch of government land along the Kharkai river in Adityapur in adjoining Seraikela-Kharsawan district, around 2km from Bistupur, at a time when the administrative machinery is occupied with the Assembly elections.
The stretch of land where construction activities are on in full swing is located along the Radhaswami Temple Road that connects Road No. 32 in Adityapur.
Gomia Biruli, 45, a resident of Kuluptanga in Adityapur, is selling plots of land at Rs 400 per square feet.
In government records, the land measuring 2.5 acres has been earmarked as "encroached land" where crops can be grown, but construction activities are forbidden.
Shyam Biruli, a resident of Kuluptanga, said Gomia's forefathers had encroached upon the land decades ago and a survey conducted in 1964 had marked it as "encroached land".
He also produced a document supporting his claim.
A senior official at the circle office in Gamharia, under which Kuluptanga and the government land in question falls, said: "It is illegal to undertake construction on encroached government land. One can engage in cultivation, but construction is strictly prohibited."
Diwakar Prasad, another resident of Kuluptanga, said Gomia started levelling the land, on which he had been growing crops till 2016, soon after the model code of conduct kicked in.
"Within two-three days, the land was ready to be sold as plots for building houses," he said.
Diwakar said Gomia had engaged middlemen to contact buyers and was making big bucks by selling the plots for Rs 400 per square feet.
Bablu Biruli, one of the agents of Gomia, confirmed the development.
"The plots adjoining the road have already been sold. The plots in the second row are alsoup for sale. Anyone can buy them," Bablu said.
Seraikela-Kharsawan deputy commissioner A. Dodde said he would get the matter investigated and take necessary action immediately.
"We will demolish the unauthorised construction. The ongoing election won't come in the way of enforcing the law," Dodde said.