Elgaar Parishad case: Father Stan Swamy refuses hospitalisation
The Jesuit priest and activist pleaded with Bombay High Court to grant him interim bail to go back to his home in Namkum near Ranchi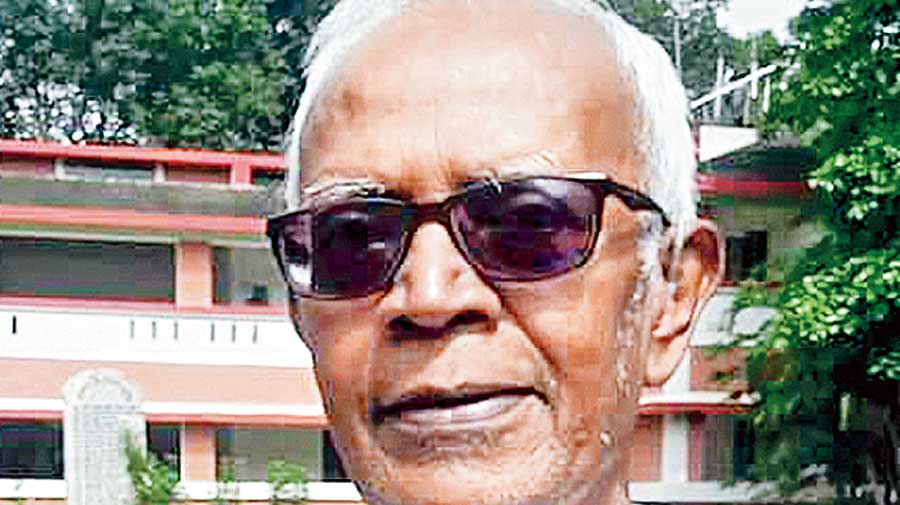 Father Stan Swamy
File picture
---
Jamshedpur
|
Published 22.05.21, 02:19 AM
|
---
Jesuit priest and tribal rights activist Father Stan Swamy, an undertrial in the Bhima-Koregaon-Elgar Parishad case, pleaded with Bombay High Court on Friday to grant him interim bail to go back to his home in Namkum near Ranchi.
The 84-year-old, during an interaction with the court's division bench led by Justice S.J. Kathawalla via videoconference, said he would rather die in jail than get admitted to a hospital in Mumbai.
"No I would not want to. I have been there thrice. I know the set-up. I don't want to be hospitalised there. I would rather suffer, possibility die very shortly if this were to go on. I would prefer this, than be admitted at the JJ Hospital. It is a very difficult moment for me. One thing that I would request the judiciary is to consider for interim bail. That is the only request," Fr Stan said after Justice Kathawalla asked if he was willing to get admitted to the JJ Hospital for a few days till his general health improved.
When Fr Stan's lawyer Mihir Desai informed the court that the priest might be apprehensive of JJ Hospital as he had seen the set-up there, the court enquired whether he would be willing to get admitted to any other hospital.
Fr Stan, however, said he did not want to get admitted to any other hospital.
The high court bench had earlier directed the Taloja jail authorities to take Fr Stan to JJ Hospital for a check-up.
Fr Stan told the court that when he was brought to Taloja jail eight months ago, he came with a functional body but his health had steadily deteriorated since then.
"When I came to Taloja, the whole system of my body was very functional, but during these eight months there has been a steady but slow regression of my body functions. Eight months ago, I would eat by myself, do some writing, walk, but all these are disappearing one after another… I can neither write nor go for a walk by myself. Someone has to feed me… I am requesting you to consider why and how this deterioration happened. Yesterday (Thursday), I was taken to JJ Hospital… but I had no opportunity to explain what I should be given. There are some medicines which the jail authorities gave me, but my deterioration is more powerful than the tablets they are giving me," he said.
Desai said keeping Fr Stan in Taloja jail was not a solution as the prison lacked facilities. "They do not even have MBBS doctors," he added.
Desai asked the court to grant him some time before taking a decision on proceeding with the hearing on interim bail.
The court in its order noted: "We have also spoken to Mr Swamy and we have observed that he has severe hearing problem. He is unable to hear even the person sitting next to him... We post the matter for hearing on June 7. Till then, Taloja jail is directed to strictly follow the recommendations of the JJ Hospital committee as well as the facilities mentioned."
Desai told The Telegraph over phone: "I will try to clear any confusion and persuade Fr Stan about the need for hospital admission before pressing for interim bail."
The bench was hearing a plea by Desai against the special NIA court's decision in October last year to reject an interim bail plea for Fr Stan on medical grounds. Earlier in May, Desai was granted permission by a high court bench led by Justice S.S. Shinde to move the vacation bench, seeking a hearing on Fr Stan's bail plea.
On May 17, Desai submitted a note in the high court stating his client's poor health and detailing the lack of medical aid at the Taloja prison, the impossibility of social distancing (required during Covid-19) in the overcrowded jail and his deteriorating condition.
Fr STan was arrested by the NIA on October 8, 2020, from his Namkum residence in connection with the Bhima-Koregaon-Elgar Parishad case and charged under various sections of the IPC and offences under the Unlawful Activities (Prevention) Act for allegedly furthering the cause of the banned CPI (Maoist).
Fr Stan is facing charges along with 15 other human rights activists.