Early birds at Birsa airport
As many as 6 flights had to take off between 11.15am and 2.25pm from airport while Modi was in Ranchi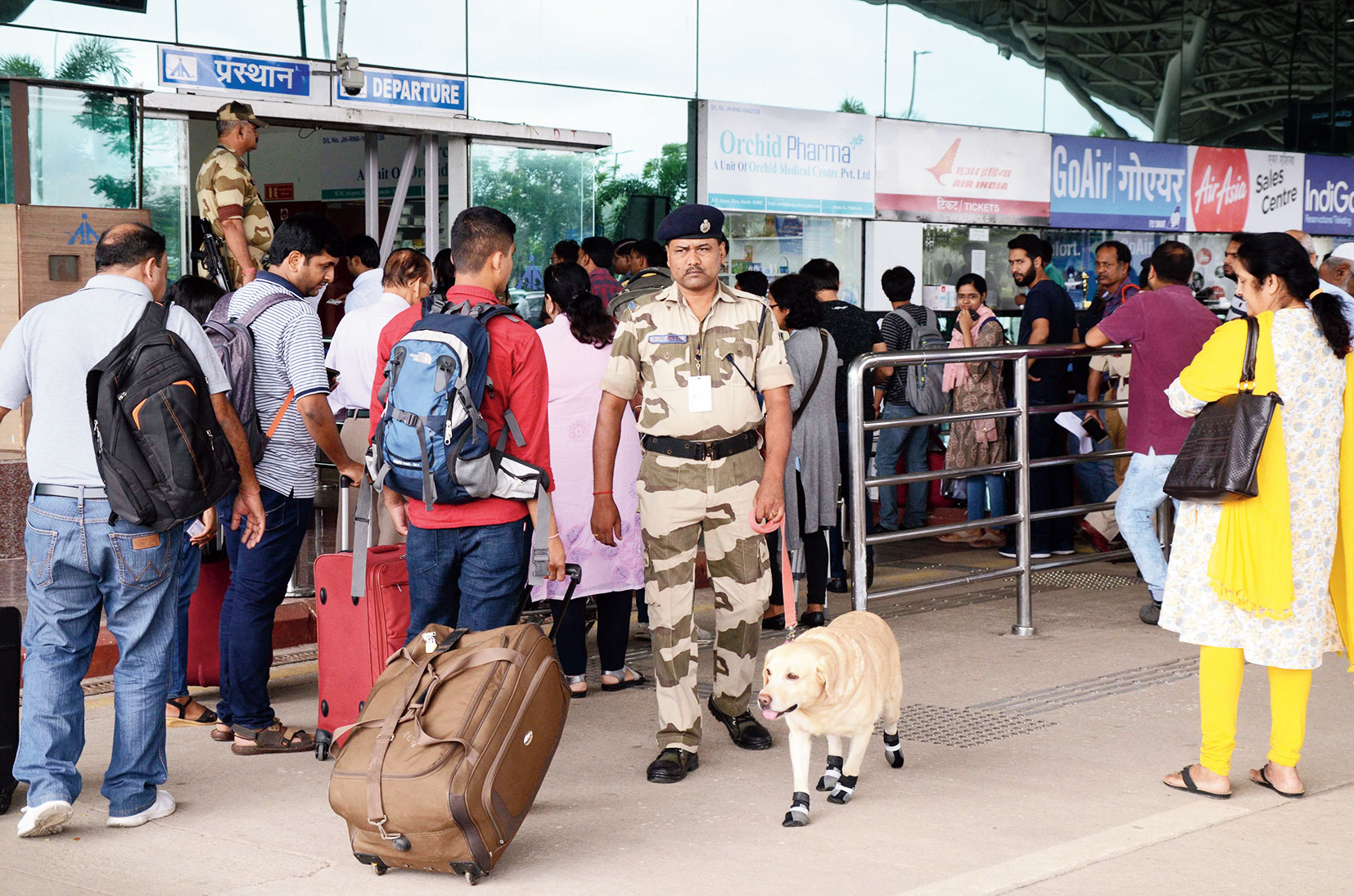 ---
Ranchi
|
Published 12.09.19, 06:38 PM
|
---
Most flyers on Thursday reached Birsa Munda Airport much earlier, anticipating delays en route owing to Prime Minister Narendra Modi's visit.
As many as six flights had to take off between 11.15am and 2.25pm from airport while Modi was in the state capital.
Usually, a domestic flyer is expected to reach the airport at least 90 minutes ahead of the scheduled flight for required security check-in. On Thursday, almost all flyers were inside the airport by 10.30am.
Those with early flights to catch were in by 9am.
At 9am, Garhwa man Ajay Kumar Singh, who had to take an Air Asia flight for New Delhi at 11.45am, said he did not take any chances on a day the PM was visiting the capital.
"I reached the capital last night (Wednesday) to put up at my relative's place in Morabadi. This morning (Thursday), I started for the airport before 8.30am and reached by 9am. I was afraid of missing my flight as for the last two-three days I was only hearing about traffic diversions and security measures in view of Modiji's visit," said Singh, who was going to meet his son working at New Delhi.
Md Azim from Jamshedpur who had to take an IndiGo flight for New Delhi at 2.25pm, was at the airport by 10.30am. "Usually auto-rickshaws charge Rs 150 to drop a passenger to the airport from the government bus stand. I had to pay Rs 200 today (Thursday). The auto-rickshaw driver charged me extra saying he would have to take a longer detour, but he cheated me," Azim said. "There was no detour and traffic in fact was more smooth today (Thursday)," he laughed.
An elderly couple who had to take a 2.25pm flight to New Delhi, were pacing in front of the airport at 10am. The man was heard telling someone over the phone that he was "happy to reach the airport without traffic hassles but was worried how they'd pass the next four hours and 25 minutes".
Many flyers who had to take IndiGo flight for Hyderabad at 12.05pm trooped between 10am and 10.30am with food packets in their hands.
Birsa Munda Airport director Vinod Sharma told this paper that there were no untoward incidents and he did not get reports of persons missing their flights on Thursday.
"Everything remained normal. I did not get any information suggesting anyone missed his or her flight. All the flights were on time today (Thursday)," airport director Sharma said.
Ranchi traffic superintendent of police Ajit Peter Dungdung echoed Sharma. "Everything went well," he said.
He said they had obtained a list of flyers from the airport and had arranged a vehicle to drop flyers to the airport in case of any delay owing to traffic diversions in the wake of the PM's visit, but only one flyer sought their help. "To the best of my knowledge, no one missed his or her flight," Dungdung said.