Divers join efforts to rescue two trapped in flooded coal mine
Third pump added to drain out water from ECL's Khudia colliery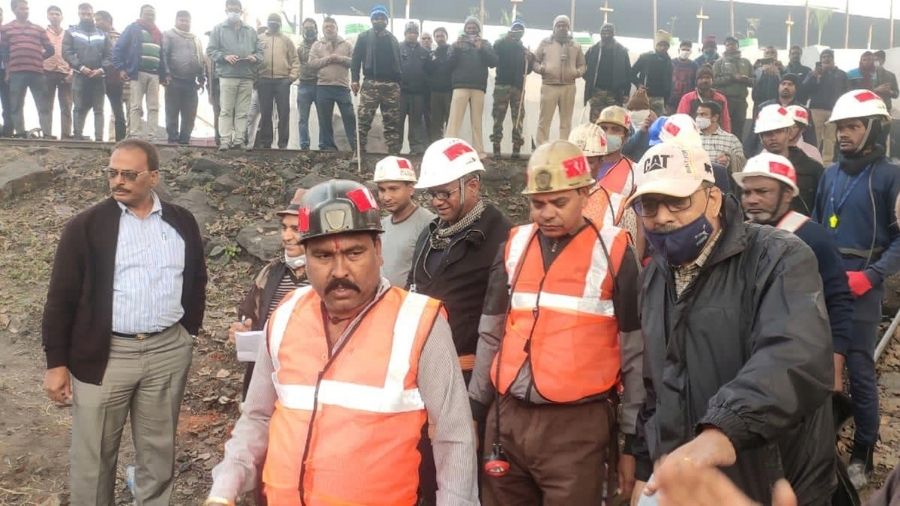 Divers from Odisha, along with ECL officials, proceed via the BP Incline of Khudia colliery to join rescue efforts in Dhanbad on Wednesday.
Picture by Gautam Dey
---
Dhanbad
|
Published 09.12.20, 06:14 PM
|
---
Eastern Coalfields engaged a team of divers from Cuttack on Wednesday to help rescue the two miners trapped inside a flooded coal mine at Mugma since Tuesday.
The six-member team of divers, led by Captain Pranab Kumar Biswal, reached here at 7am and started work from 9am after studying maps of the Khudia colliery. Side by side, work to drain out of water from the inundated mine was also speeded up by deploying a third motor early morning.
The miners, Basia Maji (56) and Manik Bauri (58), were trapped inside the mine in the Mugma area after a borehole burst triggered flooding in the wee hours of Tuesday. Former Nirsa MLA Arup Chatterjee, who visited the site on Tuesday to supervise rescue operations, said the burst in the borehole led to water flowing into the mine from an adjoining colliery, leading to flooding around 3.30am. And although two other workers managed to escape, Maji and Bauri got trapped inside.
On Wednesday, a team of mines regulator Directorate General Mines Safety, led by Director Mines Safety (Central Zone) Murlidhar Mishra, arrived at the accident site and took details from the colliery officers and workers about the circumstances under which the mishap occurred.
Khudia colliery project officer Shailendra Kumar, who was present at the site, along with safety officer C.K. Nayak and others, said, "When we informed the National Disaster Response Force team in Ranchi, they told us that they did not have expertise in mine rescue. Hence, we contacted the Cuttuck team of divers, many of whom are ex-Navy men and have expertise in tunnel rescue."
Kumar said efforts to drain out water from the flooded mine were on. "We have decreased water levels in the mine by more than 40 metre since Tuesday," he added.