Dhanbad Municipal Corporation sanitation staff resume work after assurance
DMC Commissioner Satyendra Kumar assured the agitators that their demands will be looked into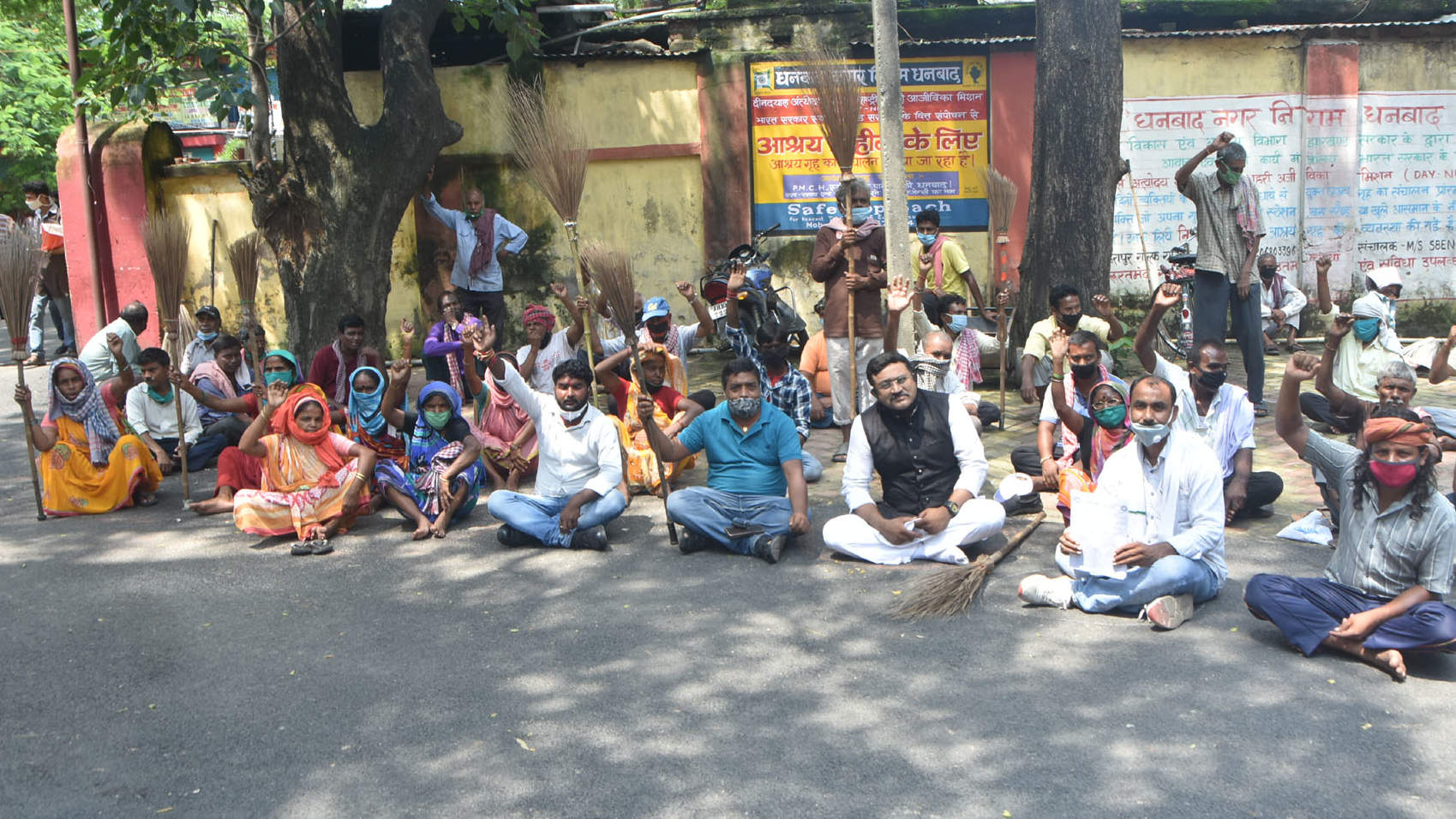 Sanitation workers of Dhanbad Municipal Corporation staging dharna at the DMC office on Luby Circular Road in Dhanbad on Friday.
Gautam Dey
---
Dhanbad
|
Published 07.08.20, 06:30 PM
|
---
The age-old practice of boycotting work clicked once more, when more than 100 sanitation workers of Dhanbad Municipal Corporation (DMC) on Friday who had sat on dharna in front of the DMC office demanding pending salaries for around two months were assured by the local governing body's commissioner Satyendra Kumar that their demands will be looked into.  
The protestors, who staged dharna under the banner of district unit of Bhartiya Karmchari Mazdoor Union, were also demanding payment of arrear of more than one year of assured career progression (ACP) scheme benefit, besides restoration of jobs of those who have been removed without any valid reason. Its 18-point demand charter included leave and leave encashment facility for the regular workers, insurance facility, besides provision of mask, sanitisers and gloves and other facilities, including medical check up for sanitation workers on a regular basis and Covid 19 tests.
State working president of Bhartiya Karmchari Mazdoor Union, Baibhav Sinha, who led the agitation, said, "We had several rounds of meeting with the Municipal Corporation authorities with regard to our long pending demands like payment of arrear of ACP, implementation of seventh pay commission, pending arrear of the retired employees. Assurances have also been given but no positive result has come out compelling us to boycott work."
One of the protestors, requesting anonymity said, "We are risking our life working in containment zones carrying out santisation work, saving the life of others but our own life is at stake as we are deprived of protective gears like masks, sanitisers, face shield and in some cases PPE kits also."
"When Covid testing of policemen are being carried out then why can't our sample testing be carried out, especially when we are working in such an exposed situation?" asked another protestor.
The work boycott came to an end after the meeting between the protestors and DMC Commissioner, Satyendra Kumar during which he assured them of paying pending salaries within a day or two and also providing  protective gears like masks, gloves, santisers and PPE kits in sufficient quantity soon.
Municipal Commissioner Satyendra Kumar in his brief reply said, "We had a meeting with the sanitation workers after which their agitation came to an end."