Deluge batters Jharkhand, 4 dead in Dumka
Floodwater entered as many as a dozen villages in Mufassil police station area of Pakur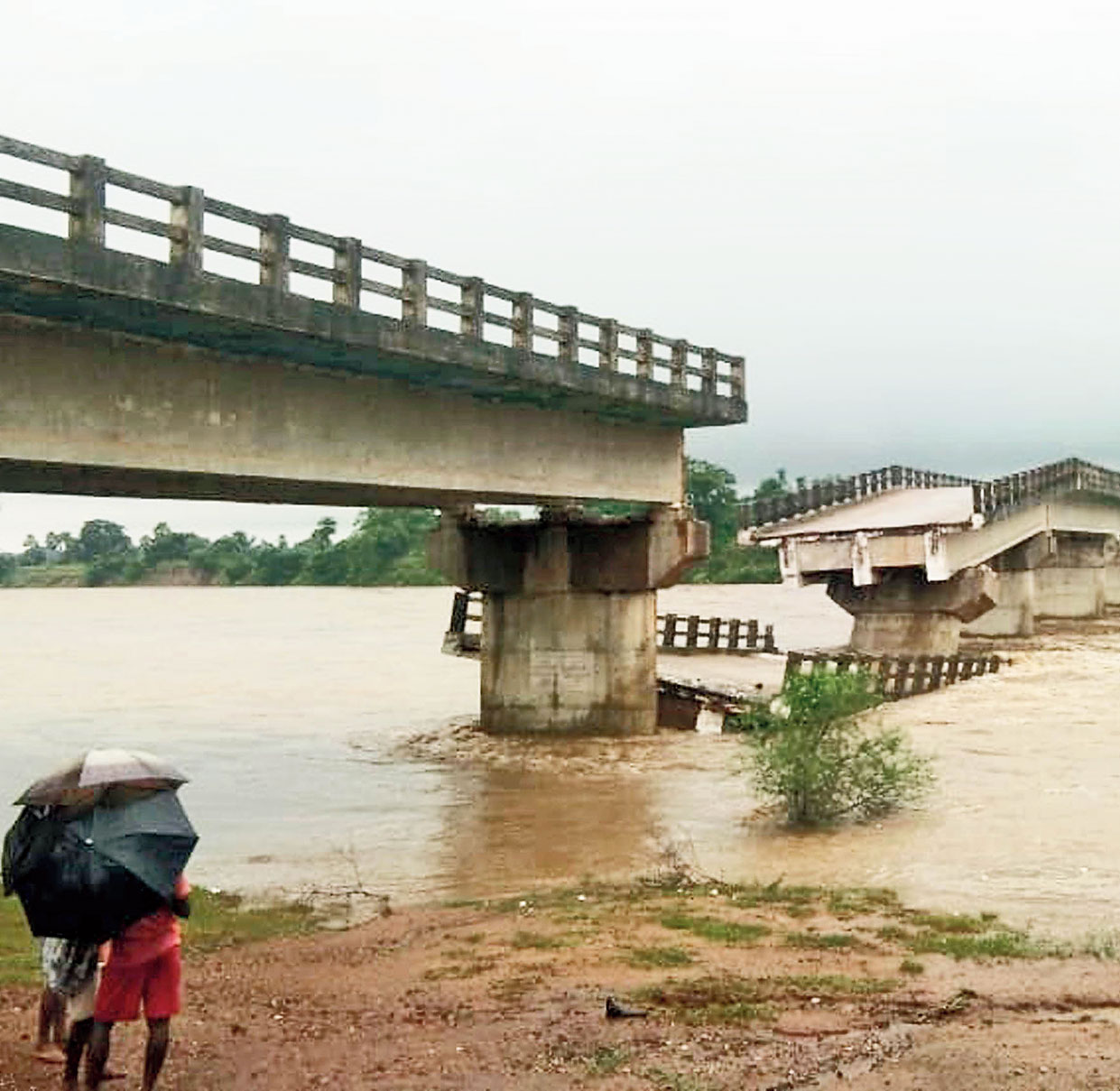 ---
|
Ranchi
|
Published 30.09.19, 07:29 PM
---
Three persons died at home as a mud wall fell on them, and minister Louise Marandi's residential boundary wall collapsed in Dumka, a part of a bridge caved in at Pakur, floodwater entered residential localities in Sahebganj and a woman's body was found washed up in Chatra.
Heavy showers continued to wreak havoc across Jharkhand on Monday, with the masses and in some cases VIPs bearing the brunt.
Young couple Lukhi Marandi, 30, Lukhi Murmu, 28, and the woman's mother Amjhari Hembrom, 60, who were sleeping in the wee hours of Monday at their Bhutokoria village home in Jama area of Dumka, some 25km from district headquarters, never woke up as a wall battered by rain collapsed on them. The couple's boys, who were sleeping with their grandfather in the next room, stayed safe but became orphaned in one blow.
Dumka MP Sunil Soren, who visited the site with district and block officials in the morning, promised the admission of the two boys Rakesh and Mukesh at a government residential school. The district administration also gave some funds for the last rites.
Dumka DC Rajeshwari B. said the wall of the kutcha house collapsed on them after five days of heavy rain.
"The district administration will give Rs 2 lakh against each death to the survivors of the family and ensure their rehabilitation. For the past five days, Dumka is seeing heavy rain. We are alert," the DC said.
Chatra police on Monday found the body of a 30-year-old woman, identified as Anita Devi, from Hunterganj. She had been swept away on Sunday evening while trying to cross the Niranjan river.
The administration of flood-hit Sahebganj, where the Ganga is flowing above danger mark, announced the closure of all schools and colleges till October 3. Worst-hit are Hajipur, Lalbathani, Rampur Diyara, Rasulpur and Kabutarkhopi, a source told The Telegraph. "Even Refugee Colony in the heart of the district town is flooded," the source said, adding that the administration had put the National Disaster Response Force on alert.
In Pakur, a part of the bridge over Bansloi river at Chandalmara in Maheshpur police station area, 35km from the district town, collapsed early on Monday morning. A few pillars of the 252.32m-long, Rs 5.98 crore bridge built in 2015 to link Maheshpur with Amrapara, caved in.
Floodwater also entered as many as a dozen villages in Mufassil police station area of Pakur .