Dalma elephants angry, trample over plants
Several herds have moved closer to human settlements, posing a threat to crops too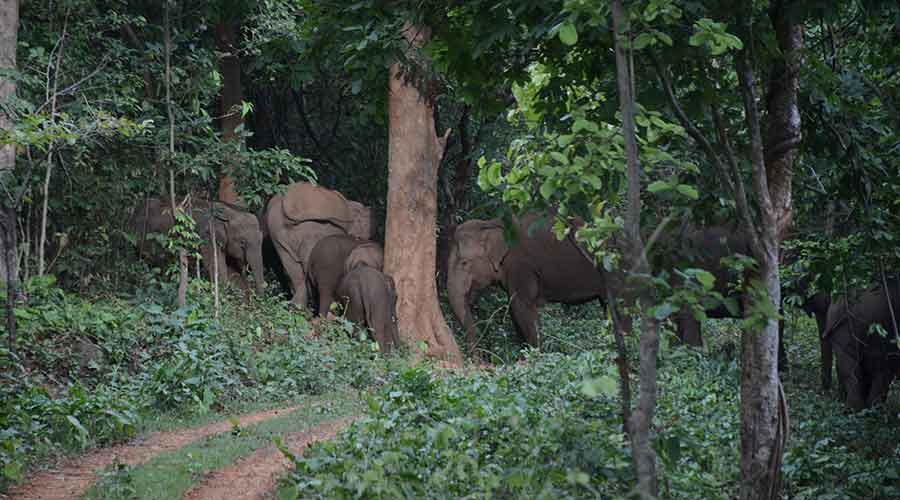 Elephants inside Dalma wildlife sanctuary.
Bhola Prasad
---
Jamshedpur
|
Published 30.06.21, 08:24 PM
|
---
A hostile herd of elephants destroyed around 35 special variants of plants, sown near the Pinderbera forest guest house inside Dalma wildlife sanctuary on Tuesday night.
The herd of 22 elephants trampled over varieties of mango, banyan and peepal. The plants were sown around a small vacant space near the guest house to mark Van Mahotsav in July last year.
Pinderbera forest guest house is located 14 km from Makulakocha, the main entrance to the sanctuary.
Dalma range officer (West) Dinesh Chandra said the plants had grown to a height of 10-12 ft. "We had procured around 250 special variety plants for Van Mahotsav. Around 35 were sown near the Pinderbera forest guest house. Each plant was bought at Rs 150," he added.
Sources revealed that some workers who were at the guest house were petrified at the sight of the jumbos who were trumpeting and targeting the plants with their heads and trunks. Some elephants in the herd are still anchored in pockets near the guest house. A few have scattered around Badka Bandh and the Shiva temple at the top of the hill.
The workers informed range officer Chandra about the incident. "We feel very sad that the plants have been destroyed by the elephants. They had grown to a height of 10-12 ft. The herd might have been hungry," Chandra added.
Foresters and village youths are on patrol duty across the 192 sq km sanctuary, 30m km from Jamshedpur. "Though the elephants have so far not entered any villages on the foothills, we need to be alert. Elephants are moving animals. Crackers have been distributed among the villagers," a forester said.
Other herds are perilously close to the human habitats downhill.