CPM stage protest against attacks on minorities
There has been a spurt in attacks against Kashmiri woollen traders in Ranchi where they have been allegedly forced to chant 'Jai Shri Ram' and 'Pakistan Murdabad'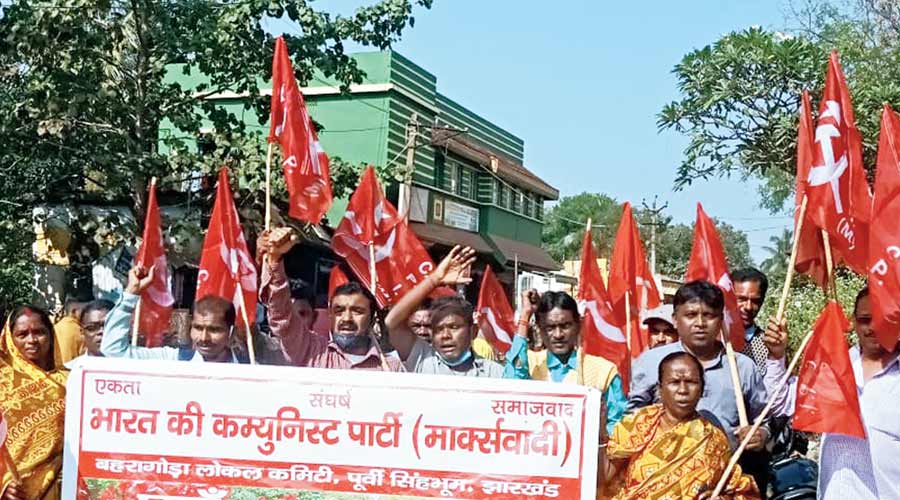 A CPM protest in Jamshedpur on Wednesday.
Bhola Prasad
---
Jamshedpur
|
Published 02.12.21, 12:24 AM
|
---
The CPM's Jharkhand unit staged a protest in line with the nationwide call against increasing attacks on minorities, in over 143 blocks of 15 districts across the state on Wednesday.
"CPM cadres staged protests and dharnas at all major cities of the state including capital Ranchi, industrial city of Jamshedpur, Dhanbad, Jharia, Bokaro, Hazaribagh and Dumka. Apart from the nationwide call on issues of communal poison being spread for vote polarisation in states like Uttar Pradesh and Tripura we also raised issues like attack on Kashmiri traders in Ranchi and the delay in punishment to accused of mob lynching which took place during the erstwhile BJP government regime in the state," said Prakash Viplav, the CPM state general secretary.
Significantly, there has been a spurt in attacks against Kashmiri woollen traders in Ranchi in November with at least five such incidents being reported by the traders in different parts of cities wherein the traders have alleged to have been forced to chant 'Jai Shri Ram' and 'Pakistan Murdabad'.
As per the list prepared by Jharkhand Janadhikar Mahasabha (JJM), 30 persons belonging to tribal, tribal Christian and Muslim communities have either been lynched or beaten up by a mob on suspicion of cow slaughter, sale and consumption of beef and religious hatred in Jharkhand between 2016 and July 2021, mostly during the Raghubar Das-led BJP government.
"There has been a series of incidents especially in Uttar Pradesh and the recent communal violence in Tripura and stopping minorities from offering namaz in Gurgaon, attacks on mosques and minorities' residential areas in a planned manner under the patronage of the BJP government in Tripura and Assam and even in Jharkhand too, there have been attempts to disturb the social fabric," alleged Prakash Viplav.
The CPM leaders cited the recent renaming of a road in the capital Ranchi, which has been in the name of an eminent person of a minority community for a long time, was changed to Bajrang Nagar at the behest of vested elements.
"Unfortunately it was headed by the deputy mayor of Ranchi Municipal Corporation Sanjeev Vijayawargiya whereas the name of a road or lane can be done only by bringing a proposal in the Municipal Corporation. The deputy mayor whom we know to have association with the BJP has done an illegal act," alleged Viplav.
After the demonstration in Ranchi, a delegation of CPM activists submitted the memorandum at the office of Jharkhand governor Ramesh Bais on Wednesday.
"It was a peaceful demonstration at all the places lasting for few hours. We just wanted to create awareness among the masses about the divisive politics played out by the BJP and the RSS," added Viplav.