Covid: Non-vegatarian items witness sharp decline in sales in Dhanbad
Closure of roadside stalls, lockdown curbs and disruption in supply from neighbouring states some factors attributed to dip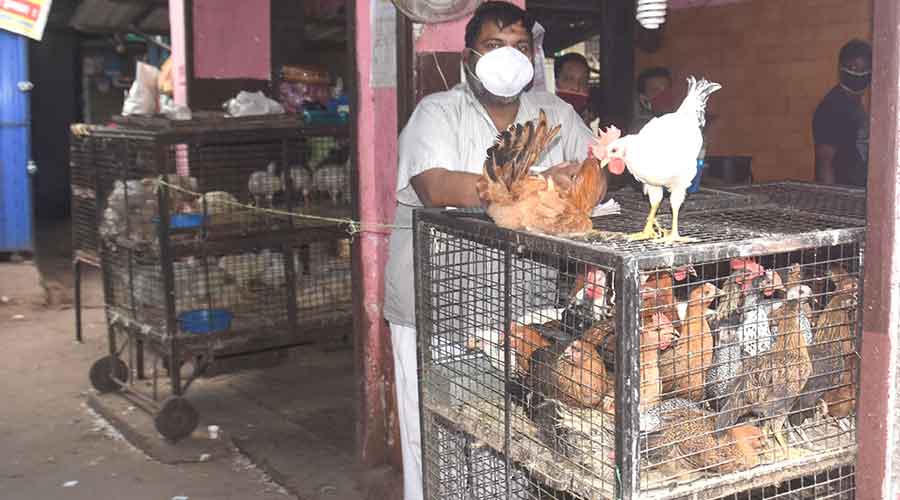 A chicken shop owner waiting for customers in Hirapur, Hatia in Dhanbad on Wednesday.
Gautam Dey
---
Dhanbad
|
Published 05.05.21, 06:28 PM
|
---
The sale of items like chicken, mutton and eggs has registered a sharp decline in Dhanbad during the second phase of the state-wide lockdown.
An overall market survey indicates that chicken and egg sales are down by 80% while mutton sales is also down by more than 60% of pre lock down period figures.
A host of factors including the opening of shops for limited hours from 7 am to 2 pm, lesser arrival of stock due to lockdown in different parts of the country including Uttar Pradesh and low demand from restaurants which are themselves receiving less than 10% of home delivery orders have attributed to the sales going down.
The closure of all road side fast food stalls and some apprehensions regarding consumption of non vegetarian food during the pandemic are also some of the reasons for the decline in sale.
Due to a decrease in income, the shop owners have reduced their staff strength and made pay cuts of the existing staff.
Md Aftab, a chicken seller of Hirapur Hatia in Dhanbad said, "Our sales are down by more than 90% as against the daily sell of around Rs 50 thousand per day of pre lockdown period. We are registering sales of just around Rs 5 thousand per day now."
"The road side fast food sellers are our main customers and since around 1000 of them are lying closed in nearby areas, we are facing sharp decline in sale," said Aftab.
"Still very few people are accustomed to online food orders in small towns like Dhanbad and thus the restaurant sales have decreased affecting our income in turn," said Aftab.
The price of chicken has reduced to Rs 140 per kg from Rs 200 per kg recently.
Firoz Quraishi, a mutton seller of DS Colony Mor in Dhanbad, said, "The mutton sales have also decreased by 60% with sales of around Rs 10,000 to Rs 12,000 per day compared with Rs 25,000 pre-lockdown."
"We are also witnessing shortage of stock due to lockdown in various parts of UP as our main consignment used to come from Fathepur and Kanpur mandi and due to lockdown there, we are facing reduced supply of stock" said Quaraishi.
The lack of supply has shot up mutton prices from Rs 640 per kg to Rs 660 per kg