Amid political slugfest over the conduct of Joint Entrance Exams (JEE) and National Eligibility cum Entrance Test (NEET), a social outfit in Jharkhand has come forward to help students in remote areas of Dhanbad reach their exam centres on time without any hassles.
Dev Kumar Verma, a 35-year-old manager of Bharat Coking Coal Limited, along with his wife, a professor at BIT-Sindri, has helped 20 JEE aspirants reach their exam centres within a span of two days through their Pathshala Educational Trust.
The couple have been providing free education to poor children of coal pickers in the mining areas through their schools named Pathshala since 2014. Examinee Ravi Mandal travels in a Pathshala van Shabbir Hussain
"Ever since it was announced that the JEE-Mains exams would be held between September 1 and 6 and the NEET exams on September 13, we could see several students airing their apprehensions on social media about problems they might face in reaching the centres due to the lockdown. We discussed with the members of our trust and formed a 20-member team to coordinate and ensure that students from far-flung areas do not face problems in reaching the specified centre. We floated a helpline number (9470595075) dedicated for the students and so far we have been able to help nearly 20 students in the two days to sit for JEE-Mains," said Dev Kumar, who holds an MBA degree from NIT Durgapur.
The trust has deployed one SUV and four eight-seater vans to ferry the students.
"We had to follow the SOPs for Covid-19 and not crowd the vehicles. We had the school vans and my personal SUV. If the need arises, we will hire more vehicles. We are also providing free sanitiser and masks to those students who do not have it," Dev Kumar added. Pathsala founder Dev Kumar Verma Shabbir Hussain
A huge majority of aspiring medicos and technocrats — more than 78 per cent of nearly 1.87 lakh respondents — had voiced support for the postponement of NEET and JEE in the feedback survey conducted by Jharkhand chief minister Hemant Soren on August 31 on his official Twitter handle.
Several students had tweeted their concern over reaching the exam centres on time due to transportation problems despite intra-state buses and hotels resuming operations on September 1 in the state. A review petition by several non-BJP ruled states has been filed in the Supreme Court for postponement of the JEE-NEET exams.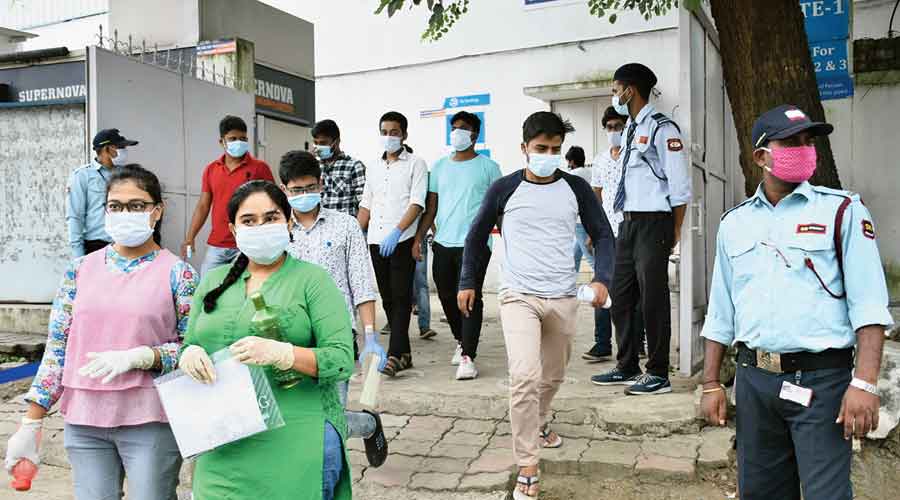 Students come out after the exam Shabbir Hussain
"I am indebted to Dev Sir for arranging a free transport facility. Otherwise I would have to book a room in a hotel in proper Dhanbad city for night stay and then leave for the exam centre early morning on a private cab or auto-rickshaw as the city bus service has their own scheduled time. Besides, the buses carry limited number of passengers in keeping with the Covid-19 SOP," said Ravi Mandal, 19, a native of Rajganj in Baghmara block, around 30km from Dhanbad, who appeared for JEE-Mains at Izone in Barwadda, Dhanbad.
There are two centres for JEE in Dhanbad—Izone in Barwadda and Digital Zone in Kusum Vihar. The exams will be held in two shifts between 9am and noon and between 3pm and 6pm.