Id mubarak without the embrace
No mass prayers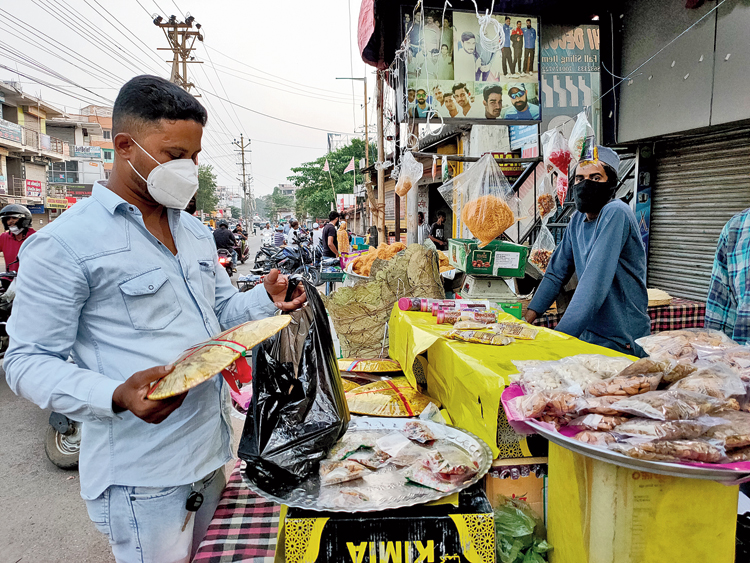 ---
|
Ranchi
|
Published 24.05.20, 08:57 PM
---
The ongoing pandemic may rob Id of the customary heartfelt embrace.
With the month-long Ramzan ending on Sunday, Muslims in Ranchi are looking forward to Id on Monday but at the same time wondering how it will be without mass prayers and the Id mubarak embraces in view of social distancing to slow the spread of Covid-19.
"There will be no mass prayer at any mosque or Idgahs, and people will not embrace while wishing each other Id mubarak on Monday," said media spokesperson Adil Rashid. "I think people will offer prayers at home and won't visit friends and neighbours like they usually do on Id," he said.
"Id or any festival for that matter is all about family reunions," added Hasina Khatoon, an elderly woman who lives near Karbala Chowk, adding that she would be observing a "worried" as her husband and son are stuck in Bangalore during the lockdown. "My son runs a business in Bangalore and they were supposed to come home but couldn't because of the lockdown," she said.
"That's the story of most families who have their own people working far away from home," said Mohammad Sirajuddin, a retired government employee who lives near Doranda College. "My two nephews could not come for Id this year. Ours is a joint family and Id gives us the chance of a family reunion. That didn't happen this time," he said.
"Forget lavish shopping for the festival, many people don't have money to buy essentials," Sirajuddin added.
"Many people don't have fixed income and have to work and have to earn daily to run the household. But they have no income during the lockdown. I know many friends who have collected money to help some such families in their neighbourhood. They have even prepared food packets and distributed them among many such families and among migrant workers who were crossing Doranda," Sirajuddin said.
The special Id Bazar that comes up with makeshift stalls on Main Road was a tame affair this time. Only a few stalls selling fruits and lachcha sewai (vermicelli) were seen.
"We sincerely pray to Allah that Covid-19 goes away permanently and the festivals of all communities become happy occasions again," said Shah Omair, the treasurer of the state branch of Jamiat Ulema-e-Hind, a leading organisation of Islamic scholars belonging to the Deobandi school of thought in India.