Focus on 52,000 would-be-moms amid lockdown
The health ministry has mandated that a pregnant woman be given all medical help for her delivery during this period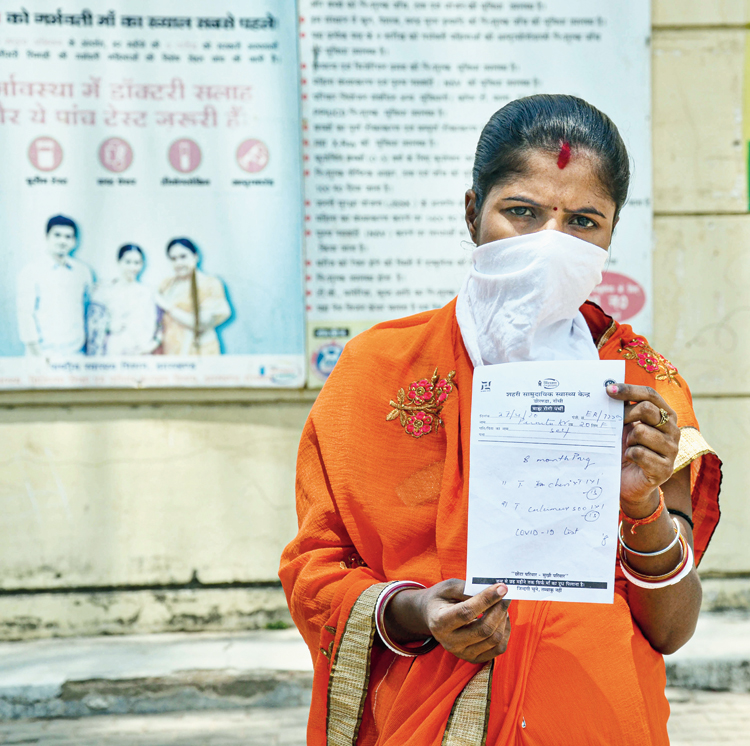 ---
Ranchi
|
Published 06.05.20, 11:50 PM
|
---
At least 52,000 pregnant women across Jharkhand have their expected delivery date in May, amid rising numbers of Covid-19 infections and a lockdown to contain its spread extended to May 17.
State principal secretary of health Nitin Madan Kulkarni, in a video-conference on Tuesday, chaired by chief secretary Sukhdev Singh, with deputy commissioners and civil surgeons, told the civil surgeons that the 52,000 women who were likely to deliver babies in May must not face any problem in accessing medical care.
The mother and infant must be safe, Kulkarni stressed.
This comes amid cases of sheer neglect towards mothers-to-be during the lockdown. On Tuesday, Jharkhand High Court had expressed its concern over the deaths of two newborns in state capital Ranchi as their mothers could not access medical help in time. Also, in the capital, instances of pregnant women with Covid-19 infections in government hospitals created such panic that their maternity wards had to be shut for days last month.
A photo-journalist in Ranchi with a reputable English daily who lost his unborn baby on May 3, told The Telegraph on Wednesday that it was a harrowing experience. "By the time I got my wife admitted to a private hospital in Ranchi, it was too late for the baby in the womb. I could not believe such a tragedy would occur to me in Ranchi where one after another hospitals just refused to admit my wife despite her labour pain and bleeding."
He added that he found the attitude of the two government hospitals condemnable. "Both Sadar Hospital and the other at Doranda just refused point blank to provide any even emergency help to my wife who was in great distress."
"My unborn child was taken out of the womb by surgical intervention and my wife is still in that private hospital that did everything it could, but we were too late to save the baby," the man added.
He said his wife was recovering physically but it would take more time for her to recover from the trauma.
"I'm also traumatized," the man added. "I was shocked to hear that the Ranchi civil surgeon had denied on TV cameras that I and my wife ever visited the government hospital. I suggest he check his hospital CCTV cameras."
In Gumla district on Tuesday a mother and child died, allegedly over lack of proper medical care. In the wake of the public outcry over this episode, state health minister Banna Gupta asked his department officials for a thorough probe.
Jharkhand High Court has called it "most disturbing" that a woman who is out just to deliver her baby is denied medical treatment for fear of this pandemic.
The union health ministry has mandated that a pregnant woman be given all medical help for her delivery during the lockdown, and both she and her newborn tested for the novel coronavirus.
A Daltonganj resident, J.P. Vishwakarma, said the apathy of doctors was worrying at a time like this. "We shower petals on our doctors and health workers, but see what some of them do when we are in great need of their help."