Back from Gujarat, with tales of trauma
A total of 1,187 labourers, mostly from West Singhbhum, returned to Tatanagar on Friday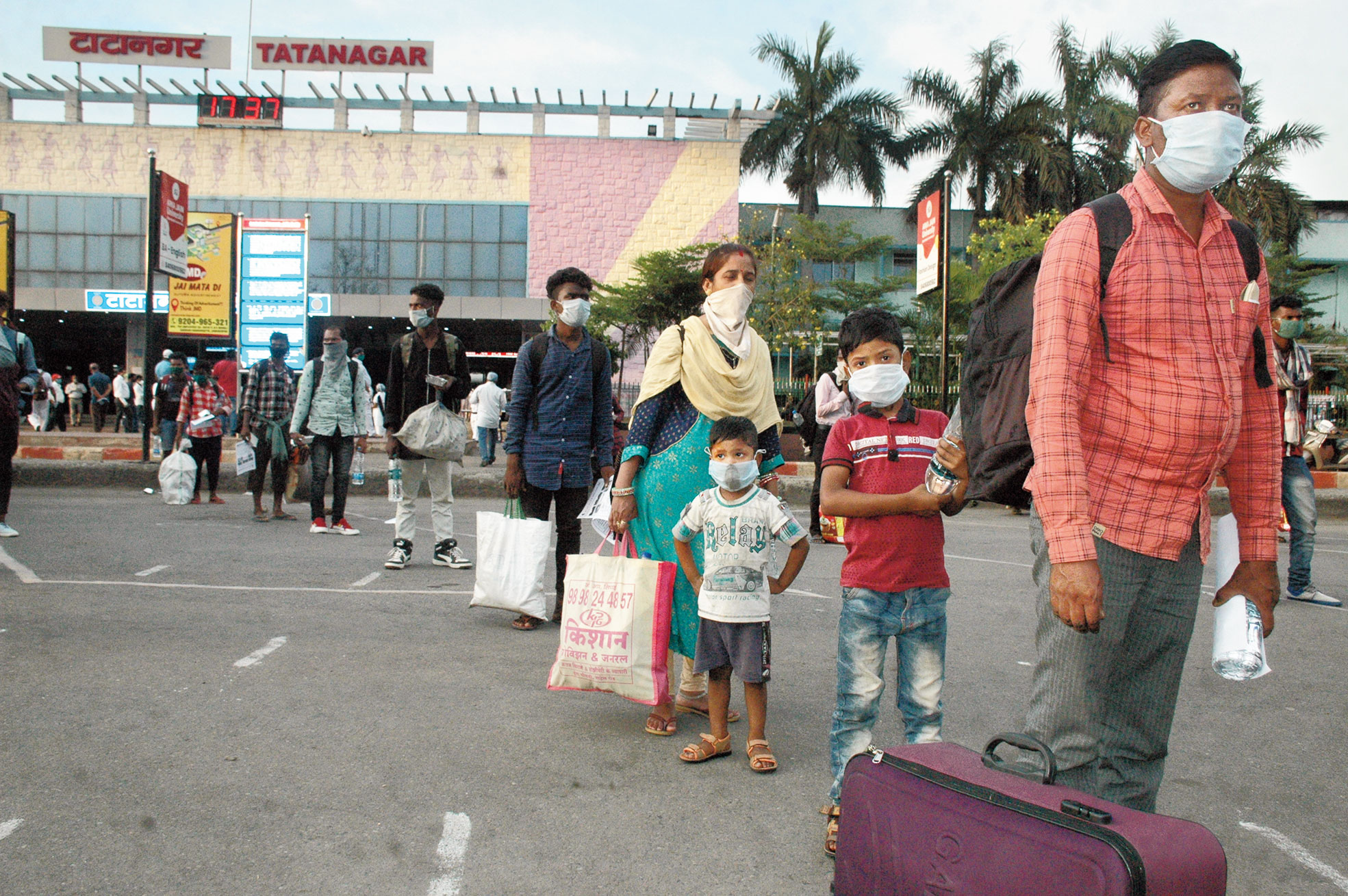 ---
---
A section of labourers who returned from the ceramic tiles hub of Morbi in Gujarat by a special train to Tatanagar station complained of being fleeced of money by a local contractor for their return travel.
"We were fed up and desperately wanted to return as it was difficult to get food and we had not been paid the salary of March," said Bhudan Singh Nayak, 41, of Manjhari block of West Singhbhum district, who used to work at Artis Ceramics in Morbi on a monthly salary of Rs 10,000. "On Wednesday (May 6) the contractor came and asked us to pay Rs 900 for return travel and we paid him as we wanted to return at any cost. We were taken to Morbi station on May 7 at around 9.30am and handed over tickets and food packets by the police before boarding the train,"
Bhudan showed the ticket which had the fare written as Rs 795.
Another labourer from Manjhari, Kamlesh Singh, said that around 27 persons from West Singhbhum were stranded during the lockdown and each of them were charged Rs 900 by the local contractor."The contractor had arranged our work in the tiles factory and we had approached him several times for our return journey. He asked us to pay Rs 900 for return journey so we paid him on Wednesday. We will never go back to Morbi," said Kamlesh.
However, several others said they were not fleeced.
"We had been demanding since March to return to our village after the closure of the tile factory and facing difficulties in getting food. We were informed by company officials on Wednesday about our return journey and taken to station on Thursday. We were not charged anything," said Sonaram Soren, 24,from Tantnagar block of West Singhbhum, who used to work with Swidan Ceramics.
A total of 1,187 labourers, mostly from West Singhbhum, returned to Tatanagar on Friday and were taken by buses arranged by district administration to their homes following social distancing norms and other protocols such as wearing masks.
West Singhbhum deputy commissioner Arava Rajkamal termed the complaints as isolated incidents.
"We spoke to several persons and none of them lodged a complaint about paying for the journey. I had a talk with the deputy commissioner of Morbi also yesterday and was informed that not a penny has been charged from any workers by Morbi Ceramics Association too. There may be isolated incidents where migrants might have been charged by locals," said Rajkamal adding that all the migrants would be kept in home quarantine as Morbi was in the green zone.
The West Singhbhum district administration distributed pamphlets to all the workers informing about self employment in horticulture and fruit farming.
Surat to Deoghar
A total of 1,208 labourers from Jharkhand stranded in Surat arrived at Jasidih station on Friday by a special train.
Deputy commissioner Nancy Sahay and senior officials were present to receive them. Every passenger was provided a breakfast packet and water bottle, screened for flu symptoms and instructed to follow the rules of home quarantine for 14 days.
The station complex was sanitised before the arrival of the train and circles were drawn on the ground to ensure social distancing.
Doctors, railway officers, district-level magistrates and security personnel were also deployed.
From Telangana
A total of 1,250 migrant workers and their family members, including children, reached Dhanbad station from Telangana on Friday after a nearly 33-hour journey.
None of them had to pay for their railway tickets.
This group had boarded the special train (No. 07014) from Lingampalli station of Telangana on Thursday 3.25am, and reached Dhanbad at 12.15pm on Friday.
At Dhanbad, they were welcomed with roses by a team led by Dhanbad DC Amit Kumar of senior officials of the district administration, the police and the Railway Protection Force (RPF). They got their thermal screening done and got food packets, packaged water and masks before being led to their respective buses.
Of the 1,250 passengers, 1,197 were headed for Giridih, 34 for Hazaribagh and 19 for various places in Dhanbad.
Kailash Yadav, a migrant worker whose home is in Giridih, said the journey was comfortable. "No money was taken from us for tickets or anything else. We got food too," he said.
A train carrying 1,200 patients and labourers also arrived at Hatia station from Vellore on Friday.
Additional reporting by Suresh Prasad Nikhar in Deoghar and Praduman Choubey in Dhanbad