Idol sculptors stare at bleak prospects
Gods have mercy on makers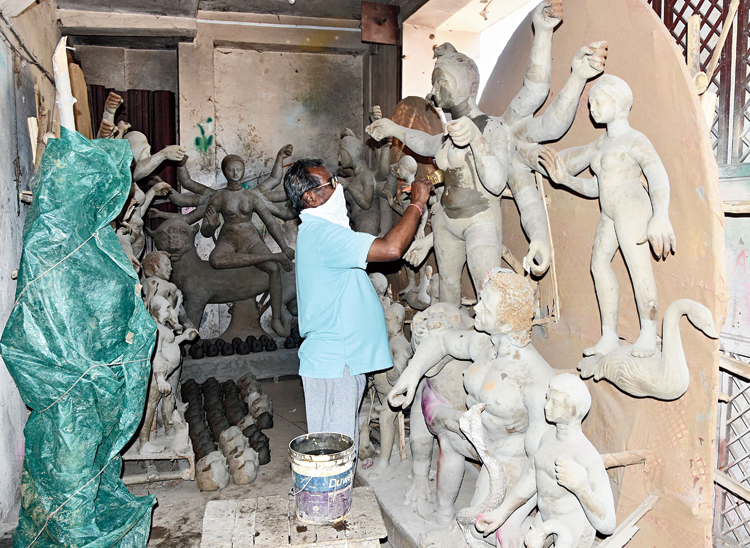 Dulal Paul works on a Durga idol at his workshop on Luby Circular Road in Dhanbad on Wednesday.
(Gautam Dey)
---
Dhanbad
|
Published 07.05.20, 12:00 AM
|
---
Sonu Paul's family has been making idols of gods and goddesses for generations but they have never felt so helpless as they are feeling now during the lockdown to ward off the novel coronavirus threat.

Sonu a.k.a Abhishek, 34, is son of noted Dhanbad-based sculptor Dulal Paul. Idol-making is their sole source of income.
"Nine workers from Nadia and Burdwan districts of Bengal who have arrived at our place in February for working as artisans to make idols for Ram Navami and Chaiti Navratra Durga Puja are stuck without work," Sonu said at his father's workshop on Luby Circular Road in Dhanbad. "Around 15 to 16 of our orders fell through due to the curbs on public puja during the lockdown"
"So, despite the lack of income, besides managing the food expense of our family of seven including my father, mother, my two children and younger brother besides me and my wife, we have to provide salaries and food to these nine workers who are sitting idle at our home based workshop," said Sou. "We have never faced such a situation."
The future is uncertain as well. "We could have resumed idol-making for Vishwakarma Puja, scheduled on September 17 this year, but due to lack of availability of raw materials like soil and colours we are helpless and suffering losses," he said.
His younger brother, Abhijeet Paul, who has a hotel management degree, had been roped into the family profession earlier despite Abhijeet's reluctance.
"Now we are repenting our decision; had he been in the job he had he would have at least received some salary during the lockdown," said Sonu.
"We eke out our living for the entire year through seasonal work. If the situation continues like this we will be deprived of our entire year's income."
His family had also paid some advance to seven more workers of Bengal in February. They were scheduled to arrive in May.
'We will appeal to district administration in a day or two requesting us to at least allow us to procure the raw materials so that we can continue with our work,' said Sonu.
Jharia-based sculptor Manoj Keshri, 53, who has been making idols since the last 30 years, is facing the same hardships.
"I was working part-time with a decorator. I have suffered double losses,"Keshri said. "Not only did I receive no idol-making offer this Chaiti Durga Puja but am also not getting my dues from the decorator as the unit is shut during the lockdown."