Slippers for the barefoot
Dhanbad traders and administration set up chappal bank for the poor
---
---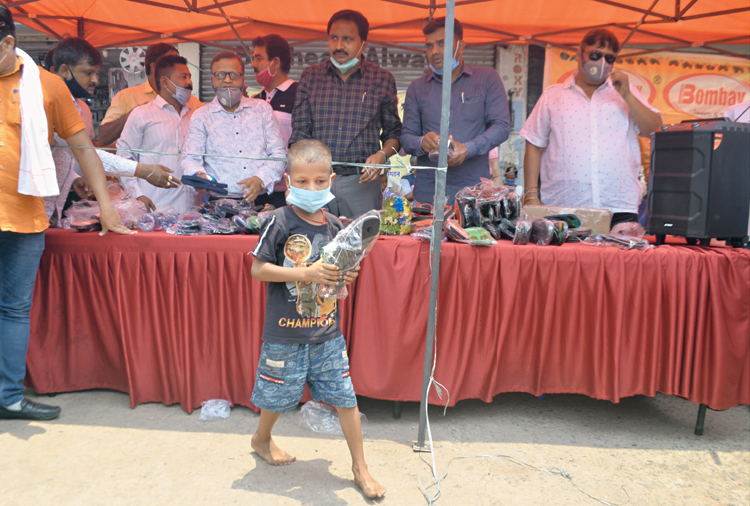 Traders of coal mining hub Dhanbad in Jharkhand joined hands with the district administration to set up a chappal (slipper) bank for the migrant and district workers forced to walk barefooted in the scorching summer because of poverty.
Sub-divisional officer (Dhanbad) Raj Maheshwaram launching the chappal bank at Bank More in Dhanbad on Monday said that they had already held several rounds of meetings with representatives of the traders for setting up the bank.
"It is a small effort jointly by the administration and the trader community after several rounds of meeting to help workers either coming from other states or district or from Dhanbad who do not have slippers or whose slippers have been damaged or they cannot afford to purchase a new one because of the hardships faced in the lockdown. We will continue to organise distribution of slippers for workers regularly," said Maheshwaram.
On the first day, nearly 400 pairs of slippers were distributed to workers.
"We will be organising it regularly at various locations for the workers walking home barefooted. We had collected 500 pairs of new slippers through voluntary contribution from the traders who are themselves facing hardship due to the lockdown. We have asked for more collection of slippers and once we get a substantial number will again organise a distribution programme and give it free to the workers," said Chetan Goenka, the president of the Dhanbad Zila Chamber of Commerce and Industries.
There have been several instances of migrant workers walking barefooted with blisters on foot after their slippers were either torn or got damaged while walking long distances on roads due to non-availability of transport during the lockdown.
Apart from the slippers workers were also provided with lemon water and sattu.
The chappal bank will remain functional throughout the summer season.
"It will continue till the migrant workers are arriving to the state and facing hardship in the scorching heat. We will decide on its future in the coming days," added Goenka.