Children offering namaz on Hazaribagh Road sparks controversy
Police take three into custody for posting picture of it on social media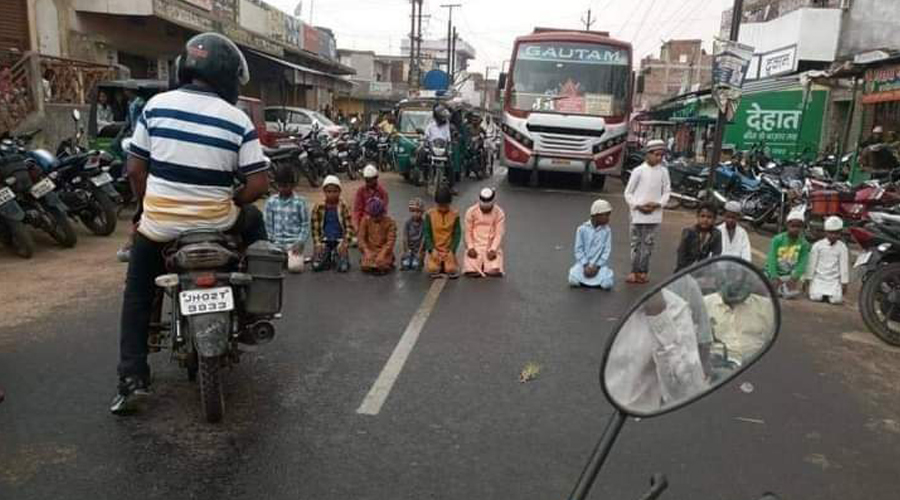 The picture of the children offering namaz on road in Hazaribagh on Friday went viral on social media.
Sourced by the correspondent
---
Hazaribagh
|
Published 14.03.21, 05:12 PM
|
---
Eight to ten children were seen offering namaz in Pelawal area of Hazaribagh town on Friday. A picture of this went viral on social media and police have arrested three people for taking the photo and spreading it on social media.
The viral picture also made the famous writer Taslima Nasreen to comment that these children are innocent and those behind it are the real culprits.
Sources said on Friday these children were made to sit on the busiest Hazaribagh-Chatra road in the Pelawal area offering namaz. Due to this, traffic came to a standstill. Later someone posted this picture on social media which soon went viral. People also demanded action against those who asked the children to do so. Nasreen said none has the right to disturb humanity in this way.
Hazaribagh is always known to be a communally sensitive area. The police came into action and showcaused Ibrahimi Masjid Committee of Pelawal area asking for the reason behind this incident.
Committee head Mohammad Firoz issued a statement on Sunday claiming that it happened due to the foolishness of the children and the elders have no role in it. He also promised that no such incident will happen again.
Superintendent of police Karthik S said, "No one has the right to block a road. We have showcaused the masjid committee and will take appropriate action in this matter. I urge people not to disturb the peace of this area and also not to make the picture share any further."
Meanwhile, BJP spokesperson of the state Pratul Shahdeo condemned the arrest of those who posted the picture on social media. He said, "Those behind organising namaz on road are moving freely. This shows the actual mindset of this government." He also demanded the release of the three in custody and arrest of the culprits involved in arranging the namaz offering on road.