Chickenpox fear spoils Tusu
Independent sources pegged that the number of chickenpox patients is above 50 in three villages in Seraikela-Kharsawan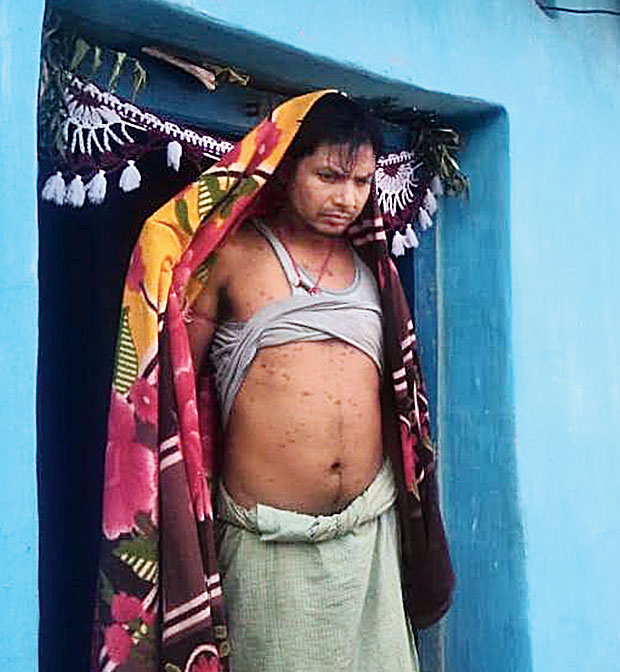 A chickenpox patient at Rangamatia village in Seraikela on Saturday
(Animesh Sengupta)
---
Jamshedpur
|
Published 18.01.20, 06:34 PM
|
---
An outbreak of suspected chickenpox at three villages in Seraikela subdivision in Seraikela-Kharsawan has triggered panic and made patients and their kin outcasts.
Chickenpox, along with other complications, is suspected as the cause of two deaths, one in mid-December and one on January 13, said district civil surgeon Dr Himanshu Bhushan Barwar.
Independent sources in the subdivision pegged the number of chickenpox patients as above 50 in three villages, Jhaprigora, Rangamatia and Bonesdi.
He added that people were so scared of the contagion that no one from elsewhere visited anyone in the three villages during the recent Tusu festival, and no villager from these three places was invited elsewhere.
Rangamatia villager Shankar Mahto alleged that cases of chickenpox surfaced in October, but a sahiya (woman health worker) did not inform her higher-ups. "A team of district health department reached our village recently after getting the news of two deaths in Jhaprigora village. But the stigma of untouchability is troubling us the most," he said.
District civil surgeon Dr Barwar said villagers who died in Jhaprigora were Dinesh Mahto, 65, and Dilip Mahto, 60. "They are suspected to have died of chickenpox and related complications. Following these deaths we were told about the spread of chickenpox at Jhaprigora and two other villages," he said. "We have collected blood samples of three acute patients and sent them to Chaibasa Sadar Hospital and MGM Medical College Hospital for confirmation. While waiting for results, we are taking steps to ensure that the disease does not spread further."