Bye, rain; hello, cold
Weather likely to be dry, minimum readings to drop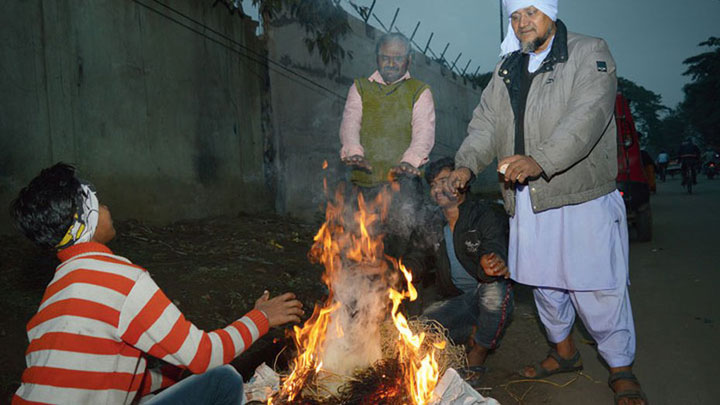 ---
---
The meteorological department on Friday sounded a cold-wave alert for isolated pockets of Jharkhand in the next 48 hours as the mercury took a sudden plunge in the state.
Night readings plummeted at several places including Ranchi, Jamshedpur, Daltonganj, Bokaro, Giridih, Chaibasa (in West Singhbhum), Koderma, Khunti and Ramgarh.
Kanke, the state's cold cauldron, recorded a minimum of 8.9°C on Friday while Ranchi recorded 9.4°C (from 12.5°C on Thursday). Daltonganj, the Palamau district headquarters, recorded a minimum of 9.5°C — from 13.9°C on Thursday.
Bokaro also recorded a minimum of 9.6 °C from Thursday's 13.1°C.
Night temperatures would drop by 4-6 °C during the next two days, said Abhishek Anand, director of the Ranchi Meteorological Centre, attributing it to "free flow of north-westerly winds" and less moisture content in the atmosphere.
"Dry weather condition is expected to prevail over the state in the next two days. Minimum readings are low and will nosedive further," Anand added.
The Ranchi Met station said cold-wave conditions were expected in Garhwa, Palamau, Latehar, Lohardaga, Gumla and Simdega in the next 24 hours. It also issued a special bulletin on Friday the evening of "severe weather" condition in Jharkhand in the next two days.
An alert of dense fog was issued in districts like Garhwa, Palamau, Chatra, Koderma, Giridih, Deoghar, Godda, Sahibganj, Hazaribagh , East Singhbhum and West Singhbhum in next 24 hours.
According to India Meteorological Department (IMD) guidelines, a cold wave is declared when the minimum temperature is 5° to 6°C less than the normal if the normal minimum temperature of the place is equal to 10°C or more, or when the departure from normal is 4° to 5°C when the normal minimum temperature of the place is less than 10°C.
A duty officer at the IMD's Calcutta centre said minimum readings would drop in most parts of Jharkhand by one or two degree Celsius in the next 24 hours.
Residents felt the chill. "I have stopped venturing out of house after and I have pushed back my morning walk schedule," said Bistupur resident Anand Srivastava.