Bus rolls off bridge near Jamshedpur, 1 dead
Passengers, trapped for an hour, say driver was talking on the phone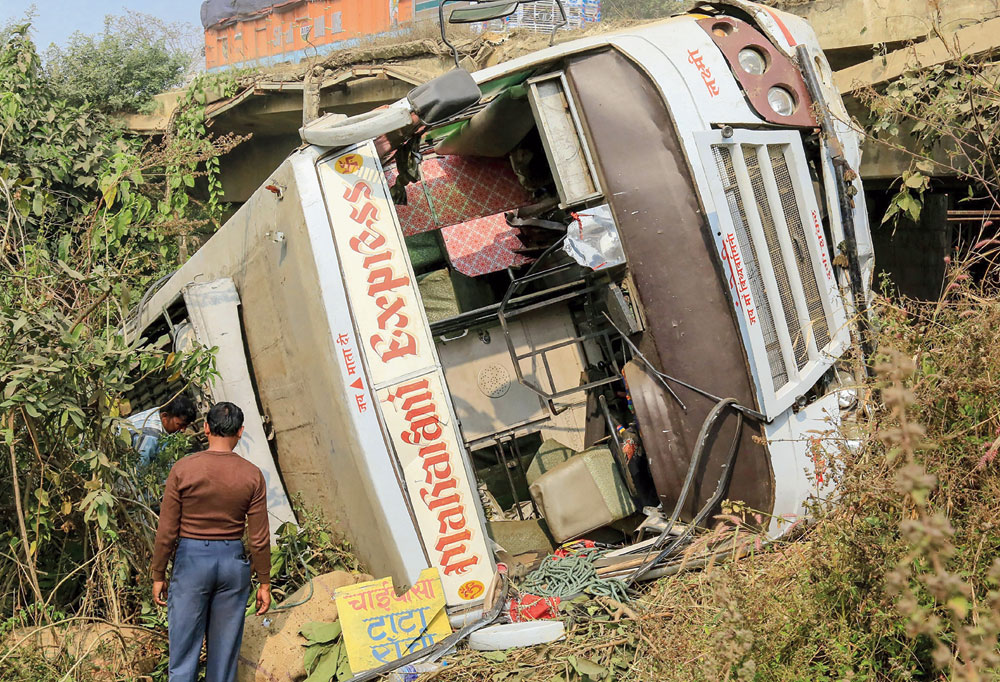 ---
---
One person was killed and six others were injured when a bus carrying 35 passengers fell into a rivulet from an under-construction bridge at Shankardiha on NH-33 under Ichagarh thana area of Seraikela-Kharsawan district, 45km from here, around 4am on Monday.
The Jamshedpur-bound bus from Gaya, Bihar, which rolled down around 10 feet before flipping over, trapped passengers for over an hour before they were rescued by a police party from Ichagarh around 5am.
The deceased has been identified as Hari Chaudhury (70) of Kapali. The injured, including two women passengers, were taken to a hospital at Chandil where they were administered first aid before being shifted to MGM Medical College and Hospital in Sakchi. The condition of none of the passengers is critical.
Ichagarh OC Rajendra Prasad Singh said the bus belonging to Maharani Travels, cruising at a moderate speed, hit a pole near a under-construction bridge and punged into the rivulet.
"After hitting the pole, the bus tilted towards the left, rolled down the bridge and then flipped over. Chaudhury died on the spot under the weight of luggage," Singh told this newspaper.
One of the injured, Anirudh Prasad (40), alleged that the driver was talking on the phone. "The driver had one hand on the steering and was holding a phone in the other. Not only was he talking, he was also driving at a high speed. When I objected, he rebuffed me. Ultimately, he caused the mishap," the Sakchi resident said.
The bus was lying at the rivulet till late afternoon. Chandil thana circle inspector Shia Sharan Prasad, who visited the spot, said they would engage a crane to retrieve the vehicle.
Singh said they were taking statements from injured passengers and would register a case against the driver for reckless driving. He added that driver escaped.
In another incident, a speeding truck rammed into a stationary bus on Subernarekha Link Road near the Marine Drive roundabout.
The truck, which was coming from Sonari, hit the bus after ploughing through the guard rail along the pavement. Fortunately, nobody was injured in the mishap. Police have seized the truck, but the driver managed to escape.