Bus bays in poll-code race
Khadgarha bus terminus will be set up on 15 acres at a cost of Rs 144-crore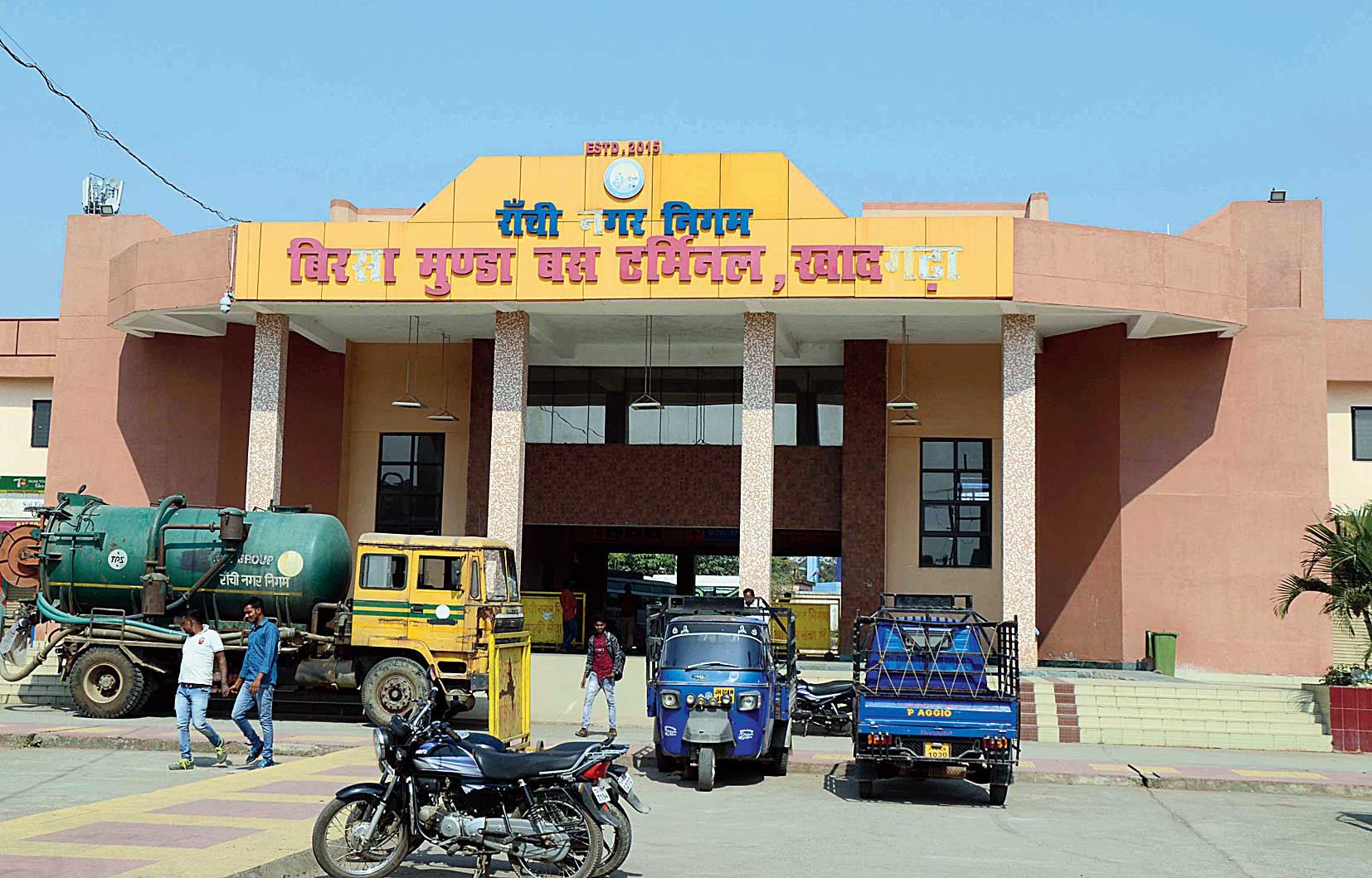 Redevelopment of the Birsa Munda Bus Terminus at Ranchi is to start before the poll notification
Picture by Manob Chowdhary
---
Jamshedpur
|
Published 14.10.19, 06:37 PM
|
---
Decks have been cleared for completing the tender process of Transport Nagar in Ranchi and the new bus terminus in Dhanbad by the end of this month so that the construction work can begin before the model code of conduct for the Assembly polls comes into effect.
However, it will be a race against time to ensure the start of work on the new inter-state bus terminus (ISBT) in Jamshedpur and redevelopment of the Birsa Munda Bus Terminus at Khadgarha in Ranchi before the poll notification. Work on the new ISBT in Ranchi will start next year.
State urban development secretary Ajoy Kumar Singh, who is also the chairman of Jharkhand Urban Infrastructure Development Company (Juidco), reviewed the upcoming projects on Monday.
After a three-hour meeting, Singh directed Juidco officials and Bangalore-based private consultant iDeCK to complete the tender process of the Dhanbad bus terminus and Transport Nagar project at the earliest so that foundation stone could be laid by the end of this month.
"The private consultant and Juidco officials informed that the draft detailed project report (DPR) of Transport Nagar at Sukurhuttu ( Ranchi) and the terminus at Bartand in Dhanbad are ready," Singh said.
Senior Juidco officials said the completion of tender process and the issue of work order would take a minimum of 21 days. Though the foundation stone can be laid by the end of this month, work can only commence in the first week of November.
"We are racing against time to ensure work gets started on this project to escape delay due to model code of conduct," a Juidco official said.
The new bus terminus in Dhanbad will come up on 18.42 acres at Bartand near the existing terminus at a proposed cost of Rs 250 crore on a PPP (public-private-partnership) mode. It will have AC waiting halls, washrooms, parking bays for two and four–wheelers, retail shops. It can park 35 buses and as many as 18 buses can leave the terminus for various destinations at one go.
The Transport Nagar will come up on 40 acres at Sukurhuttu at a cost of Rs 250 crore and can accommodate 705 trucks. It will have a health care center, weight bridge, workshops, food court, canteen, retail shops and dormitory for 700 persons.
"A directive has also been issued to the private consultant to submit the DPR of the ISBT at Jamshedpur and renovated Birsa Munda Bus terminus at Khadgarha (Ranchi) by this week-end," Singh said.
Juidco sources , said the foundation stone laying for Jamshedpur and Khadgarha projects couldn't possibly take place before the middle of November and the poll notification would be issued by then.
The Jamshedpur ISBT would come up near Pardih in Mango close to NH-33 on 10 acres of land at a cost of Rs 35 crore. The Khadgarha bus terminus will be set up on 15 acres at a cost of Rs 144-crore.