BSNL's new command centre in Jamshedpur
The hi-tech hub will help monitor various telecom networks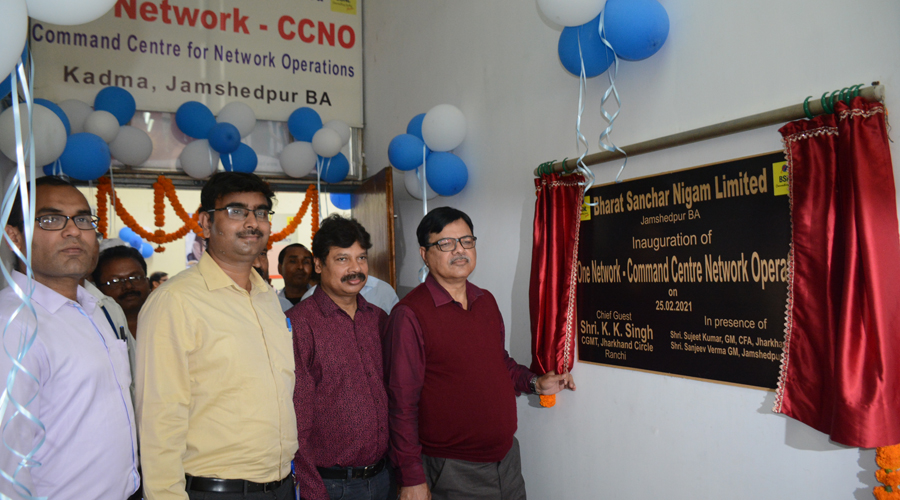 Chief general manager of BSNL's Jharkhand Circle K.K. Singh (in specs and maroon shirt) inaugurating the new Command Centre for Network Operation at Kadma telephone exchange in Jamshedpur on Thursday.
Picture by Bhola Prasad
---
Jamshedpur
|
Published 25.02.21, 09:36 PM
|
---
A Command Centre for Network Operation (CCNO) for ensuring synergy across different networks of Bharat Sanchar Nigam Limited (BSNL) became functional at the Kadma telephone exchange on Thursday.
The hi-tech centre, which will provide centralized monitoring of various telecom networks such as voice, data, leased circuits and fibre to the home (FTTH) service, will also help in detecting faults easily.
The centre will function from 8 am to 10 pm on all days including Sunday and holidays.
The centre was inaugurated by the chief general manager of Jharkhand Circle, K.K. Singh on Thursday evening. Sujeet Kumar, general manager of Jharkhand Circle and Sanjeev Verma, general manager of Jamshedpur Secondary Switching Area (SSA) were also present during the function.
During the inauguration, K.K. Singh said that three such CCNO has been established in Jharkhand. The other two are at Ranchi and Dhanbad.
"Through the one network – CCNO – we will be able to identify the fault quickly through a cross-functional centralized team which will enhance the service assurance parameters leading to increased customer satisfaction and improved quality of service," he said.
BSNL provides a gamut of telecom services to both retail and corporate customers including landline, broadband, FTTH, internet leased line, mobile, etc. and seamless availability of telecom services is a pre-requisite for sustained operational excellence. For this, it requires continuous monitoring of different network and taking corrective action, as and when the fault is detected.
"For ensuring synergy across different networks and to synchronize/prioritize high bandwidth/critical circuits and as per guidelines of the corporate office, the CCNO has been set up at Kadma," explained Sanjeev Verma.
He added, "For providing the state-of-the-art solution for people who are currently working from home, BSNL's Bharat Fibre has received a significant response from customers across the country including Jamshedpur. Through Bharat Fibre, BSNL is providing speed up to 300 Mbps and data up to 4000 GB per month which comes to around 130 GB per day."
Verma also said they have several other plans for improving the services and strengthening telecom infrastructure.