Boy's slide stunt led to fatal fall in Ranchi mall
The boy was rushed to Orchid Hospital, 1km away from the mall, within 5 minutes of the accident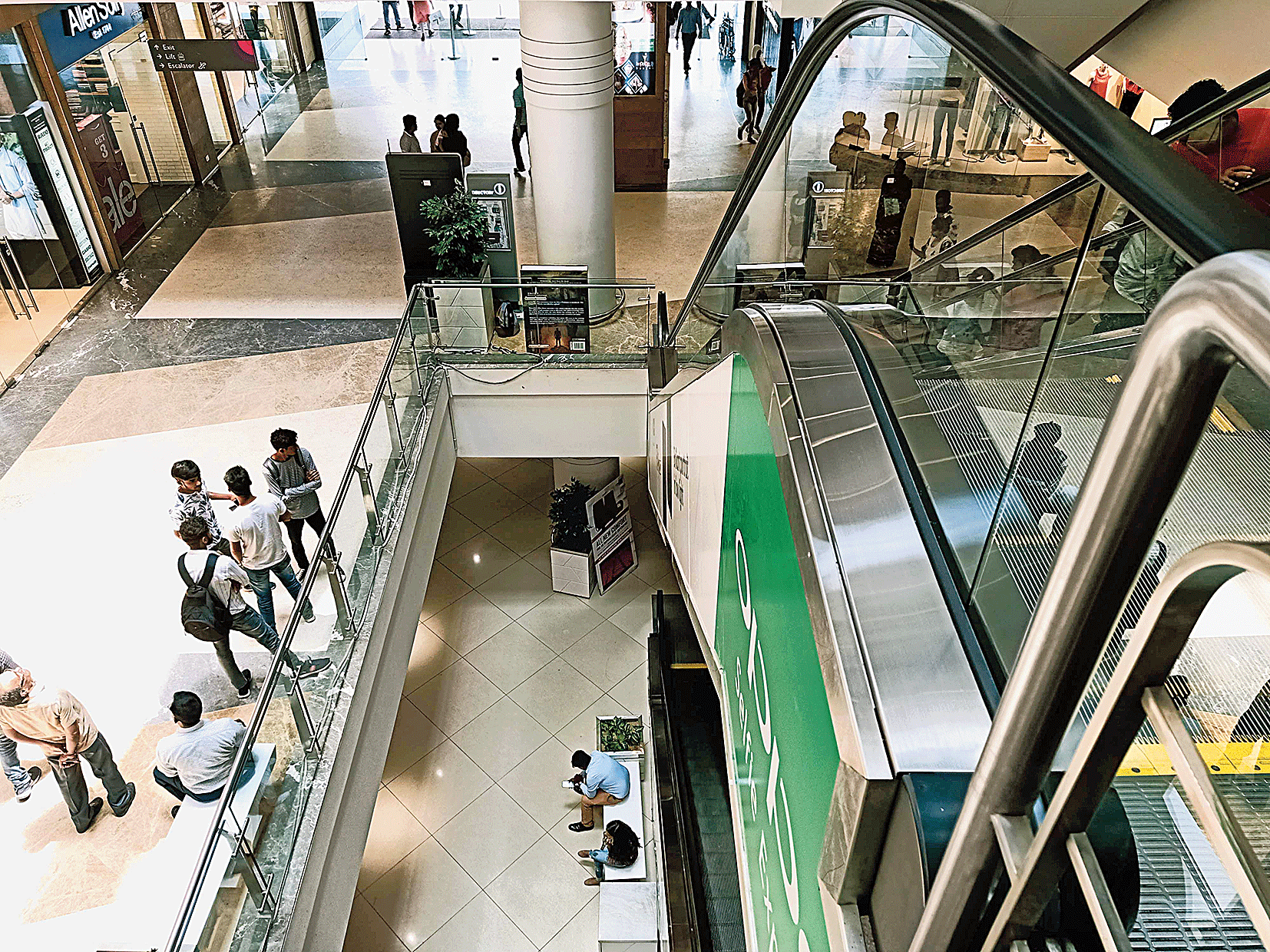 ---
|
Ranchi
|
Published 23.06.19, 06:34 PM
---
Closed-circuit television camera footage of Nucleus Mall on Circular Road here has revealed that 13-year-old Parthiv Shah died on Saturday evening while performing a risky stunt on the escalator.
The footage shows how the boy had climbed, chest down, on the moving handrail of the escalator on the first floor to reach the ground floor, possibly to get a feeling of a moving slide on the moving stairs. With his weight on the conveyor belt, he managed to hang on for about 3-4 feet on the handrail before crashing to the ground floor, 30 feet below.
The 1.44-minute CCTV footage establishes Parthiv's fall was an avoidable and unfortunate accident, mall manager Pankaj Kumar Pandey told The Telegraph on Sunday, emphasising that guardians should take care of children visiting the mall.
A Class VI student of Bridgeford School, Parthiv was the only child of retired navyman Raj Kumar and Ranchi anti-human trafficking unit sub-inspector Durga Gupta. On Sunday, he had gone to the mall for shopping with his relatives, including his paternal aunt Ankita and her husband Rajesh. He fell before their eyes.
In the footage, Parthiv is seen standing near the escalator, putting his hand on the handrail. His relatives are not nearby. As his relatives approach him, Parthiv in a flash climbs on the handrail and within seconds, falls.
Mall employees are shocked. Anand, who works at a departmental store on the mall's ground floor, said: "The boy dropped headlong in front of me. His skull was fractured, and within seconds there was blood all around. He even did not cry. He was motionless. I think he died on the spot." Rahul, another employee of a wood crafts store, said: "A lady security guard, Anju, stopped him thrice when he was touching the handrail or hovering near the escalator."
City SP Sujata Kumari Veenapani said that the boy was rushed to Orchid Hospital, 1km away from the mall, within five minutes of the accident. "He was declared dead on arrival. It seems he was trying to slide down the ground floor through the handrail. The matter is being probed. Police will also look into the security aspects at malls," she said.
Nucleus Mall manager Pandey said the G+5 building with around 100 shops came up in 2017 and had "escalators installed conforming to global security norms". "We also conduct fire and security drills every month. Our security guards are instructed to watch people near escalators or even the glass wall (at the mall). But we request parents and guardians to be more vigilant," he said, adding around 20,000 gave to the mall every day.
Parthiv's parents are in shock. A police source said Parthiv's mother Durga was pregnant. "She is traumatised by the news and has been advised complete bed rest," the source said.