Body of trapped miner found, search on for the other
ECL promises Rs 15 lakh and job for next of kin as compensation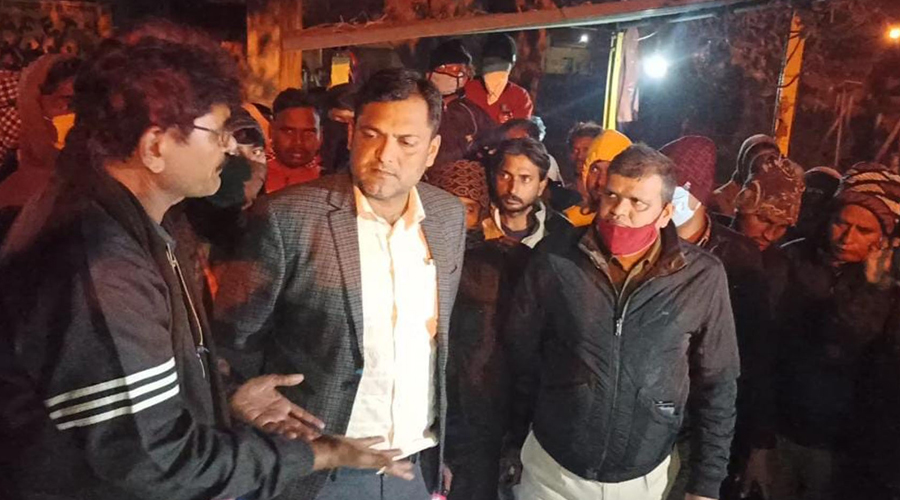 Nirsa circle officer M.N. Mansuri (in coat) and SDPO Bijay Kushwaha (with red mask) talk to a group of angry workers after the body of one of the trapped miners was recovered on Tuesday night at Mugma in Dhanbad.
Gautam Dey
---
Dhanbad
|
Published 16.12.20, 07:03 PM
|
---
The body of one of two minters trapped in an underground coal mine at Mugma was recovered late on Tuesday night after eight days of rescue efforts launched after a bore hole burst led to flooding.
Eastern Coalfields ECL senior manager (safety) of Mugma area Ajay Kumar Sharma said, "We recovered the dead body of Manik Bauri around 11pm on Tuesday while efforts are on to find the other person, Basia Maji."
Sharma said the process for providing compensation as well as a job on compassionate grounds to Bauri's next of kin had been completed. "An appointment letter will be handed over after the submission of necessary documents by the family of the deceased," he added.
Local residents, led by Bauri's family members and including his co-workers, blamed the ECL management for his death, alleging that rescue operations were tardy. They even tried to prevent the company management from transporting the body to Sahid Nirmal Mahto Medical College and Hospital for post-mortem, demanding that compensation be paid and a job offered to the family first. The body was finally sent for post-mortem during the wee hours of Wednesday after a meeting was held between the protestors and the ECL management. It was agreed that ECL would pay compensation of Rs 15 lakh to Bauri's next of kin within a week, besides employment to one family member.
Nirsa MLA Aparna Sengupta said, "Immediate steps should be initiated to rescue the other person trapped in the underground mine. The charges of Bauri's family members that the colliery management was trying to send the body for post-mortem without providing them an opportunity to see the body are grave."
The two miners, Basia Maji and Manik Bauri, were trapped inside the Khudia Colliery on December 8 at 3.30am after it got flooded when a bore hold burst. The ECL management first carried out a search using its rescue team. Later, it hired a team of professional divers who came from Cuttack, Odisha, to help in the rescue operations from December 9 after personnel of the National Disaster Response Force expressed their inability due to lack of experience in mine rescues.