Body of second trapped miner recovered at night
Basia Maji's family gets Rs 15 lakh compensation, job for wife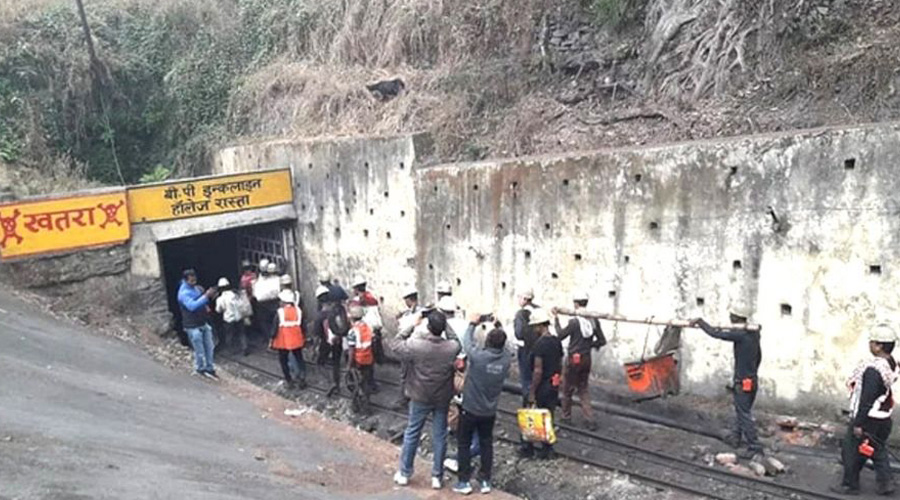 Rescue operations being carried out at Khudia colliery at Mugma in Nirsa block of Dhanbad on December 8, the day of the tragedy.
Telegraph picture
---
Dhanbad
|
Published 17.12.20, 09:01 PM
|
---
The body of the second trapped miner, Basia Maji, was recovered from Khudia colliery on Wednesday night confirming apprehensions that there would be no other survivor in the December 8 tragedy when the Eastern Coalfields (ECL) mine was flooded due to bore hole breach.
The special rescue team of six divers from Cuttack, led by former Indian Navy officer Pranab Kumar Biswal, which entered the mine in the evening, spotted Basia's body in the BP incline of the mine at 11.50 pm. But it took over half an hour for the team to bring it out of the mine.
Later, after meeting between the colliery management and family members of Basia, held in the presence of Nirsa MLA Aparna Sengupta and former MLA Arup Chatterjee, it was decided to offer a job to Basia's widow Luski Manjhiain on compassionate grounds.
During discussions, Chatterjee insisted that ECL provide employment to Basia's daughter, Somani Manjhiain. But the ECL management cited rules to say that it could not provide a job on compassionate grounds to a married daughter of a deceased.
Finally, both sides agreed on a job for Basia's widow. His family will also get compensation to the tune of Rs 15 lakh.
ECL's senior manager (mine/safety) of Mugma Area Ajay Kumar Sharma said, "Although the body was brought out around 11.50 pm, negotiations with the family members, which began around midnight, concluded at 1.30am on Thursday. The body was sent for post-mortem to Sahid Nirmal Mahto Medical College and Hospital in Dhanbad only after that."
Sharma said mining would be resumed at Khudia colliery only after a thorough inspection by mines regulator, the Directorate General of Mines Safety. "Mining operation can be resumed only after DGMS submits a report," he said.
The two miners, Basia Maji and Manik Bauri, were among the dozen-odd miners working at the Khudia colliery on December 8 when there was a sudden flood because of a bore hole leak in an adjacent mine. All except the two were able to escape.