BJP inciting communal polarisation, alleges Subhashini Ali
CPM politburo member was addressing a public convention organised by Sajha Manch at Ranchi on Tuesday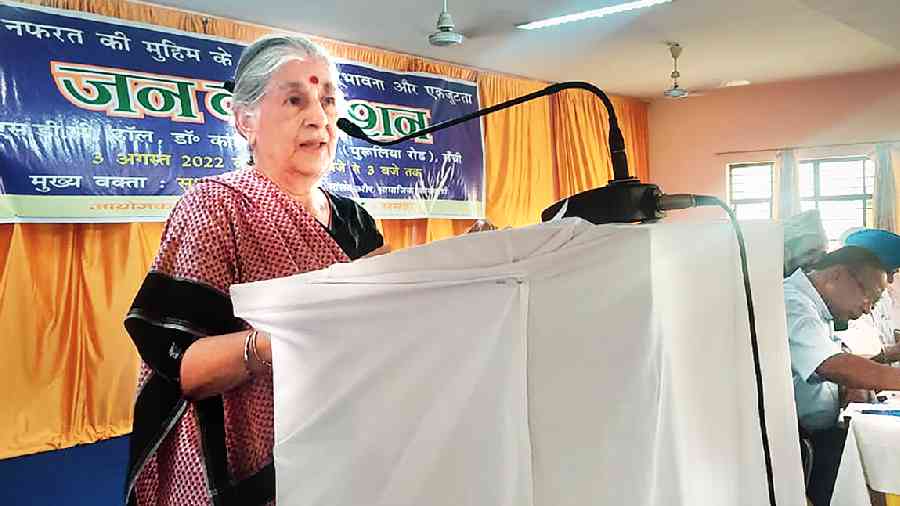 Subhashini Ali addresses the public convention organised by Sajha Manch in Ranchi on Wednesday.
Manob Chowdhury
---
Jamshedpur
|
Published 04.08.22, 02:23 AM
|
---
CPM politburo member and former MP Subhashini Ali has accused the BJP-led central government of inciting communal polarisation for electoral gains and attacking the country's glorious tradition of unity in diversity.
Subhashini was addressing a public convention organised by Sajha Manch — an organisation of intellectuals, activists, political and religious leaders of all sects and parties — at Ranchi on Tuesday afternoon.
Subhashini, who is also a former member of the National Commission for Women, said: "We had a glorious tradition of unity in diversity, which was built upon jointly by followers of all religions during the freedom movement. Unfortunately, this tradition is under attack.
"Today, communal polarisation is being used on a large scale for political gains by the same forces that had advocated the implementation of a Constitution guided by Manusmriti after Independence when the new Constitution of the country was coming into force. They are trying to weaken those principles of our Constitution that give right to equality to the people of the country."
Subhashini, daughter of Captain Lakshmi Sehgal, a social worker and a warrior of the Rani Laxmibai Regiment of Azad Hind Fauj, said people were confronted with problems of inflation, unemployment and health under the current regime.
"The central government, which is blind to such problems, is putting at stake the economy and sovereignty of the country by putting up a mega sale of public property of the country. To divert attention from such problems, it is organising a campaign of communal polarisation. This conspiracy can be countered only by the common solidarity of the people," she added.